Sal Rachele is Coming to Vancouver!! Listen in as Sal Shares How He Helps People Heal.
What a pleasure it was to speak with world-renowned teacher, channel and healer, mystic and clairvoyant, founder of Timeline Healing, a powerful therapy for healing past traumas, author of five books, numerous meditation music CDs, and is co-founder of the  Sananda Mystery School. Want to know more about Sal, his work and his upcoming events? Visit his website at http://salrachele.com/
Sal Rachele will be in Vancouver for a first time in March 2018. He will teach an introductory Friday evening workshop on Self Empowerment and an intensive 2-day weekend workshop on Soul Integration. He will also host 34 Private Sessions in which he will provide individual Clairvoyant Readings and Timeline healing per preset schedule (see below).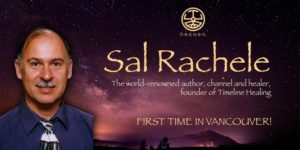 Join us for these truly uplifting and transformational event series with Sal Rachele and his spirit guides in which you will uncover your true self and revive your innate state, the state of Happiness!

Here is a special promotion from ORENDA Events for the audience listening to this broadcast.
PROMOTIONAL OFFERS only valid for purchases made by 11:11pm on Sunday, January 28:
Buy your 3-day package before 11:11pm on Sunday, January 28 and receive $30 off, use promocode at check out: OrendaMember30 – Reserve your spot Now – Click Here
Book your Private Healing & Clairvoyant session with Sal Rachele before 11:11pm on Sunday, January 28 and get a FREE ticket for Self-Empowerment event on March 2. Contact Gala Marino to schedule: at gala@orenda-events.org
Buy your 2-day weekend workshop, Soul Integration before 11:11pm on Sunday, January 28 and receive $20 off, use promocode at check out: OrendaMember20  – Reserve your spot Now – Click Here
Friday, March 2, 2018, 6:30pm – 9:30pm
YWCA Hotel Vancouver
733 Beatty Street Vancouver, BC V6B 2M4 (view map)
Workshop Description:
This workshop will go into depth on the subject of what it takes to manifest your powerful, creative, spiritual Self on Earth. In order to create a world of peace, prosperity and enlightenment, we must have a way to get in touch with our Infinite Intelligence and omnipotent Higher Self.
Sal will channel the Founders, who are 12th dimensional beings of pure light that come to Earth during pivotal times to bring their boundless wisdom and love. The Founders will present a step-by-step outline regarding the actualization of your infinite potential and how to apply it in the world. Regardless of the degree of difficulty you might be experiencing in life, there is no challenge too great to be overcome. Be prepared to feel your powerful Self during this evening and afterwards.
Saturday, March 3 and Sunday, March 4, 2018, 9:30am – 6:30pm (each day)
Rhodes Wellness College
1125 Howe St #280 Vancouver, BC V6Z 2K8 (view map)
Workshop Description:
"You are a powerful, creative, spiritual being, capable of creating in the image and likeness of your Creator". Yet most souls on Earth do not experience this in daily life.
In this intensive 2-day workshop, Sal and his spirit guides, the Founders, will examine the reasons you do not seem all-powerful and able to manifest things quickly and easily. There will be deep meditations and channelings.
You will be given tools and techniques for restoring your power and integrating the many facets of your soul. When you are a whole, complete being, you have the "faith that moves mountains." You realize the unlimited potential of your being. "Soul Integration" book is available on Sal's website and may be available for sale on site. For more information about this workshop visit the organizer's website.
Private Sessions:
Hurry up! Only 34 spots available. Cost 150USD. For more information on Sessions time schedule and to book your session, contact organizer.
***SPECIAL OFFER – OUR HEART-WARMING GIFT FOR YOU***
Hurry up! Only 50 packages are available. Your chance of winning is 1 in 10!
To be entered to win: Purchase one of our Event Packages (i.e. Package #1 or #2 on the ticket tab) which includes the Self-Empowerment Workshop (on Friday, March 2, 2018, 6:30pm – 9:30pm) and the Soul Integration Workshops (on March 3-4, 2018, 9:30am-6:30pm each day). You will have 1 in 10 chances to win one of the following prizes:
One 55-minute in person Private Session with Sal Rachele, worth 150USD
One of Sal Rachele's books (hardcopy), worth 25USD
Three O.R.E.N.D.A. Events prizes, worth 15USD each
***Offer expires when all packages are sold out***