Join Marc L Caron and Stephen Gray as they speak with Zoe Helene, an artist and cultural activist best known for coining and popularizing the term Psychedelic Feminism and founding the environmental feminism group Cosmic Sister. She believes a true balance of power across the gender spectrum—globally—is the only way humans (and non-humans) will survive, and she sees Psychedelic Feminism as a realistic, practical yet hopeful approach to a much-needed shift of global consciousness. Cosmic Sister promotes women's empowerment through intentional work with sacred plants (and fungi) such as cannabis, ayahuasca, peyote, iboga and psilocybin mushrooms as a way to jump-start rapid cultural evolution, starting with women.
Zoe will also be speaking at the upcoming Spirit Plant Medicine Conference right here in Vancouver on Nov.1 -3rd, 2019. She will be joined by a number of her Cosmic Sisters, many of which will be speaking and many others who will be attending. Come meet Zoe and the  Cosmic Sisterhood!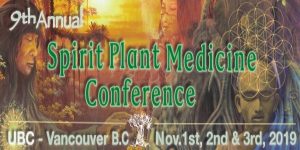 Save 15%! Discount Code: CosmicSister
PSYCHEDELIC FEMINISM
Cosmic Sister was founded by cultural activist Zoe Helene, who is best known for coining the term Psychedelic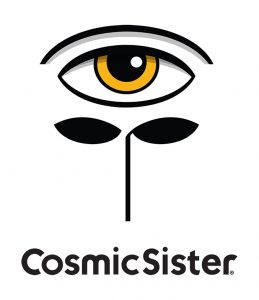 Feminism®, a sub-genre of feminism that embraces the power of sacred plants, and encourages women to explore the wilderness within, where they can learn more deeply about themselves, in part to explore core feminist issues in fresh and exciting ways. Psychedelic Feminism is helping to bring women's voices to the forefront in the field of psychedelics (and beyond).
To date, this work has been featured in Bust Magazine, ABC Australia, New Zealand Radio, VICE, VICE | Broadly, VICE | TONIC, Playboy, LA Weekly, LA Yoga, Boston Yoga, Organic Spa Magazine, Organic Authority, The Wisdom Daily, AlterNet, Utne Reader, Psychedelic Times, PRØHBTD, Weedmaps, Civilized, The Cannabist, MassRoots, Lift, Sensi, Green Flower Media, Culture, Revelist, Oyster, Reset, Psymposia, Australia's The Saturday Paper and The Journal for the Study of Radicalism a peer-reviewed academic journal. We have also been featured in popular psychedelic and cannabis podcasts such as Psychedelic Salon, Medicine Path, Adventures Through the Mind, Pathways, Psychedelics Today, The Third Wave, Utne Reader's Abstract Notions and Susun Weed's People Making Change and more.
PLEASE JOIN COSMIC SISTER ON SOCIAL MEDIA
The best way to keep in touch is to join us on Social Media:
Cosmic Sister on Facebook (@cosmicsister)
Cosmic Sister on Instagram (@cosmicsister)
Cosmic Sister on Twitter (@cosmicsister)
HASHTAGS: #CosmicSister #PsychedelicFeminism #SacredPlants #ZoeHelene #WomenSupportingWomen
About Zoe
Zoe Helene is an artist, environmentalist, and cultural activist best known for women's empowerment and sacred
plants such as cannabis, ayahuasca, peyote, and psilocybin mushrooms—our evolutionary allies—and for "Psychedelic Feminism," a term she coined and popularized.
Zoe's personal work with sacred plants continues to deepen her determination to help protect the earth's diverse biological abundance. She believes that creating a true balance of power across the gender spectrum—globally—is the only way humans (and non-humans) will survive, and that it is our moral responsibility, as Earth's apex predators, to protect and defend the rights of non-humans to live freely in thriving, uncompromised wilderness sanctuaries.
Zoe's Psychedelic Feminism TEMENO Talking Circles explore women's work "in the medicine" space, including core concepts of "set and setting," the three key stages of preparation, immersion and integration, and methods for "evoking intentions" in preparation for sacred plant medicine work.
In 2017, she founded Cosmic Sister, an eco-feminist collective for progressives who understand that the current, grossly imbalanced "power-over" patriarchal model will continue to lead humans down a devolutionary path that will eventually end in the destruction of life on Earth as we know it. Cosmic Sister's psychedelic feminism educational advocacy projects promote sacred plant spirit medicines as a way to "jump-start rapid cultural evolution," starting with women. Cosmic Sister's trio of psychedelic feminism grants—Women of the Psychedelic Renaissance, Cosmic Sisters of Cannabis and the merit-based immersive Plant Spirit Grant—support women's voices in psychedelics and cannabis and promote journeying with sacred plants as a natural right.
Zoe has been featured in Bust, Forbes, BBC Travel, ABC Australia, New Zealand Radio, VICE, LA Yoga, LA Weekly, Playboy, Outside Magazine, New York Magazine, Boston Magazine, Vice | Broadly, Vice | Tonic, Psymposia, Sensi, Weedmaps, Brides, Bustle, Utne Reader, Wisdom Daily, AlterNet, Newsday, MassRoots, Organic Authority, Chicago Tribune, Boston Globe, Boston Business Journal, The Valley Advocate, MIT Technology Review, and Fast Company and more. She has also been interviewed in psychedelic and cannabis podcasts such as Psychedelic Salon, The Third Wave, Adventures Through the Mind, Psychedelic Parenting, Psychedelics Today, Pathways, Utne Reader's Abstract Notions, Susun Weed's People Making Change and Medicine Path. See Press Room for more details.
Zoe's stories, interviews and have been published in LA Yoga, Boston Yoga, Organic Spa Magazine, Utne Reader, Coco Eco, Reset.Me, Conscious Living, EcoSalon, Nailed, Civilized, Cannabist, Lift, Ladybud, Earth Tribe, Activist News, Reality Sandwich, Huffington Post, Organic Authority and the Endangered Species Coalition. See Correspondent Work for details.
MEDICINE HUNTER
Zoe travels to remote regions of the globe with her husband, ethnobotanist Chris Kilham, founder of Medicine Hunter, to promote medicinal plants, environmental protection and cultural preservation and to bear witness to the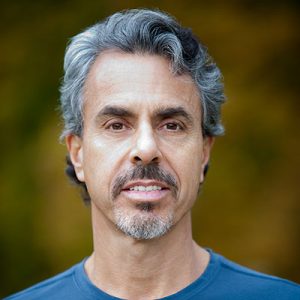 state of women, wilderness and wildlife.
Zoe and Chris share sacred plant spirit medicine ayahuasca ceremonies with indigenous people in the Peruvian Amazon. The Amazonian Shipibo tribe, with whom Zoe participates in ayahuasca ceremonies, bestowed upon her the name Kata (Little Bear) for her fierce, nurturing nature.
She supports Medicine Hunter by working with media professionals and has worked with NBC Nightly News, CNN Health, Green Flower Media, Business Insider, The Dr. Oz Show, Outside Magazine and many others. She appeared with her husband and partner, Medicine Hunter Chris Kilham, on NBC Nightly News and in The New York Times. Chris' books The Ayahuasca Test Pilots Handbook and The Five Tibetans (Second Edition) are dedicated to Zoe.
EARLY CAREER
Zoe began her career in the performing arts. She is a classically trained artist with a higher degree from the Brandeis University and performing and design credits from professional independent theaters and improv comedy venues. Mentorships with legendary costume designer Patricia Zipprodt and master animator John Ewing, whose credits include Jungle Book and 101 Dalmatians, helped shape Zoe creatively.
in the pre-dot com era Zoe (1994 to 1996) was the artistic director in a pioneering creative agency that produced one of the first comprehensive online communities and the first online presences for more than 5,000 artists and 500 art organizations, including The Boston Ballet, Alvin Ailey Dance Theatre, Musician Magazine, Dance Magazine, Cambridge Multicultural Arts, World Music, Very Special Arts, and many more. Zoe played a key role in developing the world's first fully functioning portal process for virtual global creative production, directing a cosmopolitan team of engineers and animators, "drawing inspiration from the arts as well as from artificial intelligence," Fast Company reported at the time.
As chief creative officer (1996 to 2002) she developed award-winning projects for blue-chip clients such as American Express, Allstate, the U.S. Senate, IBM, Nike, Calvin Klein, Sprint, Hershey's, Proctor & Gamble, Ralston-Purina and Unilever. During this time, she worked on the industry's first and only holistic, scalable enterprise software solution for handling influential one-to-one digital dialogue campaigns. Her work was featured in The Wall Street Journal, USA Today, Fast Company, LA Times, The Boston Globe, Boston Business Journal, and the MIT Technology Review.
During this period, Zoe presented keynotes and workshops to top-tier corporate executives, including "Working with Evolving Mediums," "Digital Revolution", "Collective E-Consciousness," "Archetypes of the Digital Age," "Demystification and the Digital Divide," and "Demeter's Pallet," a nature-centered visual vocabulary workshop. Zoe has worked passionately from within the high corporate world to secure support for organizations such as Guggenheim Museum, Alvin Ailey Dance Theatre, World Music, Defenders of Wildlife, Very Special Arts and Read Across America. "Zoe Helene's success with corporate work, she says, gives her leverage to work also on such causes for which she feels so much passion," Newsday reported.
Following her heart, Zoe transitioned from working with mainstream Americana brands to supporting purposed-driven brands that cared about humanitarian and environmental causes. Through VisionRose, the agency she founded in 2002 and ran until 2007, Zoe provided integrated communications and digital content development for companies in the natural products sector and conventional companies seeking to embrace sustainable business practices. She met her husband, Chris Kilham, at a Natural Products Expo East tradeshow.
EDUCATION
Zoe Helene is an award-winning creative professional with a Bachelor of Fine Arts in Acting & Design from the University of North Carolina and a Master of Fine Arts in Professional Theatre from Brandeis University.