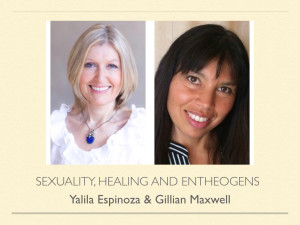 Join us for this exciting and provocative PRE-CONFERENCE lecture with integrative health educator Dr. Yalila Espinoza & MAPS Canada board member and educator, Gillian Maxwell to talk "SEXUALITY, HEALING and ENTHEOGENS".
LIMITED advance tickets $20 BELOW:
https://spiritplantmedicine.com/schedule-preconference-events-2015/
OR call 604-644-4447
The evening will facilitate two separate but intertwined lectures from both of these dynamic speakers.
Erotic Vines: Tantric Initiations & Plant Teachers for LOVE
ABOUT: Dr. Yalila Espinoza serves as an integrative health educator who journeys with explorers to break through love & sex addiction and boost their authentic voice in the world. She founded 01Center Academy that offers programs focusing on plant spirit training, sexual initiation, & tantric yoga. Check out yalila.com for more info.
Sexual Healing Plant Medicines: The Possibility of Global Harmony
ABOUT: Gillian Maxwell is based in Vancouver and is an experienced coach and facilitator, public speaker, and has been dedicated to the reform of drug policies nationally and internationally since 1999. She is a board member of MAPS Canada (Multidisciplinary Association for Psychedelic Studies), and a proud recipient of the 2012 Queen Elizabeth II Diamond Jubilee Medal for community service in introducing harm reduction to Vancouver and advocating for INSITE, North America's first supervised injection site.
Gillian's passion is to work with people to realise their innate potential, empowering them in taking action that makes a profound contribution to their lives and the lives of others.