OCTOBER 13TH, 2012 10 AM – 10 PM at PNE FORUM (Google Map)
The SEED Event experience goes beyond inspiration and learning proven techniques for well-being from world-renowned speakers & leaders. Spend time in the SEED Cafe being nourished by Vancouver's best organic food, or peruse the SEED Tradeshow & Market featuring cutting-edge products & services in education, wellness, business, sustainability, finances and more.
It's also about the connections and conversation throughout the day.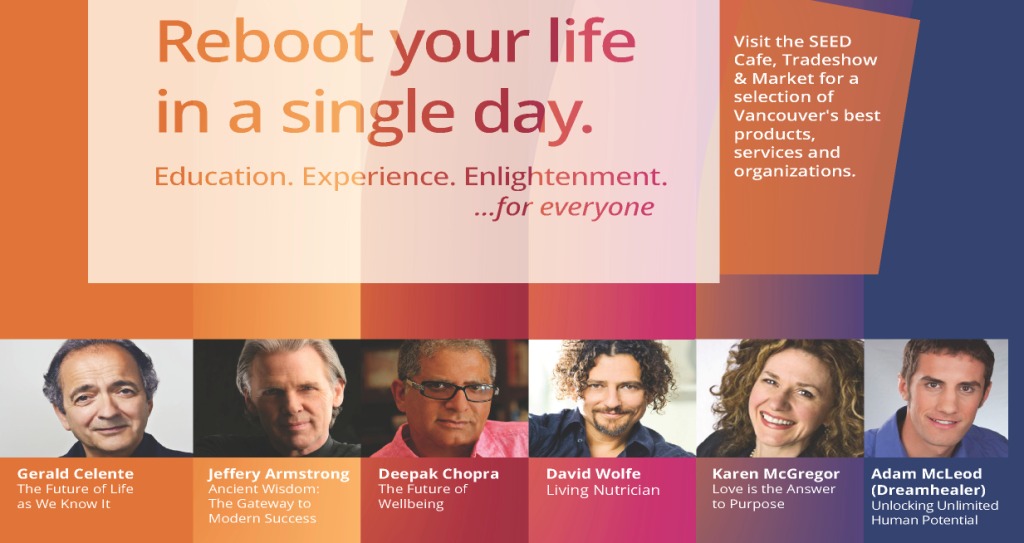 During your day at The SEED Event you will:
Gain insight on the Latest in Well-being from wellness expert Deepak Chopra
Effectively navigate the future with the Truth in Trends from #1 Global Trend forecaster Gerald Celente
Learn to easily add Superfoods to produce A Whole New Level of Vitality with longevity expert David Wolfe
Unlock your Unlimited Human Potential with world-renowned scientist & energy healer Adam McLeod (Dreamhealer)
Answer 'What Now?' and Live Your Purpose with life & business coach Karen McGregor
Discover the Modern Power of Ancient Technologies with eastern wisdom expert Jeffery Armstrong
and much more…
Get your ALL DAY PASS at $50 OFF regular price of $149= ONLY $129 (limited time offer)
CLICK HERE & enter code CONSCIOUS to buy your discounted tickets