Saturday May 23, 7PM -Cannabis Night Live presents On-Line: A Cannabis(friendly) Ceremony with Yorro Yorro
May 23, 2020 @ 7:00 PM

-

10:00 PM

$5 – $22
Conscious Living Network is excited to offer a live online 3-hour guided live music, cannabis friendly ceremony with Yorro Yorro , on Saturday May 23, from 7:00 to 10 pm PDT.
Our intention for this event is to offer an online ceremonial community experience, with the spiritual side of cannabis Those who want to partake of the medicine will be invited to light up together in a group Private Zoom Meeting.
Then Miryam & Adam, along with special guest facilitators Surya Light and Bernie, will lead the ceremonial portion of the connection, broadcast to you Live in a Private Facebook Group.
During these challenging times, we want to make it possible for all to participate and are offering a donation based opportunity of $0, $5, $10 & $22
Learn more and get a taste of  the Yorro Yorro tribe as they were interviewed on a recent episode of Conscious Living Radio, Be sure to listen to the songs, they are amazing…and this is just a taste to what y ou can expect as they play continuously for you for the evening! Incredible!
Instructions and Guidelines: *Please read thoroughly
1. Quality Sound suggestions: please use the best speakers or earphones you can get your hands on.
2. Medicine: we suggest you find an uplifting, expansive Sativa or Sativa dominant strain. For those not familiar with cannabis yet, we suggest the smoking or vaping option to have more control over your dose ie start with 2 puffs and work up slowly. For those taking edibles, please take your medicine 1 hour prior to the ceremony and finish eating your last meal by 5pm. (edibles are not recommended for first time users as the dosage varies too much) Frequent cannabis users can deeper your experience and reset your endocannabinoid system with a 3 day break before the circle
3. Set and Setting: dress comfortably, prepare both sitting and laying options along with a quiet space where you will not be disturbed for the duration of the ceremony. The use of incense, essential oils and candles is also recommended.
Participation Requirements
I understand that cannabis use can exacerbate some heart and respiratory conditions and may not be suitable for all people. I take full responsibility for my health / safety and absolve Conscious Living Network and all event facilitators of any related responsibility.
Facilitators / Team Play
Miryam & Adam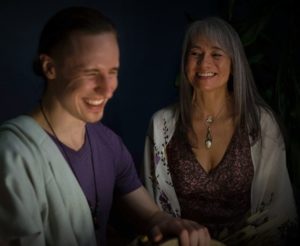 Join best friends and live music ceremonialists, who find great joy in witchin' up a multi-cultural musical concoction, to enter into the silence of the mind, expand the heart, along with the intention to love, celebrate and become One with the Light Force of the Creator
Miryam has been on an intensive journey, establishing a connection and communication with Spirit, through ancient universal wisdom, songs, prayers, mantras and chants since the year 2000.
Adam has been on an intensive musical training journey, establishing his connection with Spirit, with guitar in hand since the year 2001 and in recent years has been playing / connecting through kirtan.
Special Guest Facilitators
Surya Light is an amazing live music ceremonialist and energy healer, who is part of the Team play
Bernie is a Yogi and Health Practitioner, who will guide us for the first 20 minutes, with light movement to awaken the spine, clear our energy fields through breathwork and centre us with a grounding meditation to lead us into the ceremonial portion of the work.