TIANA Cilibiu – On-Line: Live and Interactive All Ages Concert
February 28, 2021 @ 11:00 AM

-

12:00 PM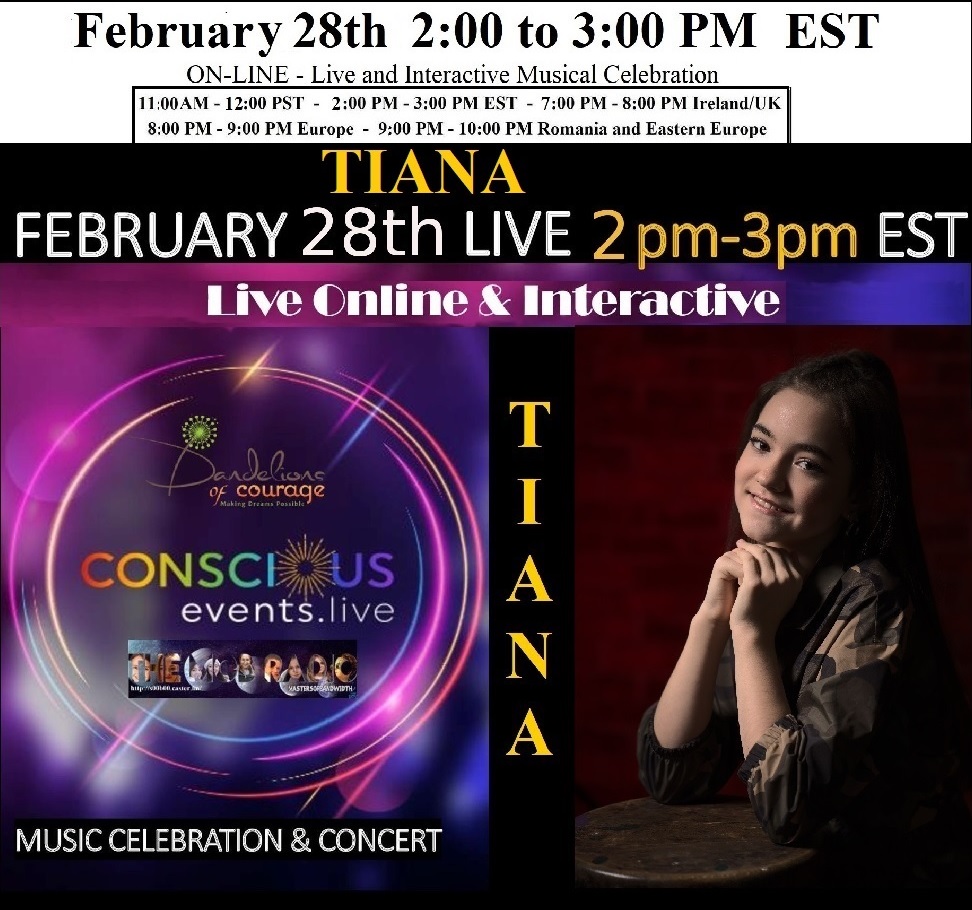 Join singing prodigy, TIANA Ciilibiu as she shares her gifts of music and song in a unique On-Line Live and Interactive Virtual Experience!
 TIANA 
 Als Artist of the Month 
MOB Radio
 February 2021 
It is no surprise that DJ Shea is Happy to introduce TIANA Cilibiu Artist of the Month for February 2021 on MOB Radio coming to you Live on Conscious Events Live 28th February 2pm to 3pm EST
Passionate Unique Inspiring. Quote Music is my true Passion TIANA
Come and see why Seamus has declared Tiana the future of Modern Rock the Princess of Pop and the best Girl rapper in the world this will be one performance you will never forget get your Tickets now come join live and interactive for the experience and share your love of music with the Amazing TIANA see you there.
Born on 21.12.2009 in Botosani,a town from north part of Romania.
She started singing since she was 7.Very soon the result appeared. At just 9 years old she received Golden Grand Prix in an international festival-Constelatia Necunoscuta -where there were about 150 participants from different countries .At 9 years old she received another Grand Prix  in an international festival-November Music Fest.She was one of the youngest participants there.
At ten years she received many prizes .The important ones are-
-Trophy  of the Section  in -Magia Craciunului
-Grand Prix of -Magia Fulgilor de Nea
-Preparing Stars Trophy of Preparing Stars Festival
-Ist place in Golden Voice Malta
-2nd place in Bled Golden Microphone Slovenia
-Trophy of the Section in Portativul Cu Minivedete
-Trophy of Cathegory in Stele de Gheata Festival
-Trophy of cathegory  in Next Magic Voice
-Trophy of Cathegory in two sections of Sunetul Lunii Festival
-Trophy of Cathegory in Cheia Sol -Music for ALL
-Trophy of Cathegory in Festivalul FESTIVALURILOR
In 2020 Tiana received a great distinction-ARTISTA INTERNATIONAL JUNIOR 2020-from  festival  Universong in Spain.
Tiana became  a registred trademark in december 2019 and since then she uses only TIANA  as her stage name.
2020 was the year Tiana has launched her first original song VISE DE CARTON.The song was written for her by the composer Claudiu Bulete and was accepted in the final of Mamaia Copiilor.It also was included on an aniversary CD.
Social Media:
FaceBook
https://www.facebook.com/TIANACILIBIU
Youtube
https://www.youtube.com/channel/UC6DEdtuIzZ3lv2rOpbyxx6Q
Instagram
https://www.instagram.com/tianacilibiu/
Soundcloud
https://soundcloud.com/user-902307276 https://www.instagram.com/tianacilibiu/