VSPMC 2020 Cannabis Ceremony ftr Theda Phoenix and John Sheldon
October 24, 2020 @ 7:00 PM

-

9:00 PM

$25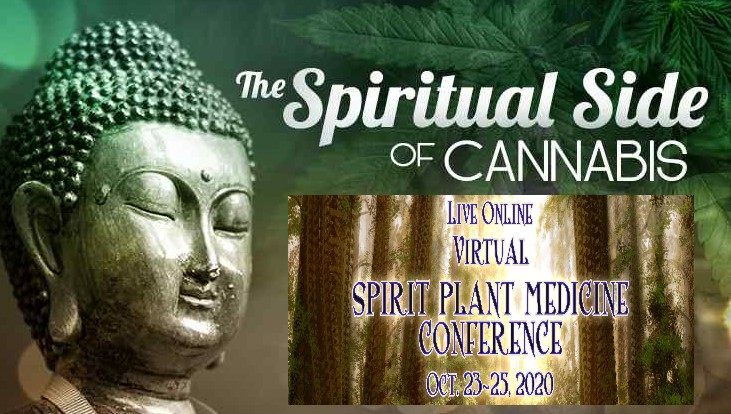 Virtual Spirit Plant Medicine Conference Proudly Presents…
Virtual Cannabis Ceremony 
Saturday Oct. 24, 7 pm to 9 pm
*special ticketed event
Dear Spirit Plant Medicine Community,
The last couple of years year we embedded what we called a "Cannabis-Friendly Ceremony" into the SPMC to add a directly experiential component to the weekend. A lot of people were blown away by how powerful it was, simply by having a couple of tokes of some carefully selected organic herb that was donated to us by its grower, and then sitting in silence with guided meditations and sound journeying.
We're doing it again, with a couple of new wrinkles…
This time it's VIRTUAL: On-line!!
$25 for Non conference Attendees/General Public
Want to know more about what a Cannabis Ceremony is all about? Enjoy this video from  a previous year's Spirit Plant Medicine Conference Cannabis Ceremony!
First We Sit
Everything in the ceremony will be intended to create a container for expansive and revealing inner journeying—for getting out of the monkey mind you might say.
We hope you can join us for this event. We've been surprised at the power and richness people have reported from similar smaller ceremonies like this. Stephen Gray (author/editor of Cannabis and Spirituality) will host, with the skilled assistance of cannabis yoga master Minelli Eustacio-Costa from Los Angeles, the gorgeous calming and healing music of Theda Phoenix, and the stunning ambient guitar work of John Sheldon.
Stephen may "chime" in at some point as well. Like at last year's event, a small group from the local Santo Daime church will also sing one or two of their "Santa Maria" hymns.
For the Spirit Plant Medicine Conference,
If you want to be part of this ceremony, all you need to do is have some quality cannabis with you to light up simultaneously with hundreds of others*, a comfortable place to sit straight (preferably) or lie down, and the best sound equipment you can get your hands on.
A tip: For maximum depth and clarity, it can really help to take a break from cannabis prior to the ceremony for as much time from your time of purchase till the event.
*You don't need to use cannabis to participate. It will be lovely and rich regardless, an excellent restorative channel-change from a full day of information from our world-class presenters.
About Stephen Gray
Stephen Gray is the author/editor of two books, including the popular Cannabis and Spirituality: An Explorer's Guide to an Ancient Plant Spirit Ally. He is also the longtime co-organizer of the Spirit Plant Medicine Conference, as well as a cannabis ceremony leader, lecturer, and part time musician and photographer.