SPMC 2019 Cannabis Ceremony and Dance ftr Shine
November 2, 2019 @ 7:00 PM

-

10:30 PM

$25 – $40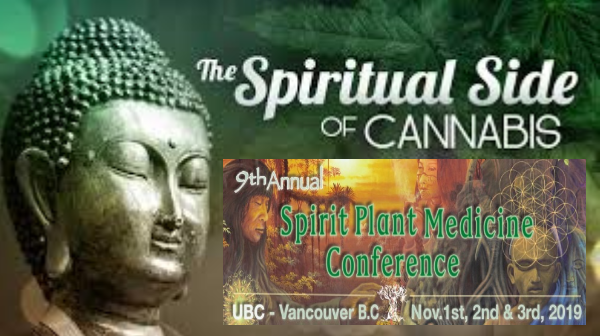 Spirit Plant Medicine Conference Proudly Presents…
Cannabis Ceremony and Dance
Saturday Nov 2, 7 pm to 10:30 pm
*special ticketed event
Dear Spirit Plant Medicine Community,
Last year we embedded what we called a "Cannabis-Friendly Ceremony" into the SPMC to add a directly experiential component to the weekend. A lot of people were blown away by how powerful it was, simply by having a couple of tokes of some carefully selected organic herb that was donated to us by its grower, and then sitting in silence with guided meditations and sound journeying.
We're doing it again, with a couple of new wrinkles.
We would like to spend the evening with those who consciously choose to join us. For that reason we've made it an add-on to the SPMC2019 ticket for the more or less nominal charge:
$25  for SPMC ticket holders
$40 for non-ticket holders/General Public
High-quality donated herb will be on hand for the evening.
Want to know more about a Cannabis Ceremony is all about? Enjoy this video from last years Spirit Plant Medicine Conference Cannabis Ceremony!
First We Sit
Everything in the ceremony will be intended to create a container for expansive and revealing inner journeying—for getting out of the monkey mind you might say.
We'll do several very brief (4-5 min.) silent meditation sessions interspersed with guided meditations and breathwork led by conference presenter Rachael Carlevale, sound journeying with our beloved Theda Phoenix, and group OM chanting with master musician Shine.
I may "chime" in at some point as well. Like at last year's event, a small group from the local Santo Daime church will also sing one or two of their "Santa Maria" hymns.
Simon Haiduk's stunning visual art and animations will also grace the space as they did last year.
Then We Dance.
When the "formal" part of the ceremony is over, a little after 9 pm, Shine will play a set of live dance music. Shine really knows how to get people moving. If you join us, you'll see that the term "master musician" is no exaggeration.
For the Spirit Plant Medicine Conference,
Stephen Gray
About Stephen Gray
Stephen Gray is the author/editor of two books, including the popular Cannabis and Spirituality: An Explorer's Guide to an Ancient Plant Spirit Ally. He is also the longtime co-organizer of the Spirit Plant Medicine Conference, as well as a cannabis ceremony leader, lecturer, and part time musician and photographer.
About Shine Edgar:
Renowned Australian didjeridu master Shine has been performing, teaching and offering sound healing for close to 30 years. He has performed at numerous international festivals to thousands of people and shared the stage with many well-known artists, including Mickey Hart, Jai Uttal, Michael Franti, and Rhiannon. Shine was initiated into didjeridu healing by an Indigenous Aboriginal elder in 1991. Deepak Chopra, Eckhart Tolle, Ram Dass, and Dr Andrew Weil have all experienced Shine's work.
About Simon Haiduk:
Simon has explored many visual media, including animation, often with a strong influence in spiritual themes connected to nature. Currently his primary medium is digital painting. He continues to also produce music, and has released four full length albums since 2002. Within art galleries, festivals, conventions, and online platforms, his work is exhibited globally. He currently works out of his studio in Gibsons, BC, while continuing to explore an ever-expanding palette of creative endeavours.
Related Events