SPEAK UP – TALK SERIES – Corporate Consciousness
March 2, 2019 @ 9:00 AM

-

5:00 PM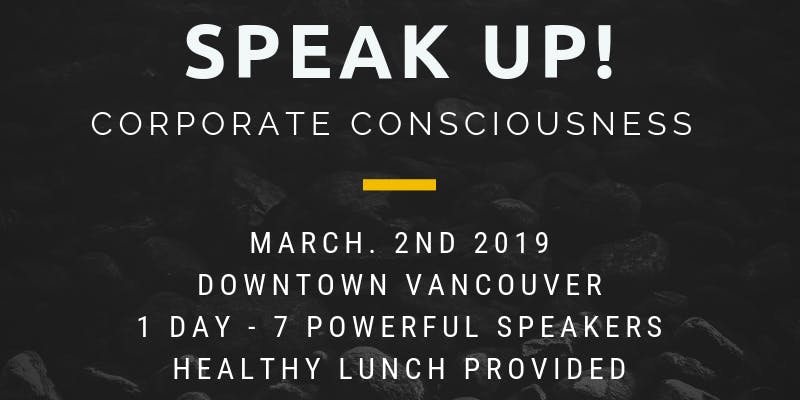 SPEAK UP – TALK SERIES – Corporate Consciousness
March. 2nd 2019 – 9AM-5PM – SFU Fletcher Challenge Canada Theatre, Vancouver
Come listen as 7 POWERFUL speakers hit our stage sharing their stories of OVERCOMING the most challenging experiences life throws at us. You will hear the most inspiring messages of hope and take away practical toolsyou can arm yourself with today. Join us in being part of a movement that changes lives and perhaps may even save some.
Our Mission
Welcome to the SPEAK UP Talk series. Our goal and mission is to end stigma, and needless suffering to those in silence, through raising awareness in consciousness within our busy culture. What we can't do alone, we CAN do together. Our stories have POWER and it's time to tell your story.
Our Objective
SPEAK UP Talk series is a on going speaker series with 7 powerful speakershitting the stage. You will hear the most inspirational stories of realness, true grit and perseverance. From those who do not just talk the talk but walk the walk. Take away REAL practical tools you can use and adopt into your life TODAY.
TAKE AWAYS:
– Practical tools and skills you can implement in your life today
– Networking with likeminded people. Meet the worlds best
– Stories from powerful speakers to ignite our soul
– Raise consciousness within ourselves
– Free lunch and much much more…
OUR SPEAKERS:
Paul Henczel – Author, TEDx Speaker, Entrepreneur & Storytelling Expert
Paul Henczel experienced a horrific accident of almost being crushed to death and survived to achieve what most would say was impossible. Paul is determined to bring awareness around the stigma of invisible injuries and disabilities. This is an inspiring, heart-felt, and at times, humorous talk that encourages watchers to rise above their circumstances through storytelling. Paul was left with multiple physical, mental and emotional injuries, including PTSD, a traumatic brain injury, nerve damage and more. But, his obstacles have not stopped him from reaching his educational and professional goals, because he believes opportunities create stories and stories create opportunities.
Against all odds he completed his Bachelors of Business Administration Degree and wrote a book about his story "Miracle in a Mill: Crushed Alive!" Paul uses his experiences from overcoming adversity and daily challenges to motivate and empower others through storytelling, and challenges others to do the same. Paul Henczel is the Author of "Miracle in a Mill", and a speaker who lives in Abbotsford. Paul survived certain death to achieve what most would say was impossible. His obstacles have not stopped him from reaching his educational and professional goals, because he believes opportunities create stories and stories create opportunities. Paul is determined to bring awareness around the stigma of invisible injuries and disabilities. Paul uses his experiences from overcoming adversity and daily challenges to motivate and empower others.
Michela Quilici – Business Navigator, Award-Winning Business Growth Coach + Marketing Consultant, Self-Leadership Advocate, and Forbes contributor.
She works with 7-Figure CEOs, Business Owners & B2B Service Professionals to bridge the gap to their next level of business growth and mindset using strategy, structure & self-leadership, so they can authentically market and strategically grow their business with purpose and confidence.
Michela has a relentless passion for helping people be seen and heard. Despite her successful business career, she has been on a life-long journey of personal growth, which has allowed her to overcome deep emotional and psychological traumas related to not having a voice and not being seen. Her spiritual awareness has helped her transmute these things into ongoing strengths. She even integrates some of the principles she learned from her professional flamenco dance training into her life and work. She continues to call herself forward to further step into her voice, create her success and succeed against any odds. Her purpose is to inspire others to do the same.
Over the past 17 years she has coached and consulted hundreds of entrepreneurially minded, growth-stage companies to take business owners and their business to the next level of excellence. Michela has been featured in USA Weekly, Canadian Living Magazine and Profit Magazine. She is a member of the Forbes Coaches Council and is a contributing author in the bestselling book Conscious Business. She is the recipient of numerous marketing and entrepreneurship awards.
Dr. Nima Rahmany, DC, CCWP is both a Chiropractor and an educator
Specializing in helping individuals and professionals get to the ROOT CAUSE of their physical and emotional challenges, from stressed, depressed, and anxious to living Powerfully Aligned and on Purpose. After building a successful Chiropractic practice in Maple Ridge, BC, Dr. Nima sold his clinic in June 2016 to pursue his passion of teaching and coaching professionals who are stressed, depressed, and anxious transform and have their best year ever— in both a private and corporate setting.
Aside from being in practice part at Limelight Wellness, Dr. Nima has integrated all the mind-body tools in his quest for healing stress-related disorders into one, simple to follow method called "The Overview Method", which is " the adjustment above atlas" that he teaches one-on-one and in groups all over the world in his engaging and "edutaining" lectures filled with inspired authenticity and edutainment.
Carmell Kemp – Spiritual Teacher, Mystic & Medicine Woman…
but it wasn't always this way. Her childhood was spent dodging pots, pans, and fists while navigating the war zones of sexual, emotional and psychological abuse. Through her adult years, she found herself riddled with the guilt, shame, bitterness and resentment that left her struggling with a never ending saga of negative thoughts and emotions. The enemy within was relentless and the dark seeds of unworthiness were firmly planted.
Carmelle thought that this was to be her lot if life until a magical series of events led her to a place of pure joy and freedom. Through this discovery, Carmelle has travelled the globe studying with Shamans in the Amazon, Gurus in India, Monks in Nepal and has been named a Nagual Shaman in the lineage of don Miguel Ruiz.
Her connection to and alignment with these powerful traditions, teachings and healing modalities enable Carmelle to re-connect, help and empower men and women from all walks of life that are stuck in the same old habits and patterns, shift from overwhelmed, unfulfilled and stressed out to fearless and free
Brooke Yantzi – is the founder of Dancing with Life, the DANCEPL3Y BC School Region owner for all of BC, and has a passion for getting people moving, being a mental health educator, and helping people feel confident in who they are and connected to those around them.
Brooke has been a dancer for over 30 years, training in various genres and learning how mental health affects everyone on the planet in different ways; from the slums of Kenya, to Indigenous communities in Northern Canada, to corporate leaders and movers and shakers in North America. For the last 10 years, Brooke has had a focus on education world, teaching over 250,000 kids and educators in schools about mental health, anti-bullying, pro-kindness, positive social interactions, self-esteem and so much more, through dance. She has taught dance classes, presented at conferences and trained instructors to teach DANCEPL3Y in Australia, the UK, Kenya, Mexico, and all over North America.
Brooke has worked with companies to not only implement mental health initiatives for the students, but also for the staff. She helped the leaders understand that when their staff's mental states are healthy, that the organization will thrive. A large part of mental health is human connection, and being able to express yourself and accept others for who they are without judgement. She brilliantly addresses and shifts pain points to help to enhance the team's leadership abilities, connection and cohesion.
In Northern Alberta, she had the pleasure of working for an mental health organization and her position focused on engaging the youth in all of the schools in that city around mental health initiatives. She worked with the youth to create programs to help their peers understand the impact of social media, mental health, and bullying. As the Youth Engagement facilitator she also focused on youth leadership, eating disorder awareness and suicide prevention to name a few.
Brooke is an energetic, dynamic, playful, passionate, and inspiring instructor which makes her classes and workshops inspiring, and fun and has a gift for connecting with people and helping them become comfortable to open up and be THEMSELVES!
David Weale – CBD guy, experimenter, seeker. Creator of the Grind Bar and host of CBD Radio podcast. As seen on "Dragons Den".
Dave Weale is the founder of Grounded CBD, a Vancouver based performance nutrition company.
He spent his 20's skiing and biking in the mountains of Whistler, BC; filming, competing and coaching some of the best up and coming athletes in the freeski world. In 2013 after breaking his neck mountain biking, Dave was forced to make a big change in his life's direction. He then chose to focus more on business and also opened his mind to the world of self development, cannabis, meditation and spirituality.
After studying NLP, life coaching, personal training, reiki, and learning as much as possible about the science of performance, Dave created Grounded CBD in early 2016. Now, a little over two years later, he's built it up and is in talks with a few of the larger licensed cannabis producers about partnering to be able to legally sell his products all over Canada once cannabis edibles become legal next October. Dave runs Grounded CBD and also does business consulting with a select few clients.
Teri Holland – Creator and host of a #1 Self Help Podcast on iTunes, The Empowered Life® and the founder of The Empowered Life® Academy. Certified Trainer and Master Practitioner of NLP, Hypnotherapy, and Time Line Therapy® and NLP Coaching.
Teri thought being an entrepreneur and starting a business would give her freedom and the lifestyle she craved in an industry she loved. She was wrong. After 10 years in the health and fitness industry, Teri found herself anything but fit and healthy. She was burnt out, depressed, anxious and sick and she didn't know what to do next. Sometimes our darkest moments bring us our greatest gifts and in Teri's darkest moments, she found help, a new way of being and a new life purpose.
Teri now helps entrepreneurs and high performers to move from where they are to where they want to be in a short period of time. She has studied Peak Performance and Life Enhancement for over a decade and has over 15 years of experience as an entrepreneur. Teri is the creator and host of a #1 Self Help Podcast on iTunes, The Empowered Life® and the founder of The Empowered Life® Academy. Teri has trained with Master Trainer, Dr. Tad James and is a certified Trainer and Master Practitioner of NLP, Hypnotherapy, and Time Line Therapy® and NLP Coaching.
Tom Littlewood – Program Director Dan's Legacy, Senior Counsellor, Masters in Psychology
Tom Littlewood first served as a consultant with Dan's Legacy, and after working with the foundation's board for four months, was hired as the Program Director and Senior Counsellor. Tom graduated from Simon Fraser University with B.A. in Psychology in 1985. Over the next six years he completed his Masters in Psychology as well as two years of specialized counselling programs in various universities in Canada and the USA. He developed one of the first diversion programs for at-risk youth while working as a police counsellor, and established the original Affinity Card campaign as the founding Executive Director for the Selkirk College Foundation. Tom also founded and served as the Executive Director for the Sanctuary Foundation which for fifteen years provided work and life skills programs, counselling and first jobs for thousands of at-risk youth in the Lower Mainland.
Through the Sanctuary Foundation Tom also worked with the Cuban Ministry of Education, setting up a bike mechanics apprenticeship program for at-risk Cuban youth. Tom has also worked as a community counsellor for a First Nation community and as a family support worker and counsellor for an alternative high school in Langley. For the last fifteen years he has managed and volunteered at a local food cooperative, personally attending to the pick-up and delivery of surplus food donated by a national grocery chain. Tom's work ensures that over 500 at-risk youth, seniors, and low-income residents receive healthy and nutritious food on a weekly basis, valued at close to $1 million per year.
We are PROUD to announce our partnership with our choice nonprofit charity Dan's Legacy. Part of all proceeds for our next event SPEAK UP Talk Series Presents: Corporate Consciousness will be going towards supporting Dan's Legacy and the amazing youth that they work with.

Who is Dan's Legacy? www.danslegacy.com

The Dan's Legacy Foundation provides therapeutic counselling and life-skills intervention programs to youth battling trauma-based mental health and addictions issues. These young people, aged 15 to 25, are at significant risk of overdose, self-harm, homelessness and suicide. As the focus of the organization's programs is on Harm Prevention, the threat of living with entrenched addictions is greatly reduced. In 2018 Dan's Legacy helped over 200 youth meet their educational, housing and life-goals.