SOULJOURNEYS & SOULSCHOOL ~ ACTIVATE YOUR LIFE ~ BY UNITE
February 28, 2019 @ 8:00 AM

-

5:00 PM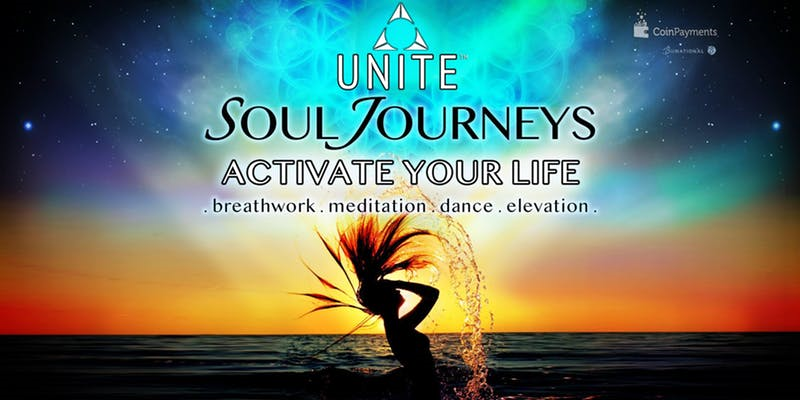 GET READY TO ACTIVATE YOUR LIFE!!!
Your LIFE is a REFLECTION of your STATE…
– How you feel about WORK & FINANCES determines your ABUNDANCE
– How you feel about CONNECTION influences your RELATIONSHIPS
– How you feel about YOURSELF dictates your physical & emotional WELLBEING
————————————————
>>>TICKETS: https://activatelife.eventbrite.com
————————————————
Join us for an INTERACTIVE & EXPERIENTIAL JOURNEY!
~ KUNDALINI YOGA & PLANT SONG MEDITATION will help you calm the mind & inspire new possibilities.
~ SEX & MANIFESTATION WORKSHOP will open you to the depth of your power & your authentic purpose.
~ ILLUMINATION ACTIVATION WORKSHOP will IGNITE your inner BADASS & propel you towards EPIC HAPPINESS, ABUNDANCE, & SUCCESS.
~ BREATHWORK & DANCE & CACAO JOURNEY will elevate your SPIRIT & cleanse your inner space to make room for your new CREATIONS!
Date And Time
Sun, March 31, 2019
12:30 PM – 10:10 PM PDT
Location
St James Community Square
3214 West 10th Avenue
Vancouver, BC V6K 2L2
————————————————————–
>>>TICKETS: https://activatelife.eventbrite.com
FULL DAY = SOULSCHOOL (12:33-6:33) + SOULJOURNEYS (7-10PM)
$77 – SUPER EARLY BIRD *available till MARCH 3rd @11:11PM
$88 – EARLY BIRD *available till MARCH 17th @11:11PM
$97 – REGULAR
$120 – AT THE DOOR
-OR- do a ½ day:
$55 – SOULSCHOOL – yoga-meditation-workshops-vendors
$55 – SOULJOURNEYS – Breathwork + 5 Rhythms Dance
-OR- attend components separately…
$22 – YOGA & MEDITATION
$22 – Sex & Manifestation WORKSHOP
$22 – Inner Illumination WORKSHOP
*If finances are short for you, contact the organizers, for Creative Contribution Solutions 🙂
————————————————
ELEVATE YOUR HEALTH, WEALTH, HAPPINESS, & RELATIONSHIPS
Join us for a full day immersive experience with transformational teachers and artists, presented by UNITE.
WHAT IS SOULSCHOOL?
A curated platform showcasing the leading edge teachers, healers, & transformational leaders to share their processes to live a happy, healthy, & abundant life!
WHAT IS SOULJOURNEYS?
Carefully designed experiences to create an embodied connection with higher states of consciousness.
EVENT OUTLINE
-12:33PM – DOORS OPEN for SOULSCHOOL
-1:00-2:30 – KUNDALINI YOGA with Mahan Khalsa & MEDITATION with Singing Plant Technology
-2:30-3:00 – VENDOR EXPO & CHILL
-3:00-4:00 – SEX & MANIFESTATION WORKSHOP with Stacy Michelle
-4:00-4:30 – VENDOR EXPO & CHILL
-4:30-6:00 – ILLUMINATION ACTIVATION workshop + integration circle with Deidre Sirianni
-6:00-7:00 – VENDOR EXPO & CHILL + DOORS OPEN FOR SOULJOURNEYS
-7:00-10:00 – BREATHWORK, MEDITATION, CACAO & DANCE with Paul & Kathie Scott of Quantum Life
————————————————
>>>TICKETS: https://activatelife.eventbrite.com
————————————————
PRESENTERS FOR MARCH 31st
ABOUT BIO SONIC Singing Plant Technology
Plants are intelligent! They respond very differently to different music, recognizes different people, and pets, can sense your mood, & have their own moods!
We will hear the music of different plants, as well as hear the music of our collective state in meditation!
http://coherencelabs.ca/BioSonic.php
ABOUT Mahan Khalsa ~ Mastering YOUR Life Force KUNDALINI YOGA
Our sexual energy is the most powerful energy in our body. It is the essence
of all creation. It is our life-force energy. Through it, we give birth to new life.
This may be the life of a child or the birth of passionate new ideas and
projects, as well as artistic expressions.
Through the practice of Kundalini yoga we will awaken and channel sexual
energy up the spine through the ancient techniques of pranayama, asana,
and meditation where it can be used for spiritual development and creative
fulfillment. As we cultivate our practice, we are able to tune into our powerful
sexual energy and transmute this power into the manifestation our greatest
life.
Join Mahan Khalsa for this dynamic and transformation practice and Turn on
Your SEXY!
BIO:
Mahan Khalsa is a woman lit up with passionate purpose. She's a down to earth,
reach-for-the-skies, wildly spirited woman. For almost 2 decades, she's devoted her life
to growing and evolving into her happiest, healthiest, and most radiant self.
As a committed yogini, dynamic healer and lifestyle entrepreneur, Mahan is committed
to sharing ancient practices and practical tools to inspire and support others along their
transformational path to holistic health and well-being.
Mahan passionately shares the practice of kundalini yoga, known as the Yoga of
Awareness to guide and assist others in living life with vitality, creativity, and a
connection to their higher self.
Mahan discovered yoga in her early 20s when she was suffering from depression. She
truly believes that it is her daily yoga practice that supports her in living her life to the
fullest, with a courageous open heart and a contagious enthusiasms for life.
Her passion for yoga and wellness is spreading like wildfire in Vancouver, as Mahan
and her committed team of yoga instructors bring yoga to homes, offices and special
events around the city.
To learn more, visit:
Facebook: MahanDharma
Instagram: @mahandharmaqueen
http://myinnergyyoga.com/?name=MahanKhalsa
https://mahankhalsa.org
ABOUT Stacy Michelle
Awaken Your Pleasure Potential: Three Keys to Sensation-ful Sex In this talk participants will learn:
• One of the main blocks to experiencing riveting, shudder-inducing sex and how to overcome it
• An easy tip to help amplify pleasure in the bedroom, no hands required
• The dual purpose foreplay technique which enhances orgasm AND the connection to your partner/lover
Sex Magic for Creating the Love You Want
There is a secret to the law of attraction that is not mentioned in popular modern books and movies. Sexual energy is the most potent force that can be used for creation and manifestation in life. This energy can be harnessed and channeled into every aspect of life, including creating the partner/relationship that one desires. In this talk participants will understand why the structure of the sex magic practice is effective and then will be guided through this practice so they can take it home with them and use it solo or with a partner!
Speaker Bio
Stacy Michelle is a Speaker and Sexual Empowerment Coach to high-performing women around the world. She spent almost twenty years working for top tier investment banks and advising c-suite executives on executing multi-million dollar transactions. She had it all on the outside and was severely disconnected from her body and her orgasm on the inside. Her journey to overcome childhood sexual trauma and reclaim her orgasm has led her on a mission to empower women on a similar path. Women who crave to reconnect to their bodies so they can have sensational sex with or without a partner.
She has been featured in MindBodyGreen and the Boston Business Journal."Stacy is a wonderful facilitator that creates a supportive space for women's healing and growth. She has a skilled and encouraging way of leading her groups through important conversations of pleasure and an inspiring way of awakening it within." -Tami Relles Astorino, Co-Creator of the RISE Community
ABOUT Deidre Sirianni ~ Illumination Activation
Join Deidre Sirianni to awaken your inner light and to turn it into full activation!
Through this experiential conversation, you will dissolve illusions and distractions from your internal light and strengthen the direction of your light to make a greater impact through your soul's calling.
Deidre Sirianni is a transformational life and business coach who believes the
foundation of everything comes down to living in alignment with your purpose. After
spending two decades living and building a life that wasn't her own, she began asking
herself the question "Is this it?" which made her contemplate the purpose of her life and
pushed her to leave the life she had built behind.
Through her journey of depression, anxiety, living a dual life and past trauma, she
discovered that in order to find who you are first you have to let go of everything that
doesn't belong. Today she helps people discover their unique voice, become in
alignment with their truth, and turn their light on!
Deidre's work is to empower others to become who they truly are, remove the veils, and
build a life and business that will leave a positive impact on the world.
People who know and work with Deidre describe her as powerful, intense,
compassionate, bold, hilarious, and a sprinkle of magic! She will make you laugh, cry,
and force you to ask yourself deeper questions that push you to grow.
Currently Promoting…. For 2019
Radically Aligned Group Coaching Program
http://deidresirianni.com/groupcoaching/
Website: www.deidresirianni.com
IG: @deidresirianni
FB: https://www.facebook.com/deidresirianniadventures/
ABOUT Paul & Kathie Scott of Quantum Life
Vancouver's Best Cacao Journey – enjoyed by record-breaking groups of 200+ at the 11:11:2011 Thrive Screening, the Vancouver Planetarium for Fall Equinox 2017 and Blessed Coast Festival 2018 – is presented by Quantum Life at Unite's Soul Journey, March 31, 2019.
Come activate your life with the combination of Cacao, Breath, Movement and Toning. Anahata, the Sanskrit name for the Heart Chakra, is a guided Breath Journey combining a 5,000-year-old chakra/breath manifestation meditation from the Oneness University of India, with the 12-Chakra system that Paul and Kathie use in Quantum Touch, the healing modality they have instructed globally since 2011, for a Journey through the Chakras that opens the Heart to clear the path ahead for the best LIFE ever!
It is with the utmost joy that Paul and Kathie Scott have been led to bring you experiences for an Awakened Life through A Course in Oneness – Breathwork, Energy Healing, Cacao Journeys, Family Constellations and vast Contemplations.
www.quantumlife.ca
————————————————
>>>TICKETS: https://activatelife.eventbrite.com
————————————————
Refund Policy
No Refunds
ABOUT UNITE
UNITE creates opportunities for expansion into higher states of consciousness through regular meditation, music, and experiential education events worldwide.