Shamanic Wisdom Summit
July 19, 2021 @ 8:00 AM

-

July 23, 2021 @ 5:00 PM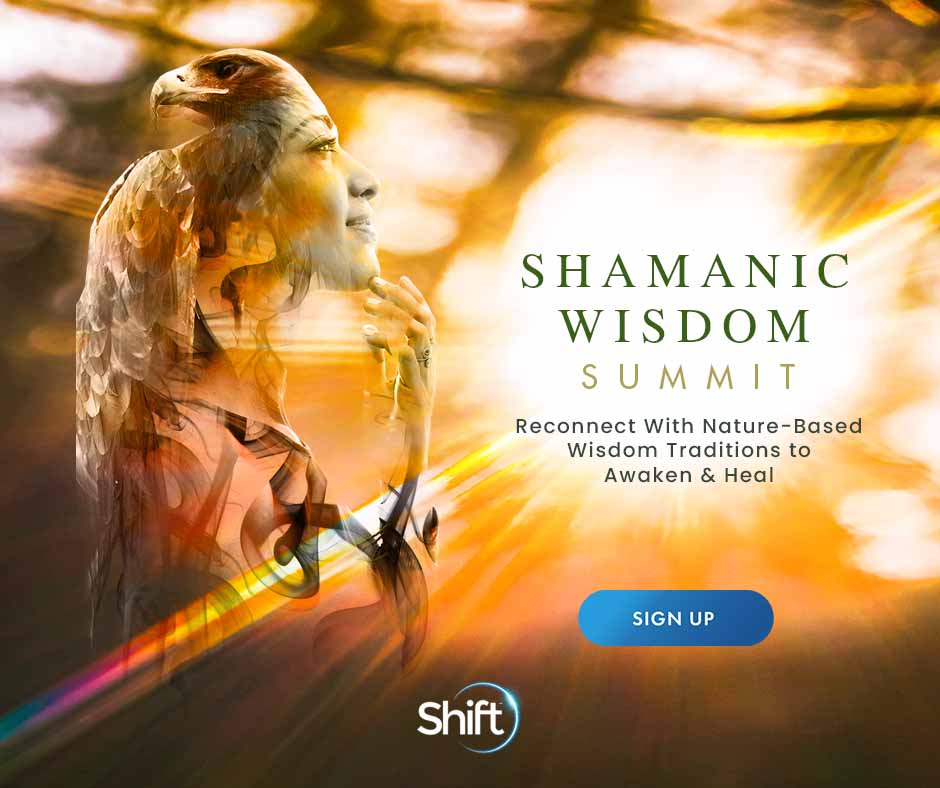 During these times of rampant division, confusion, and unrest, many are longing for balance, groundedness, and restored wholeness. 
Do you find yourself silently thirsting for the healing balm inherent in nature and nature-based traditions… as well as to your own wild wisdom? 
Join us in a journey with world-renowned elders, mystics, and sacred lineage-holders to discover the transformational power of Earth-based traditions — to gain clarity and personal insight, and to reclaim your sacred place in this world. 
You'll experience shamanic teachings and practices to guide you through a process of rediscovery, hearing the guidance of Spirit, and living an authentic, empowered life. 
The knowledge of our ancestors and elders is needed now more than ever — as we navigate through times of illness, ecological suffering, painful division, and societal disruption.  
Shamanic and mystical practices that help you remember your integral place in the world can now become part of your everyday experience. A shaman can be defined as an earth-centered community guide and healer who travels between worlds to gather and transmit information that helps individuals and the community.  
In this year's Shamanic Wisdom Summit, you'll discover teachings from across the globe — from the Amazon to Europe to Africa and more. While each tradition may radically differ from the others, they all emerged from similar core perspectives that point to the same universal principles.
Explore philosophies, practice, ceremonies, and rituals from Peruvian, Andean, Incan, Mayan, Celtic, Nepali, and First Nations traditions (and more!) for spiritual connection and deep healing… with nature, ourselves, and one another.
Whatever your life's path or calling, the Shamanic Wisdom Summit will grant you access to not only traditional Indigenous practices but also teachings that integrate time-honored wisdom with more contemporary psychology and spiritual systems.
This is a Free Online Event….
Shamanic Wisdom Summit
July 19-23, 2021
[INSERT SUMMIT GRAPHIC HERE + LINK]
I'm honored to share this powerful and timely convergence of more than 40
esteemed global teachers and healers, including Grandmother SaSa, Resmaa Menakem, Winona LaDuke, Dr. Alberto Villoldo, Grandmother Flordemayo, Qi Dada, Dr. Marie Mbouni, Thomas Hübl, don Jose Ruiz, Puma Fredy Quispe Singona, Efu Nyaki, Michael Meade, Carmen Vicente, and many others. 
The renowned guides who are speaking in this gathering represent many diverse traditions that can help you connect with the spirit allies and resources you need to create healing and regeneration at all levels of your life.
The simple techniques you'll receive can help your nervous system integrate and digest the sheer enormity of the global change that's happening — enabling you to face the future with more groundedness, calm, and readiness.
RSVP here for the Shamanic Wisdom Summit — at no charge: https://shiftnetwork.infusionsoft.com/go/sws21/a17982
During this heart-opening and expansive experience, you'll discover:
An introduction to ancient Inca solar codes of Inti Muju — and how to integrate the practices to begin a path of healing and transformation
A simple yet powerful Indigenous ceremony using your breath, the sacred element of air
The "great reckoning" we are living through — and how it is an opportunity to sit with the uncomfortable to bring about compassion, new awareness, and deep healing
How modern-day shamanic practices have evolved from ancient wisdom traditions — and why we are at risk of losing valuable healing methods
An understanding of these times as fulfillment of prophecy
The spiritual wisdom that animals offer to inspire us to live a harmonious life
What "wild wisdom" is — and simple ways to practice and develop your wild wisdom to regrow your mystical roots
Powerful methods to reestablish your connection with the natural world as the blueprint for a harmonious way of living
A unique process to activate and create a bridge between our own body and the outer universe through chants, rituals, and appropriate offerings
Effective ancestral practices and ways to embody steady, grounded service through the demands of the times
How to embrace the dark for healing — dissolving your fears and claiming your courage
And much more…
Join the Shamanic Wisdom Summit Today— at no charge. Click Here for full details an RSVP
This life-enhancing event is designed to help you find a clear pathway through the chaos, disruption, and confusion of our present world — and discover deeper states of unity, sacred connection, and heart-healing that's available to you.
I hope you'll join this special event to receive deep insights, rituals, and guidance for sacred living from some of the world's most revered elders and teachers of this ancient path from diverse Earth-based wisdom traditions.
Register for the Shamanic Wisdom Summit now — and discover practices from diverse shamanic wisdom streams that can direct you to the next step on your spiritual journey. Click Here for Full details and to RSVP
Here's some more of what the esteemed speakers will be sharing during the Shamanic Wisdom Summit…
Grandmother Flordemayo shares her wisdom on sacred bathing and limpias and why it's beneficial to bring this into your own spiritual practice — and guides you through a simple ceremony/ritual using the sacred breath.
Learn about "shamanic power animals" from don Jose Ruiz — and see through myth, tradition, and story, combined with the power of personal observation, how animals offer profound life lessons.
With Sandra Ingerman, you'll explore the evolution of shamanic practices from tens of thousands of years ago to today — bridging ancient and new shamanic methods for powerful healing.
Queen Mother & Qi Dada will offer a perspective of Vodou through a contemporary lens — how we have been misinformed about Vodou, the ways it shows up in our everyday lives, and how to respect and honor boundaries to maintain its potency.
Receive a special teaching on sacred reciprocity from Puma Fredy Quispe Singona, who will be broadcasting from high in the Apus — the sacred mountains in the Andean highlands.
Thomas Hübl will take you on a journey into the heart of inner science — and the healing restoration available to you through tapping into the original movement of the universe.
Resmaa Menakem will share timeless practices for healing from intergenerational trauma via the power of body-centered practice — including 5 important somatic anchors to metabolize the energetic residue of trauma.
Discover how to be the hero in your own life's journey — Dr. Alberto Villoldo & Marcela Lobos will offer ways to stop being a victim with regard to your health, your diet, and your thinking.
Join Jose Calarco and Ana Forrest to learn what it means to "embody the sacred" through powerful ceremonial yoga classes inspired by Indigenous wisdom.
And much more… 
Join us for this exceptional journey — RSVP Today! Click Here to  Hold Your Spot