Science of Healing Summit
February 28, 2022 @ 8:00 AM

-

March 3, 2022 @ 5:00 PM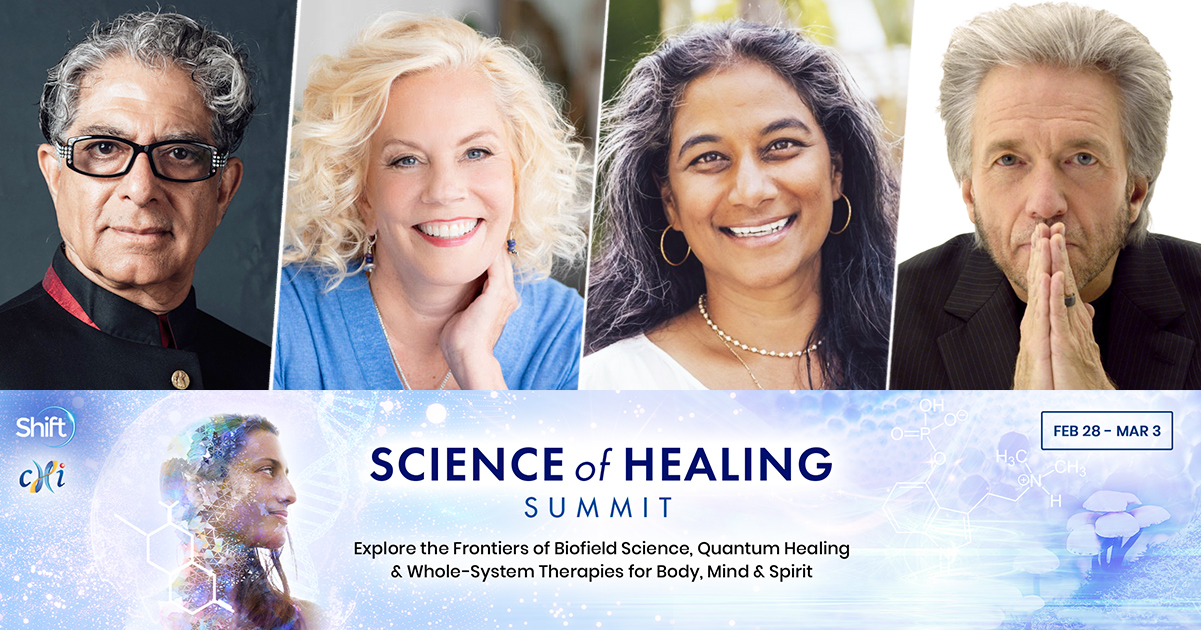 Explore the Frontiers of Biofield Science, Quantum Healing & Whole-System Therapies for Body, Mind & Spirit
How empowering would it feel to take a proactive approach to your health, incorporating groundbreaking science into your life in a meaningful way?
Imagine the inner power you could unleash by integrating the latest evidence-based tools for whole-body healing into your preventive routine!
After two years of persistent strain on your immune system, nervous system, and spirit, now is the time to tap into the energy and inspiration of a global scientific community as it unveils life-changing, evidence-based treatments and practices based on the healing power of the mind-body connection.
Just in the last few years, exciting research has come to light on body-based therapies — particularly around trauma resolution, integration practices, biofield devices, the use of psychedelics, and psychoneuroimmunology.
We now better understand the internal systems that contribute to optimal mental and physical ease. The newest studies on sound healing, energetic healing, quantum healing, and biofield science are rich with immediate takeaways, including revelations on measuring the biofield, biofield tuning, and biofield therapies. 
And fascinating bodies of research point to similarities between ancient and modern whole-system approaches to health in fields such as Ayurveda, Traditional Chinese Medicine, and omics (biological science technologies). 
In the Science of Healing Summit, you'll join a global gathering of pioneers in evolutionary consciousness — including scientists, healers, physicians, researchers, and inspiring teachers — and discover the latest developments in whole-body healing from spiritual, embodied, mental, physical, and biofield perspectives.
Be prepared for this powerful synthesis of inner and outer knowledge and wisdom to shift your perspective on the potential and the very meaning of healing.
Free Online Event
Science of Healing Summit
February 28 – March 4, 2022
You'll hear from more than 40 of today's highly sought-after scientists, healers, physicians, researchers, and inspiring spiritual teachers — including Deepak Chopra, MD, Cyndi Dale, Dr. Sheila Patel, Gregg Braden, Bruce Lipton, PhD, Dawson Church, PhD, Dr. Maya Shetreat, Dr. Mario Martinez, and Charles Eisenstein — exploring evidence-based breakthroughs in:
Biofield science
Energy medicine
Psychedelics-assisted therapy  
Quantum science
Sound healing
Emerging mental health therapies
And more…
This is a rare opportunity to not only understand the future of holistic healing from an intellectual perspective, but also from an experiential embodied place. Guided by leaders from around the globe, you'll be able to integrate the latest proven techniques into your daily life. 
RSVP here for the Science of Healing Summit — at no charge:
During this groundbreaking 5-day event, you'll discover:
How your heart rhythms can synchronize with others and the resonant frequencies in the Earth's magnetic fields

 

The nature of the biofield and how to best feed and care for it
Groundbreaking plant medicine studies that could help in treating modern diseases
How to screen your drainage pathways to gauge illness
Ways to improve your body's detoxification process using the new science of the lymphatic system
How neuroplasticity, intention, and specific acupuncture points can work together to reduce the effects of stress
The awakening potential in trauma and a calling to self-actualize
The evidence behind the science of channeling, according to 150 years of research
How energy psychology is a tool for healing during catastrophic events
How the use of sound and intention are able to shift patterns of thoughts and behaviors
How sound can identify and localize imbalances within the body — and then identify the best resources for resolution
How to nurture your ability to see and sense energy

And much more!
Leading voices in biofield science, energy medicine, sound healing, psychedelics, and integrative mental health are among the global pioneers gathering to share their work with you. They will guide you through the latest in healing trauma, connecting through coherence, strengthening your intuition, working with the biofield, understanding the future of mental health, and more. 
From interviews and panels to brand-new Shift Talks — 20-minute presentations on groundbreaking work — and the screening of a documentary about miracle recoveries, you'll have access to the latest research and theories on the science of healing. 
RSVP here for the Science of Healing Summit — at no charge: 
Here's just a sample of what the enlightening speakers will share with you… 
Deepak Chopra, MD, and Anoop Kumar, MD, will illuminate the fundamental theories and perspectives on how quantum phenomena governs health and wellbeing.
Discover 

exciting research developments around psychedelic therapy and mental health with Dr. Maya Shetreat, Dr. Joe Tafur, and Dr. Gita Vaid.
Understand how to use Ayurveda to connect to your inner wisdom with Dr. Sheila Patel.
Dr. Alberto Villoldo will explore the fascinating synergy between ancient shamanic wisdom and modern science with regard to healing our bodies through detoxification.
Deepen your knowledge of the science of divinity for increasing miracles with Cyndi Dale

.
Gain new perspectives on deep healing and drawing wisdom from our ancestors with Gregg Braden. 
Dr. Mario Martinez will explore how your cultural beliefs can affect gene expression of health or illness in a session on developing your epigenetic self.
Understand how negative thinking can trigger gene expression related to Alzheimer's disease and aging — and how you can counter its effects with Dawson Church, PhD.
Donna Eden will share how transforming fear energetically brings out radiant joy — and why everyone has the ability to see and perceive energy.
Learn what the Honeymoon Effect is and how it influences your life with Bruce Lipton, PhD, during a deep dive into the functions of your conscious and unconscious mind.
And many more…