Sacred Valley Pilgrimage- A Heart Medicine Journey into Andes
March 8, 2020 @ 8:00 AM

-

March 19, 2020 @ 5:00 PM

$USD2295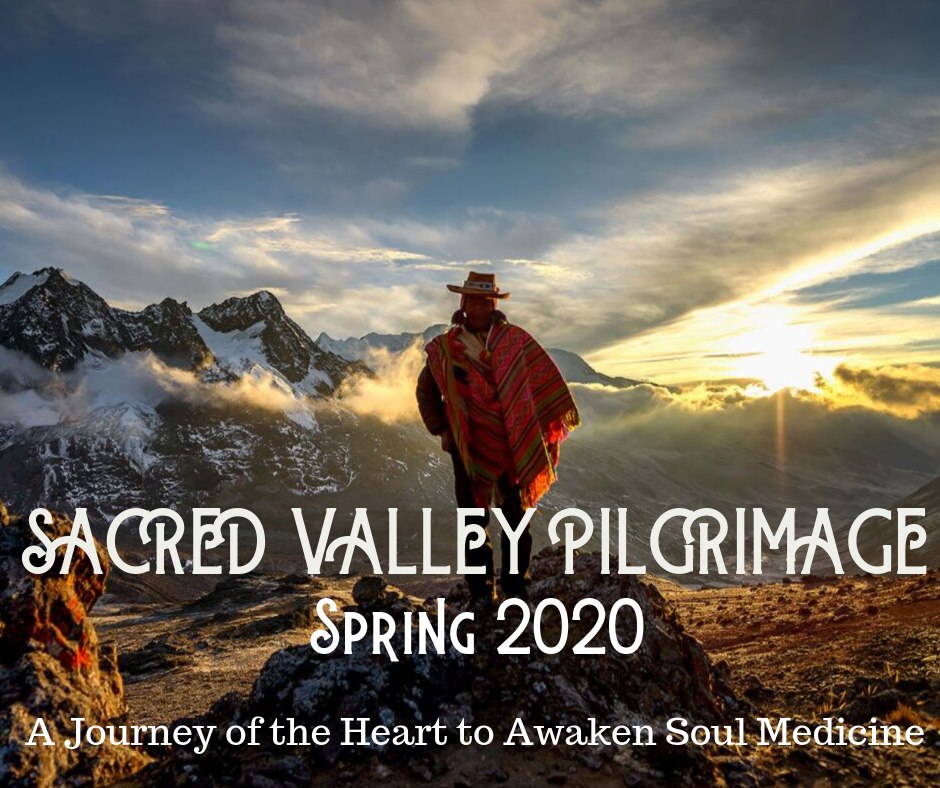 This 11 day soul nourishing pilgrimage to the Sacred Valley of Peru will be a ceremonial and initiatory journey into the Heart of the Andean wisdom traditions. It is a precious opportunity to create a more alive and awakened connection to the ancient, yet every new, wisdom of the Andes. The Andean healing traditions offer a potent antidote to the disconnection to Earth and Soul, so prevalent in the dominant global culture. Each of us who brings healing to the disconnection in our own lives, helps to bring Healing to the collective.

In this 11 day odyssey of heart and spirit you will:
~Receive empowerments, blessings, and teachings from Q'ero Elders and Andean Wisdom Keepers.
~Create resonant connections with the 12 primary Mountain spirits (Apus) of the Sacred Valley.
~We will journey to the ancient power sites of Cusco, Pisaq, Chinchero, Ollantaytambo, Apu Pachatusan, and Moray to learn from indigenous wisdom keepers the knowledge of the Ancestors.
~You will have the opportunity to participate in ceremonies of direct initiatory experience with the sacred plant teacher "the Cactus of the Four Winds" in a radically beautiful and safe space.
~You will be guided and held by experienced, kind support and loving care. Including facilitated group process, dialogue, and teachings to help each Pilgrim have a successful journey.
~We will stay at the beautiful and enchanting Sacha Munay retreat center. Its incredible gardens, waterfalls, and vibrant green mountains on all sides, you heart will be deeply nourished by this peaceful place.
~Sacha Munay offers options of medicine baths, massage, and other healing services for interested guests.
~We will visit the Pisaq village where you will be able to access the famous Pisaq Artisan markets, restaurants, and botanical gardens.
~We will eat local, organic food and have fresh filtered water available throughout the entire journey. Most meals are included and can be prepared to your food needs.
~You will have the opportunity to dive into the magic, medicine, and mysticism of Pachakuti Mesa Lineage with sanctioned teachers. This is a radically powerful way to awaken your sacred altar ground.
The cost of this pilgrimage begins at $2,295 US Dollars (cost is dependent on the type of lodging you prefer)
This price does not include flights or gratuities.
To learn more find us at: www.visionaryhearts.com