Sacred Devotional Kirtan Chanting & Healing Bhakti Practices with Jai Uttal
October 16, 2021 @ 10:00 AM

-

November 2, 2021 @ 5:00 PM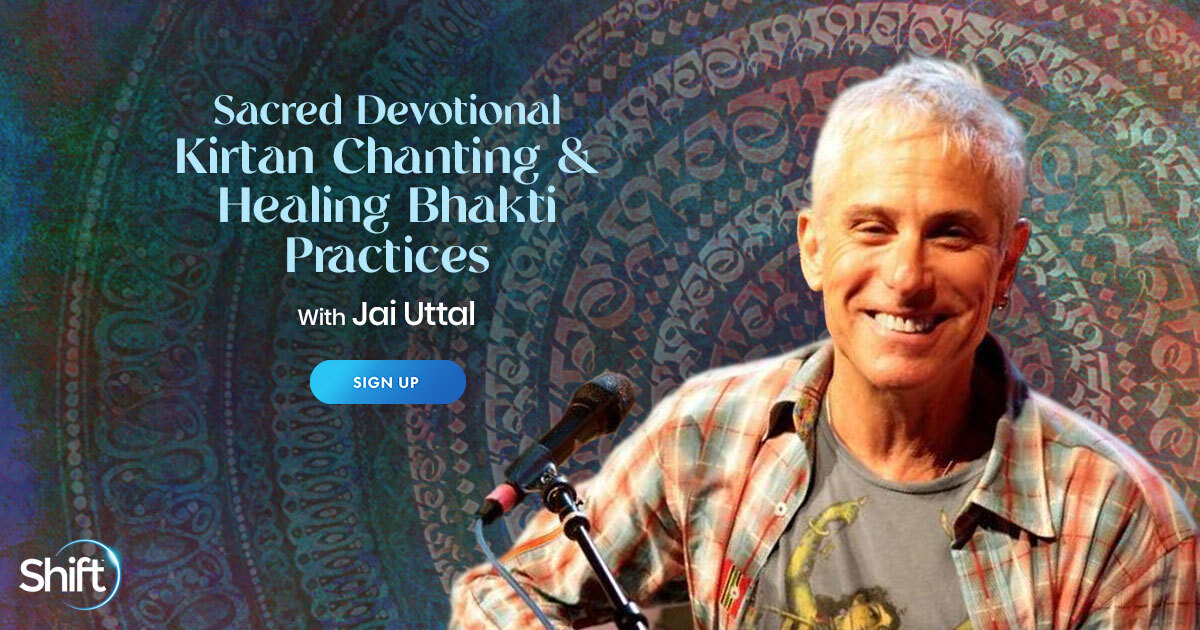 The rishis of ancient India believed that all of our emotions are vital in bringing light to our whole being. These venerable seers developed bhakti yoga as a way to harness the energy of our emotions — both positive and negative — and propel us back to connection with Source.
The spiritual practice of bhakti enables us to face ourselves with courage while surrendering to the Divine. We're able to expand our conscious awareness when we accept both the upside and the downside of our anger, grief, and shame, so we can transform it into compassion for ourselves and others.
Bhakti, perhaps the simplest and most powerful of the four classical schools of yoga, is the practice of selfless devotion and recognition of the Divine in everything. It requires little to no physical movement, just a loving and open heart, and is often accompanied by beautiful kirtan chanting, sacred music that celebrates our connection to God.
On Saturday, October 16, Jai Uttal, an internationally renowned kirtan sacred musician, will introduce you to bhakti and how it can help you uncover the place within where your true nature resides —a place where you desire nothing because you are fully immersed in the present moment, and your heart, mind, and soul are filled with joy.
Register Today -It's FREE – Click Here
In this uplifting hour, you'll discover:
How bhakti is a devotional practice, enabling you to nurture an exalted, heart-centered relationship with the Divine
A practice that can help you release all your worries and concerns to the Divine, enhancing spiritual awareness and awakening compassion in your daily life
The power of kirtan and devotional chanting
The ways that practicing bhakti can remove stress and anxiety, replacing them with positivity, love, and awe
How following the path of bhakti can enhance your soul connection and provide a respite in difficult times
Bhakti is all about surrendering your intellect and leading with your heart.  Jai will show you how bhakti, along with kirtan, India's ancient call-and-response sacred chanting — and the most important technique in bhakti yoga — can eliminate our feeling of separateness and connect our hearts through song.
You'll see how bhakti and kirtan together can help you invoke the energies of various deities through chanting — and transform you into an instrument of grace, unconditional love, service, and gratitude, exalting you to a life of joyful celebration.
Register Today -It's FREE – Click Here
In Sacred Devotional Kirtan Chanting & Healing Bhakti Practices With Jai Uttal: How to Uncover Your True Nature & Become an Instrument of Grace, Unconditional Love & Joyful Service…
… you'll experience higher consciousness through the practice of sacred kirtan chants and bhakti, as you devote yourself to the Divine and open yourself to more profound love, compassion, and connection to others.
We hope you're able to catch the event as scheduled, but if you register and miss it, you'll receive a downloadable recording as soon as it's available.