Revolutionizing Intimacy Book Celebration and Charity Gala With Tziporah and Friends
March 30, 2019 @ 5:00 PM

-

8:00 PM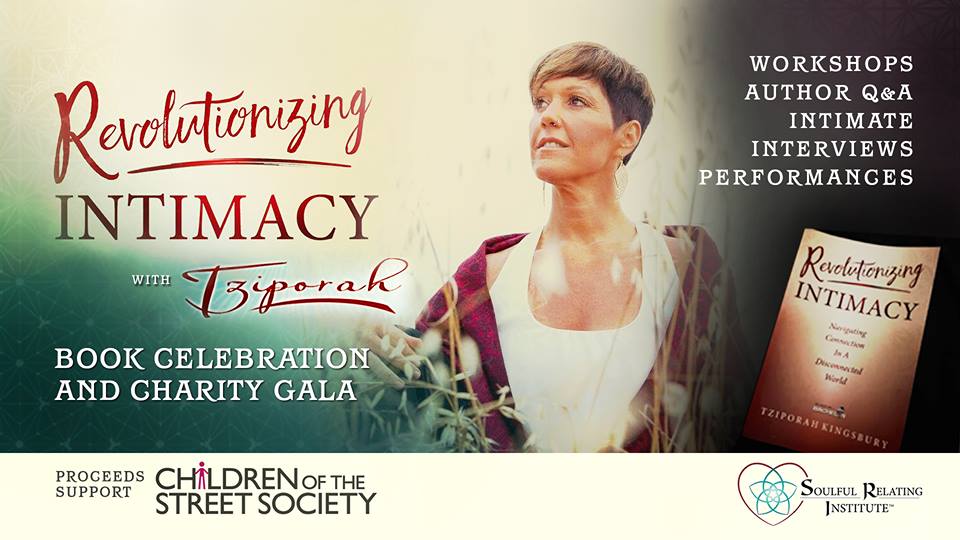 You are invited to join us for The Revolutionizing Intimacy Book Celebration and Charity Gala With Tziporah and Friends
Revolutionizing Intimacy is a blueprint for us to know ourselves and loved ones in a whole new way.
With this book comes a vision to help us navigate connection in a sometimes disconnected world. It carries a vision for humanity to embody the skills and tools to move beyond our ideas of right and wrong or he said she said so we meet again with high levels of emotional and spiritual intelligence that we create more authentic connection.
The idea of intimacy I am speaking relates to the degree of openness, presence, and compassion we live in each moment and with every being on this planet. You might say it is a blueprint for humanity.
Join us for this sure to be heart opening and insightful night of community raising money for a great cause and offering up a pro-active experience.
With a combination of :
*Education Intimate Interview
*Q & A based on the book
*Interactive workshop
*PLUS community performing arts
Ticket Price Includes:
*Entry fee and a copy of Revolutionizing Intimacy.
All proceeds with go to Children of the Street Society:
"Children of the Street Society is a provincial society and federal charity dedicated to preventing the sexual exploitation and human trafficking of children and youth in British Columbia through education strategies, public awareness initiatives, and family support since 1995".