Return To Nature Ganja Retreat – With Celina Archambault
May 17, 2019 @ 8:00 AM

-

May 20, 2019 @ 5:00 PM

Return To Nature Ganja Retreat – With Celina Archambault
May 17 – 20, 2019
You are invited to return to yourself and nature in a healing 3-day retreat in the pristine Kootenays of Kaslo, BC May 17-20th 2019.
This retreat is for those looking to get away from the busy buzz of everyday life and recharge their batteries with the help of Nature and Cannabis in a pristine set and setting. The retreat will be a balanced blend of gentle yoga and mindful movement (no yoga experience needed), guided meditations, ceremonies, nutritious food, powerful nature surroundings and lots of free time to do what you please (Kayaks, an outdoor cedar hot tub and sauna, the forest and a cozy bed await you).
The retreat will be elevated and enhanced with options for a variety of plant medicines. Cannabis will be offered as an option in different doses and varieties throughout the retreat. It is not mandatory to have any Cannabis, however, if you have never experienced Cannabis in a ceremonial setting, this is a powerful way to learn how to come into deeper states of consciousness. With some help from silencing our minds with nature and the right set and setting, we can hear ourselves better and connect to information or guidance that we have for ourselves. The Ceremonies will take place in the majestic cedar maloca.
Farm to table chef-prepared meals (some of it grown organically the land) will be shared on the patio overlooking the mountains and lake. Rooms are luxurious, with a variety of different sizes and the option to bring your own tent and camp in the forest and use the indoor facilities is available as well!
A taste of your experience * Subject to minor changes
Friday, May 17th
3-5 pm Guest arrival, settling in
6 pm Welcoming Dinner, farm to table prepared meal
8 pm Opening & Grounding circle in the cedar Maloca – Introductions and details for the retreat
Gentle yoga and grounding meditation accompanied by Cannabis Indica before bed
Saturday, May 18th – Ceremony Day
9-10 am Light breakfast, coffee, tea
11 am Morning Ganja Yoga in the Maloca (Gentle yoga)
12 pm Waterfall lunch at a nearby park with Giant trees and Mountain View
1-5 pm Free time in Nature and sunshine by the lake accompanied by Cannabis Sativa and Cacao Medicine
6 pm -Delicious dinner/feast
7-9 pm Free time (Sauna/Hot tub await you!)
9 pm Guided Meditation and Shamanic Journey in Cedar Maloca with Cannabis Indica
Sunday, May 19th – Ceremony Day
11 am Sleep in, delicious breakfast
1 pm Ceremony: Meditation, Movement and Yoga, Guided Visualization
Snacks throughout ceremony
If sunny and warm, we will spend time outside on the grass "grounding" on the beautiful land
7 pm Feast dinner for after the ceremony
8 pm Free time, perhaps a fire by the beach? Sauna? Hot tub?
Monday, May 20th – Closing
9 am Delicious Breakfast
10 am Meditation, Yoga, sharing & integration
This Spring Welcome Nature And Peace Into Your Body






Teacher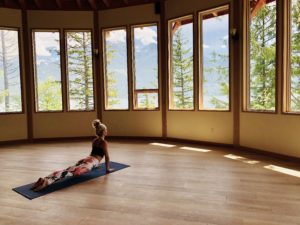 Celina Archambault
Celina has had a strong relationship to plant medicine for as long as she can remember. After completing her certification in holistic nutrition in 2010, she opened up to learning about a variety of plant medicines and how they were used for healing or spiritual purposes in ancient cultures throughout history. Her curiosity led her into the plant medicine world where she began servicing in ceremonies and weekend retreats. After receiving many gifts and insights from the plants, she felt it was time to share the magic she knew existed with her community. In 2015-2017 Celina was co-organizer for the…
Learn more about Celina Archambault