Reset & Restore Your Nervous System With Dynamic Embodiment Somatic Movement with Dr. Martha Eddy
October 27, 2021 @ 5:30 PM

-

November 18, 2021 @ 5:30 PM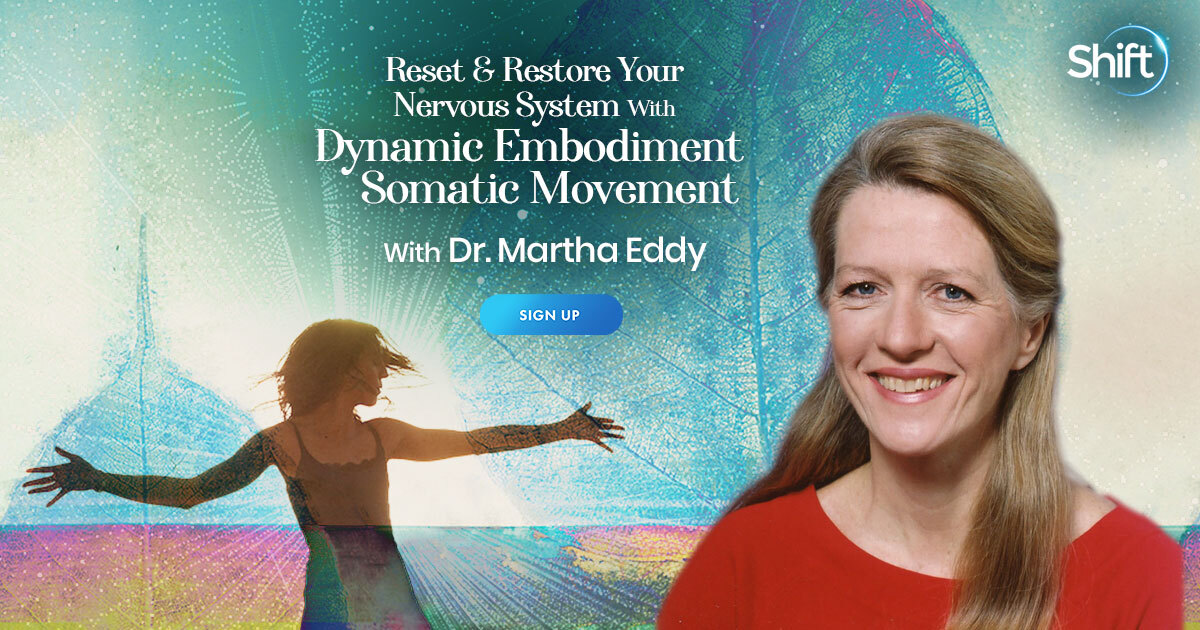 When you're experiencing chronic stress, your body and nervous system can easily become dysregulated and out of balance…
It's understandable as we continue to live in a traumatized world. We're navigating a worldwide pandemic, climate disasters, racial injustice, and much more.
The resulting stress can show up as everything from anxiety, depression, trouble sleeping, physical aches and pains, illness, and more.
Thankfully, you have the power to regulate your own nervous system.
According to Dr. Martha Eddy, exercise physiologist and somatic therapist, calming and restoring your nervous system provides a baseline — so you can reactivate it until your awareness mechanism, your nervous system is fully alive and receptive… resulting in a happier, more balanced you. 
To calm your nervous system, you'll first need to know how it works, take time to feel it, and get clear on how it impacts your everyday behavior. A powerful way to deeply understand and regulate your nervous system is through Martha's Dynamic Embodiment somatic movement method…
On Wednesday, October 27, you'll discover how to integrate technical skill-building exercises with meditation, relaxation, healing postures, and your own personalized rituals…
Plus, you'll explore the skill of improvisation, responding to your surroundings as you stay present in each moment, which helps your body respond to its surroundings — all that is going on in your life and in our interconnected world.
You can register here for Reset & Restore Your Nervous System With Dynamic Embodiment Somatic Movement.
In this 60-minute free online event, you'll discover:
The inner workings of your nervous system — including what movements can calm or energize you
How to read your own body language as it communicates whether you're safe or in danger, or have feelings of safety or danger
How you might use this knowledge of your nervous system to work with other people during times of conflict — both in your life and in the larger world
The difference between setting up boundaries as a healthy response to stress and when it becomes "othering" of people, contributing to your stress and causing you to miss out on essential connections with others, which is the true key to healing
A powerful practice to help you regulate your nervous system whenever you need to, as you adapt movements for your own body — Martha will guide you to deepen the breath and use the cerebrospinal fluid rhythm to calm down and become aware of the present, of whatever you are feeling, and of the next steps you need to take
You do not need any prior movement or dance experience to fully embrace Martha's unique movement practice — so come as you are and join us for this invigorating new event.
In Reset & Restore Your Nervous System With Dynamic Embodiment Somatic Movement…
… you'll explore the inner workings of your nervous system as you move through a guided Dynamic Embodiment practice to refine your creative responses to any level of stress and experience greater peace.
We hope you're able to catch the event as scheduled, but if you register and miss it, you'll receive a downloadable recording as soon as it's available.