RainForest Magic Transformation Retreat
August 20, 2021 @ 7:00 PM

-

August 22, 2021 @ 12:00 PM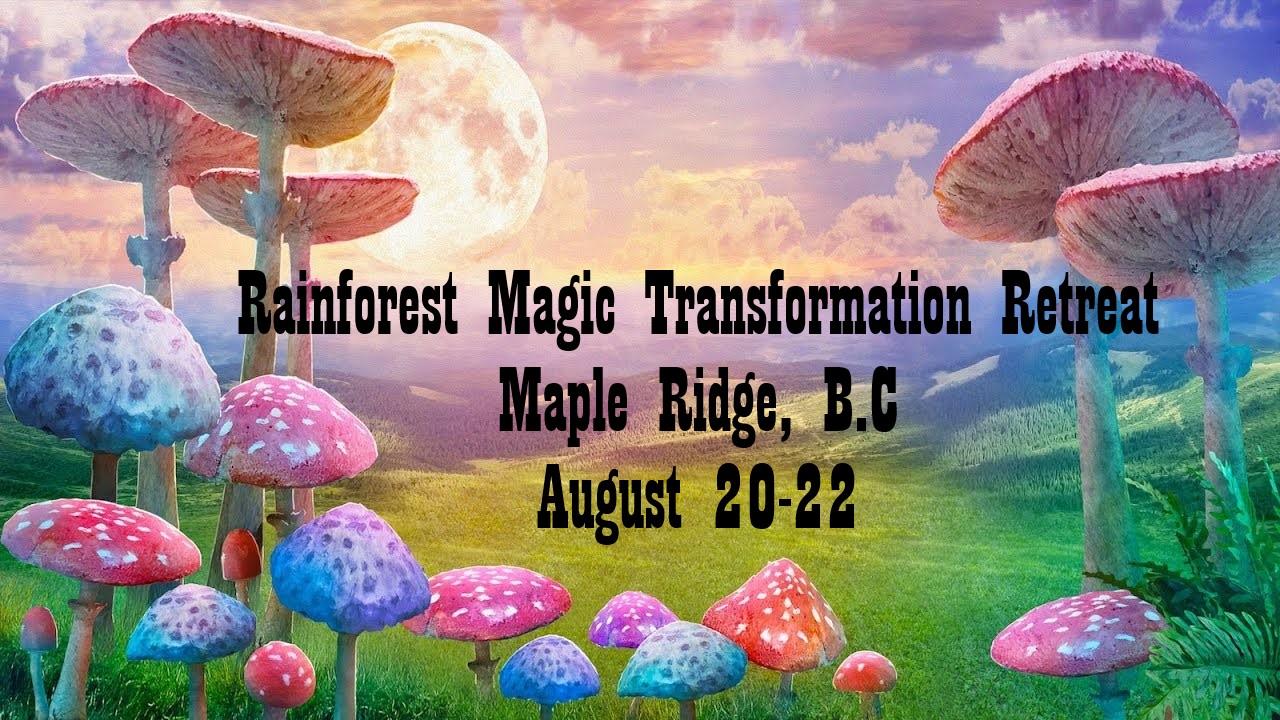 Magic Transformation Weekend Retreat
Rest, Relax, Learn, Journey and Transform Your Life
Join us for what will be a truly magical experience as we take ourselves on a transformational journey for our body, mind and spirit.
Lead by sound/energy healer, clairvoyent and guide, Cynthia Joy, and transformation agent and guide, Marc Caron.
During the course of the weekend we will connect with ourselves and each other as we spend our time learning about ourselves, and some simple, yet practical tools to support us in creating the desired changes we want in our lives.
This event will incorporate EET – Education – Experience – Transformation
Day 1 – Friday Evening 7:30-9:00: Settling In
We will create a sacred circle where we will meet and connect with each other
Intention setting
Overview of the weekend
Fire/song/drum circle led by Cynthia Joy
Hape Circle and Ceremony
The intention is to as settle into the space as we connect to prepare for the weekend
Day 2- Part 1 9:30-5:00: Preparation – Pre-Integration Day
The Power of Why with Marc Caron
This workshop is designed to prepare us for the evening Plant Medicine Ceremony
Discover why you do what you do and some simple practical tools and techniques to help you and others create change in their lives.
Here's what you will discover:
Why we do what we do
What all people fear
3 Pillars to Creating Change
The 2mm Rule
The foundation of all life, emotion and behaviours
Conscious Choice vs (un)subconscious action
Intention setting clarification
Tools to create change in any situation
5:00PM – 7:00PM : Meal Break/Rest/Preperation
Day2 Part 2 – 7:30PM – 12:00AM Medicine Journey
In this session, we will take you on a Magical Journey with Cacao and the medicinal "Children of the Forest" where we will incorporate ancient meditation practices, sound healing, and silence to take us a higher plane of consciousness where true healing takes place.
We will close the circle with light snacks and connection
Day 3 – Integration
8:00 – 900 am : Breakfast
9:00 – 12:00pm: Integration
12:00 – 1:00 PM: Light lunch and goodbyes.
Location & Accommodation
This event will be held and hosted at:
Rain Forest Ranch Retreat – A Healing Sanctuary – Maple Ridge, B.C

Accommodation:
Tenting – Bring your tent and your "nest" and enjoy sleeping outdoors in nature on this beautiful 5 Acre property.
Ceremonial/Communal Sleeping in the Ceremony Space – Please bring your "nest" – Pillows, blankets, trifold mattress(there are some available for those who may not have a mat for sleeping – there is plenty of comfortable sleeping space.)
Private Rooms – available on request and booking(shared Bathroom)
Swimming Pool – bring your trunks and towel for a refreshing dip in the pool!
Meals
Friday:
Light Snacks & Refreshments  after the evening session
Saturday:
Breakfast
Lunch
Light Dinner
Post Ceremony Snacks & Refreshments
Sunday:
Breakfast
Light Lunch & Refreshments
**We always invite attendees to bring a dish to share in community, as sharing and "breaking bread" together is wonderful way to connect with each other**
About Cynthia Joy
Cynthia, the founder and curator of Rainforest Ranch, is a long time sound & energy healer, Reiki Master, Clairvoyant Channel, Somatic Psychedelic Guide and so much more. Using music, energy, channeled messages, plant medicines and more, Cynthia's kind loving nature sets a safe sacred container for us all to do our "work"
About Marc Caron
Marc is an inspired living coach, energy healer, meditation leader and
Psychedelic Guide, who is passionate about life and helping others. He has been trained and studied with some of the world's best in the areas of, relationships, health, spirituality, wealth, and leadership and psychedlics. Passionate about life and inspiring others, Marc is committed to serving others in their growth and transformation to live a passionate fulfilled life.
Committed to doing what ever it takes to create the desired change, Marc is trained and experienced in using different modalities, that incorporate mind-body-spirit, to awaken expanded consciousness for healing and transformation.