Opening up to life: A Sacred Forest Medicine Biofield Tuning
May 22, 2021 @ 2:00 PM

-

7:00 PM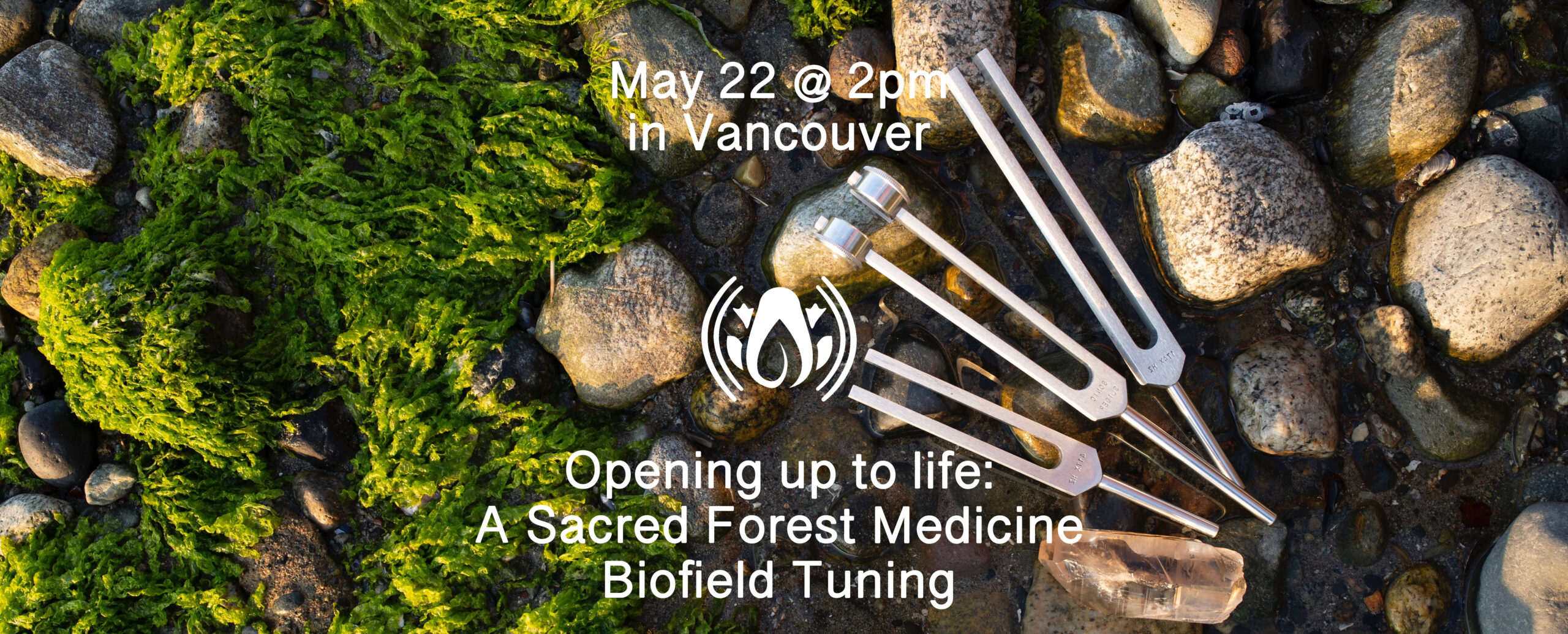 Clearing the left knee can help facilitate you to:
– Let go of attachments and that which is not serving your soul's purpose
– Move freely with the current of life
– Embrace change with ease
– Respond to life in the moment, without engaging in old stories
– Experience more inner and outer freedom in life, resulting in more joy
– Clear stress, release stored emotions, and have mental clarity
– Balance and relax your body and mind
During a Biofield Tuning session you may experience:
– Sensations of energy throughout your body, such as numbness, tingling, electrical currents
– Emotions or memories surfacing
– Insights about yourself, belief systems, patterns, behaviours, and relationships
– Connection to ancestry and awareness of energetic attachments to lineage
Schedule
– Introductions, overview of ceremony, Q&A
– Intention setting
– Shaking
– Guided Meditation
– Tuning Session
– Sananga and Rapé (Optional)
– Sharing Circle with a light snack
About "Opening up to life: A Sacred Forest Medicine Biofield Tuning Ceremony".
Join me on May 22 in a group Biofield Tuning, with the allyship of Sacred forest medicine, to clear the left knee, which is where we hold challenges with attachments and letting go. When we hold onto energies that are not presently serving us, such as a relationship, job, belief, or story about oneself or life, it can create an imbalance and inability to move forward and respond to the present through a clear lens. People with these imbalances may often spend a lot of time thinking if they should stay with a current job, relationship, etc., or leave; being stuck in-between their current situation and their soul's calling and guidance. By letting go of attachments and what is no longer serving our souls purpose, we are able to flow through life with ease, embracing the change that comes with it, and open up to inner and outer freedom and joy.
Biofield tuning uses vibration from tuning forks in your biofield, or energy field, to clear energetic charges, such as unprocessed emotions. Your biofield is a blueprint of your life, holding all emotions, memories, thoughts, and experiences.
We will be working with a small dose of sacred forest medicine to connect with your inner guide and wisdom, and to open up your energy body and subconscious to shed light on suppressed memories and emotions, while also opening up your heart to help it heal. It can help you gain deeper insight into yourself, relationships, life purpose, or next steps. Sacred forest medicine can also aid in the rewiring of neurons to positively affect your cognition, emotions, behaviours, experiences, and thoughts.
We will be closing the ceremony with the traditional Amazonian medicines of Sananga and Rapé. Sananga is eye drops made from a shredded root to cleanse the eyes, decalcify the pineal gland, and cleanse the energy field. Rapé is a snuff made up of medicinal spices, bark, oils, flowers, and Mapacho Tobacco (a tobacco free option is available). It will be used to anchor in and integrate into the body any teachings, insights, or new feelings gained from your Biofield Tuning journey.
The exchange for this event is $120. To secure your spot please inquire via e-mail at alexandra@greenvibration.ca. If you are new to my circles, a phone call is required to go over ceremony and answer any questions you may have. The address in Point Grey, Vancouver will be provided upon registration.
On May 21 at 6pm I will be holding a group Kambo ceremony for those interested. Kambo is a traditional Amazonian medicine used to deeply cleanse and detox the body and mind, and can bring up and release stored energy and emotions in the body. Please ask me about this for more information!
I look forward to providing you with the space and tools for you to relax, balance, and receive the release and reorganization that your body needs, so you can connect with your soul's guidance and move through life with more ease, freedom, and joy.
Please reach out if you have any questions!