May 29, 2021: Living Is Giving – An On-Line Live and Interactive Philanthropic Summit
May 29, 2021 @ 10:00 AM

-

5:00 PM

Free – $197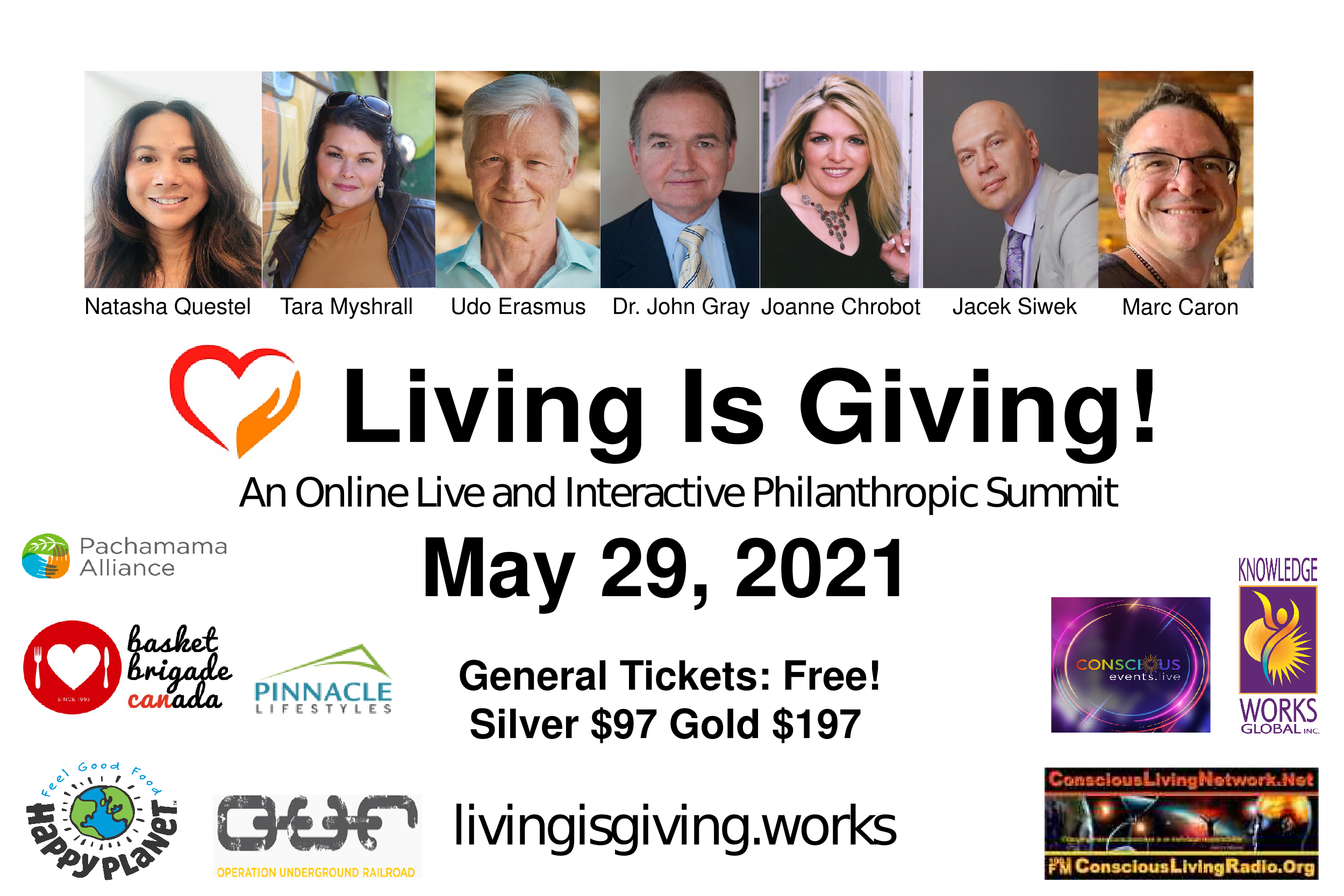 Days Hours Minutes Seconds
Proudly Supporting:
A Compassionate Conscious Approach to Growth and Contribution Through Philanthropy
Change the World – Change Your life!
What is a Philanthropist?
phi·lan·thro·pist
/fəˈlanTHrəpəst/ noun
What You Will Learn – Why Register Now?
Learn from the experts how their personal contribution has become an essential part of their growth and how it has changed their world
A conscious approach to growth and contribution
Transform the world by consciously giving
An online summit honouring contribution
Meet the Speakers
Dr. John Gray is the author of the most well-known and trusted relationship book of all time, Men Are from Mars, Women Are from Venus. USA Today listed his book as one of the top 10 most influential books of the last quarter-century. In hardcover, it was the #1 bestselling book of the 1990s. Dr. Gray's books are translated into approximately 45 languages in more than 100 countries and continues to be a bestseller.
Dr. Gray has written over 20 books. His most recent book is Beyond Mars and Venus. His Mars/Venus book series has forever changed the way men and women view their relationships.
Watch our Interview with Dr. John Gray
Udo Erasmus is a pioneer of the health and wellness industry having created FLAX OIL and the Healthy Fats Movement. He is also the co-founder of the UDO'S CHOICE supplement brand, a global leader in cutting edge health products having sold tens of millions of bottles of healthy oils, probiotics and digestive enzymes.
Udo is an accomplished author including Fats that Heal Fats that Kill that has sold over 250,000 copies worldwide. Udo has extensive education in Biochemistry and Biology, a Masters Degree in Counseling Psychology from Adler University and has impacted over 5,000,000+ lives by passionately conducting 5,000+ live presentations, 3,000+ media interviews, 1,500 staff trainings and traveled to 40+ countries with his message on how to achieve perfect health.
Natasha Questel
Natasha is President of Happy Planet Foods, the Vancouver-based feel good sustainable food company focused on doing right by people and planet.  Happy Planet's range of smoothies, juices, soups, meals and oat plant-based beverages are sold across Canada and the US.
Natasha was recently featured in Forbes Magazine, showcased as a rising woman in leadership and has been recognized with numerous strategy awards including the Canadian Packaging Award, Canadian Marketing Award, and the Johnson & Johnson Global Standard of Leadership Award.
She is a proud member of YPO (including being the first female member of the Canada West Chapter), a graduate of the Stanford Graduate School of Business Executive LEAD program and holds an MBA from the Richard Ivey School of Business, University of Western Ontario, Canada.
Natasha's greatest passion is being a single mom to her 9 year old son Dylan. During her spare time she enjoys spending time with her son, being on the water or  spending time in the sunshine, preferably on a Caribbean island or with her mom and family in her native Trinidad
Jacek Siwek
Jacek Siwek is a keynote speaker, coach, author, and entrepreneur. Jacek was born on 5th of July 1979 in Poland. He grew up under Communism to witness it's collapse in 1989 and immigrated to Canada in 1996.
An immigrant's life is very difficult. New culture, new language, new friends and even a new family meant new life. He started with nothing, relying on family, friends and lots of hard work in order to survive. After 10 years of struggle he understood that the process of going from poverty into success is very similar to the process of immigrating from one country to another.  The key to it can be expressed all in one word: IMMERSION!
Successful people spoke differently, had different culture, different lifestyle because they had a different type of peer group.
Therefore, he devoted the next decade to transform his life from being broke into a life of success. Today he's a proud father and husband but also an owner of multiple businesses and real-estate properties. He also has a passion for teaching and coaching others to success. Immigrating to success is not just a metaphor, it's an idea of making a life changing decision that will not be easy but it will be worth every effort.
Tara Myshrall
Whether it's climbing Mount Everest, speaking to a room of influential executives or literally jumping out of an airplane, Tara Myshrall is a speaker who inspires everyone she meets. Powerhouse Tara Myshrall calls her audience to rise up and slay the insecurities that stand in the way of authentic power.
As a speaker and teacher Tara shows that expansion is possible and offers practical tools of enlightened self-awareness to illuminate the path of true empowerment. Motivated by the desire to support and serve her audience, Tara embodies radiant power and presents opportunities for new possibilities to emerge for her audience.
Building multiple careers from the ground up, Tara Myshrall is an industry leader and currently the Public Sector Manager of Canada with Information Builders, an international company that streamlines data management.
The proud mother of an 18-year-old son, Tara is an involved parent and sole provider for her family. Motherhood is a huge part of Tara's life and she is continually both challenged and inspired by her son and strives to be a positive example for him.
Joanne Chrobot
"We all seek something more from our lives. It may be improved health, better relationships, success in business or increased spirituality. I have made a commitment to help individuals find more of what they seek to create a deeper, fulfilled life through informed choices".
Joanne, a Speaker, Trainer, Personal Coach, Master Extended Remote Viewer, President and Founder of KnowledgeWorks Global & Basket Brigade Canada, was so touched by Tony Robbins' story of a stranger that delivered food to his home when he was 11 years old, and when Tony made enough money he was able to deliver to 2 families, shethought "we should do that here". It was then that the idea of Basket Brigade Canada was created.
Joanne started delivering to families in 1993 and has been consistently delivering food to needy families ever since. Basket Brigade Canada became an official Canadian registered charity across the country in 2018.
Thousands have received one week's worth of groceries since 1993, due to the tireless efforts of Joanne and her dedicated Volunteer T
Want to Support Even More? 
"Sharing is Caring!"
Become a Living is Giving Ambassador Today!
Join us in sharing the joy of living a life of Growth and Contribution with your family, friends, associates and community!
Receive 10% Commission or make a Donation to one of our sponsor Charities
A Big Thank You to Our Sponsors!
Image Gallery
Previous
Next