The Manual for Psychedelic Guides – Live and Interactive – with Mark Haden
June 24, 2021 @ 4:30 PM

-

6:00 PM

Free – $144.00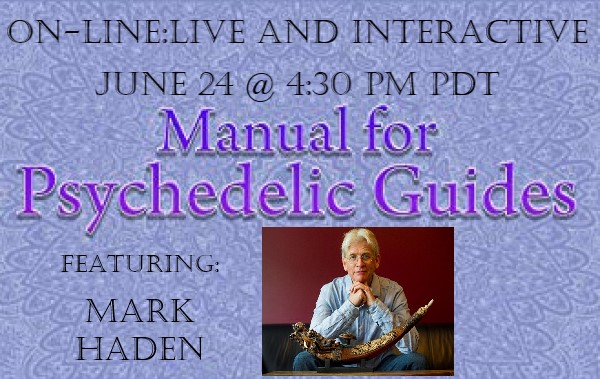 "The Manual for Psychedelic Guides – Live and Interactive"
Join us Thursday June 24 @ 4:30PM PDT/7:30 PM EDT for a Live and Interactive presentation, conversation and Q&A with Mark Haden, author of the must have resource for anyone interested or involved in the area "psychedelic guiding"
Hosted by SPM's Stephen Gray and Marc Caron
This interactive presentation by Mark Haden will explore the material covered in his book the Manual Psychedelic Guides.  It explores the knowledge, skills, competencies, and context which are needed to provide safe and effective psychedelic healing experiences.  It explores both some of the challenges involved with this work and offers specific tools that are helpful in providing the service.  It concludes with the vision of where psychedelic healing may evolve to in the future.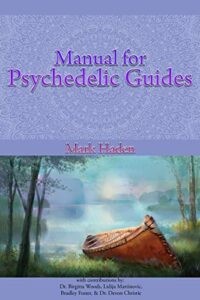 About the Manual for Psychedelic Guides 
This book, Manual for Psychedelic Guides describes in detail the process of supporting someone who is using a psychedelic for therapeutic or spiritual purposes. This manual is authored by Mark Haden (Former Executive Director of MAPS Canada) with significant contributions from many others who are involved with this field, among them, Dr. Birgitta Woods, Lidija Martinovic, Bradley Foster, and Dr. Devon Christie. This is a must read for anyone who would like to guide someone through a psychedelic experience. Psychiatrists, psychologists, therapists and shamans would all benefit from this important knowledge.
Among the many topics covered are: set and setting, ritualizing the process, role of the guide, core competencies of a guide, trauma resolution skills, consent, challenging situations, red flags/green flags, group experiences, dealing with specific behaviours, integration, and code of ethics.
Having skills in the art of therapy can be helpful in navigating the complex terrain of projection, transference and countertransference, which are generally amplified by psychedelics. The development of the future profession of psychedelic psychotherapist/supervisor/guide will need a manual of best practices, to be used as a frame of reference and this book is offered as a first step in this direction.
Get your copy today!  If you order NOW, you can receive and read your book before the event, and can ask questions of Mark Haden during the Q&A.
It is available in both paperback and Kindle versions
Order On-Line or visit Banyen Books to pick up your copy in store! Click Here to Order On-Line

Banyen Books & Sound
3608 West 4th Avenue
Vancouver, BC, Canada, V6R 1P1
Banyen Books in Vancouver offers a wide and deep selection of books on Spirit / Plant / Medicine subjects, including all the key books by many of the past presenters at the Conference.
Their webstore lists and describes them all, and you can browse and order them online. We will mail them out (usually the next business day, if the item is in stock — and we can readily order in any listed title currently out of stock). Orders over $50 get free shipping in Canada.  Click Here for Banyen's Spirit Plant Medicine recommended reading list.
You can also order on Amazon – Though we prefer supporting our sponsors and small business;) to Order From Amazon:
In Canada @ Amazon – Click Here
In the United States – Click Here
*This manual has been updated with new material on May 19th and May 24th 2021
Reviews for the Guide Manual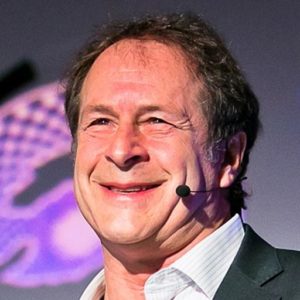 Rick Doblin, Ph.D. Founder of MAPS (Multidisciplinary Association for Psychedelic Studies)
"As we move into the era of legalized psychedelic healing by prescription, and an increasing number of locations where psychedelics are decriminalized or to able to be used in religious/spiritual contexts, a Guide Manual which offers a detailed analysis of the psychedelic psychotherapeutic process is crucial.  Mark Haden has done an excellent job of making this important knowledge available in this comprehensive manual. This should be read by all therapists, physicians and guides who are involved with psychedelic medicines."
Paul Stamets: Mycologist, Author, Researcher 
Mark Haden's book "Manual for Psychedelic Guides" is an essential resource for maximizing benefit while minimizing potential for harm in the surging field of psychedelic therapy.
As the therapeutic benefits of psychedelics continue to be validated by scientific studies, this book comes at a critical time. Unprecedented, Haden's manual is a map for navigating through psychedelically influenced consciousness. Therapists, regulators and even end-users can be better prepared to benefit from these profoundly intense internal voyages. Knowing that a therapist is skilled and informed will give confidence to patients that they are in good hands. Therapists in particular can benefit by avoiding the minefields of potential mis-steps which Mark Haden expertly describes.
This manual will be known as a milestone as psychedelics come out of the closet into the light of mainstream therapy.
Highly recommended. I love this book!
Dennis McKenna PhD, Author, Researcher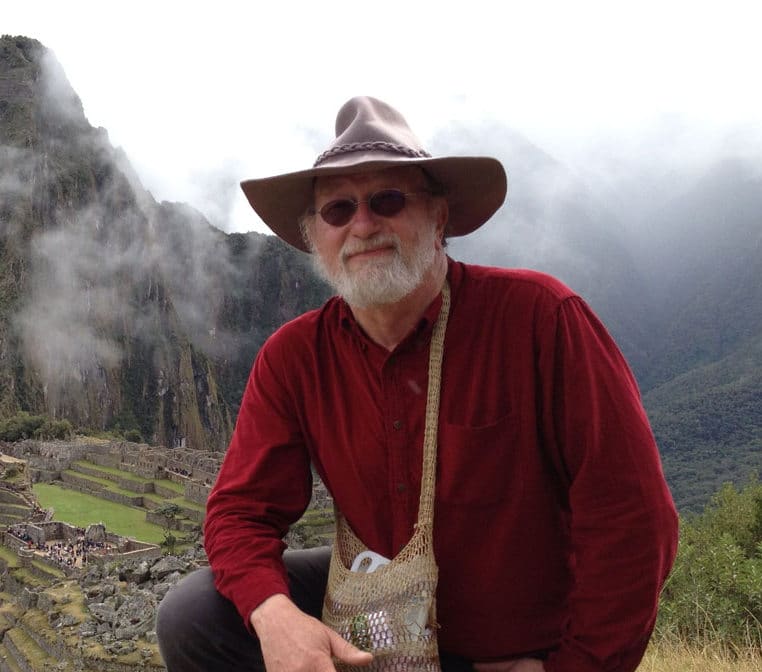 Those who may feel called to guide patients in psychedelic therapy must an achieve an exceptional level of wisdom, intelligence, skill, insight, and compassion. Proper guidance is at the crux of psychedelic therapy if these medicines are to be used for maximum benefit; and those who embark on the path of this sacred calling must commit to an arduous discipline; a discipline that requires them to become not only the best therapists that they can be, but to become the best people they can be.
This Manual for Psychedelic Guides written by my friend, Mark Haden, himself a therapist and the Executive Director of MAPS Canada, is the place to start the journey. It is not itself the journey, but is a map of the path that must be followed, and in that sense, it is both invaluable and indispensable. In it you will find all your questions about psychedelic guidance answered, as well as many questions you never even thought to ask. It's all here in the pages of this brief and crisply written manual. Start here; it is your first step on a journey that never ends.
Gabor Mate: Physician, Author
Mark Haden provides a much-needed, comprehensive, cogent and detailed manual, aimed at those who would like help guide safe and effective psychedelic experiences–a primer particularly for therapists and other professionals interested in such work.
Tom Eckert, MS, LPC, Executive Director – Oregon Psilocybin Society
"Mark Haden has always been ahead of the curve on drug policy, and his contributions to psychedelic medicine have helped the field progress and gain acceptance. The arrival of this volume, covering the competencies involved in conducting psychedelic therapy sessions, is highly appreciated. Drawing on trusted sources, Mark has written the kind of detailed training manual that many of us have been waiting for."
About Mark Haden
Mark Haden is a major figure in the field of psychedelic medicines, with a long list of past and present activities and responsibilities in this field. Among—and beyond—these, he is an adjunct professor at the University of British Columbia School of Public and Population Health and previous Executive Director of MAPS Canada (Multidisciplinary Association for Psychedelic Studies). He offers private practice counselling to parents dealing with alcohol, drug, and special needs issues, and he works with the Health Officers Council of British Columbia on their position papers on the issue of a regulated market for all currently illegal drugs. Mark has published numerous articles in respected Journals, has presented at conferences and training events in many countries, and was awarded the Queen's Diamond Jubilee Medal in 2013 for drug policy reform work. Mark also has a well-deserved reputation as an exciting speaker who never fails to engage and surprise audiences.  www.markhaden.com
Mark has also published an article on "A public Health Based Vision for the Management and Regulation of Psychedelics" in the Journal of Psychoactive Drugs. You can read his latest publishing here
He now works as the Director of Clinical Research at Psygen Labs Inc.
Mark Haden on Linkd In: https://ca.linkedin.com/in/mark-haden-6b135487