Magic Witnessing Meditation Wilderness Retreat
August 21, 2020 @ 1:00 PM

-

August 23, 2020 @ 5:00 PM

$200 – $1369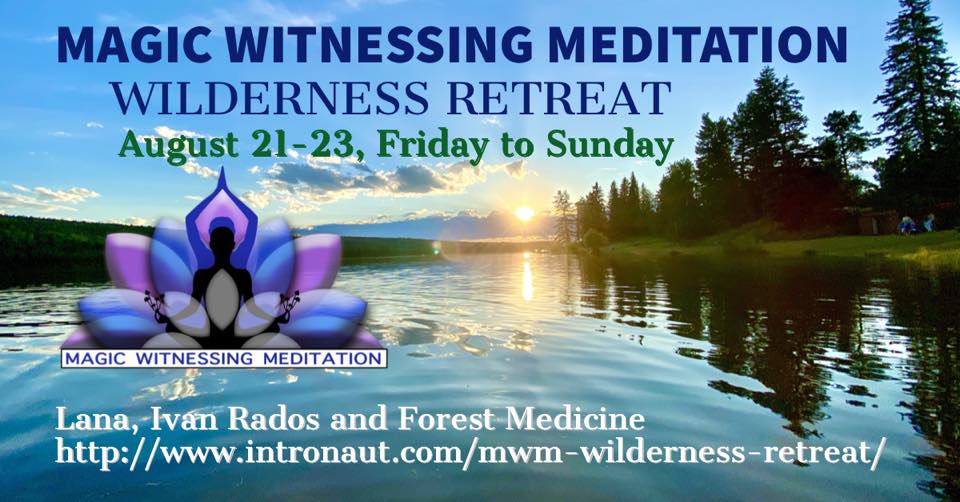 Imagine a sacred medicine journey, guided by our two amazing master healers, Lana Svetlana Rados and Ivan Rados, under an open sky, by a powerful river, surrounded by nature, and a few hours away from the city.
Yes, we are taking our Magic Witnessing Meditation ceremonies to a whole new level of magic!
We are excited to announce our first wilderness retreat August 21-23, Friday to Sunday!
Join Magic Witnessing Meditation Wilderness Ceremony for 3 days of deep healing in a camping retreat setting, integrated with a series of healing modalities including talks and lectures by Ivan and Lana; a forest plant medicine ceremony; psychotherapy based emotional and spiritual integration led by Lana, a prominent psychotherapist and Ivan, a powerful psychic; guided meditations by Ivan, a well known meditation master; yoga; nourishing vegetarian food; and breathwork offered by Dr. Nicholas Wong.
You will get the opportunity to take a deep dive into your healing amidst an intimate setting, while being immersed in the beauty and healing energy of the forest and animal spirits of nature.
For more information, or to register (sliding scale of $963-$1369) please email concierge@intronaut.com. A non-refundable deposit of $200 holds your spot, e-transfer to concierge@intronaut.com.
Schedule:
Fri Aug 21:
1-4pm: Arrival and Set Up.
5-6pm: Dinner
6-9pm:
– Opening ceremony
– Lecture by Ivan and Lana
– Therapeutic Guided Childhood Trauma Exploration
9-9:30pm: guided meditation
9:30-11pm: Relax by campfire
Sat Aug 22:
8-10am: Yoga and Guided Breathwork
10-11am: breakfast
11am-1pm:
– Lecture by Ivan and Lana
– Intention Setting
1-2pm: Lunch
2-3pm: Freetime, Walk, Meditation
3-7pm: Forest Ceremony
7pm-8:30pm: Snacks and Integration
8:30-10pm: Relax by Campfire
Overnight: Dreamwork
Sun Aug 23:
8-10am: Yoga and Guided Breathwork
10am-11am: Breakfast
11am-1pm: Further therapeutic and spiritual Integration
1-2pm: Closing Ceremony
2-5pm: Pack up for Departure