The Potential and Pitfalls of the Psychedelic Renaissance: Essential Issues for Humanity's Future – with Jamie Wheal
March 8, 2020 @ 1:00 PM

-

5:00 PM

$20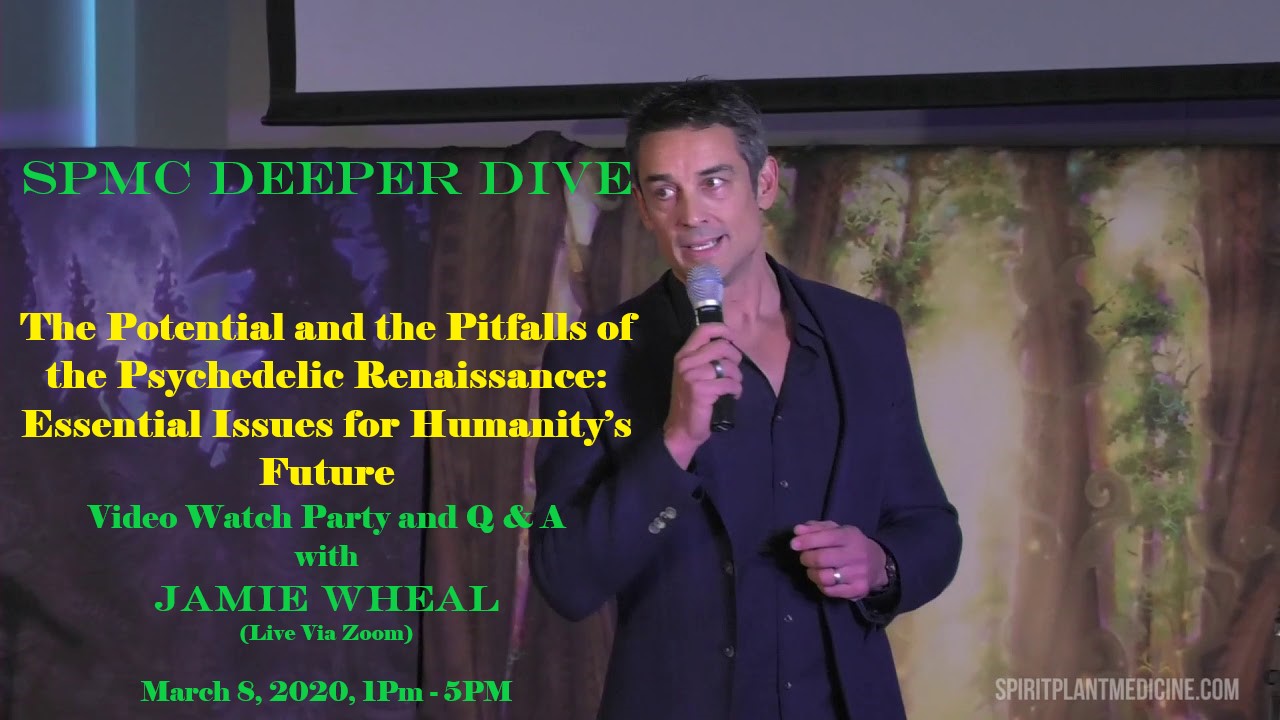 The Potential and the Pitfalls of the Psychedelic Renaissance: Essential Issues for Humanity's Future – with Jamie Wheal.
Jamie Wheal Video Watch Party, Discussion and Q & A  with Jamie Wheal (Live via Zoom)
Sunday March 8, 1 to 5 pm
Now available: Join the discussion and conversation remotely from anywhere in the world via Zoom!
Pulitzer Prize nominated author of Stealing Fire Jamie Wheal is a brilliant and visionary observer of the central concerns of transformational culture. Jamie has a clear-eyed grasp of the misunderstandings and sidetracks associated with the psychedelic renaissance. But even more important, he sees these problems in the context of the big picture – that we are deep into a planetary crisis and that we have the inner resources to heal ourselves and act to bring about a sustaining vision for an awakened humanity. As many now recognize, this is the time.
Jamie delivered two stunning talks at the 2019 Spirit Plant Medicine Conference that nailed the ways this potential of psychedelics in transformational work can and sometimes is being derailed – spiritual bypassing and materialism; magical thinking; excessive commodification; poor training and ethics, etc. Most importantly though, this is all in the context of Jamie's lived and earned recognition that we are by nature intelligent, compassionate beings and that the psychedelics, when understood and practiced effectively, are by far our most powerful transformative tools.
Watch His first Talk Here:
This is an essential conversation for anyone who cares about the future of humanity and the Earth altogether. Our intention at Spirit Plant Medicine is to bring together thought leaders, advocates, and activists in the psychedelic community as well as interested members of the public toward bringing these ideas into the wider conversation and action.
The afternoon will start with a viewing of both talks, total 85 minutes. Following that we'll collect audience questions for Jamie (Bring your notebook.) After a quick snack break, we'll bring Jamie in on Skype or Zoom to answer those questions. Time permitting we'll continue the discussion afterward.
Watch his second talk here:
Date and Location:
Sunday March 8, 1 pm to 5 pm, Vancouver – specific location TBD.
Program
12:30 – doors open
1:00 – 2:30 – viewing of both 2019 SPMC videos by Jamie. Combined length 85 minutes
2;30 – 3:15 – discussion and collection of questions for Jamie
3:15 – 3:30 – snack break
3:30 – 4:00 (up to 4:30) – Q & A with Jamie on Skype/Zoom
4 or 4:30 – follow-up discussion
5:00 – end
Cost:
$20 (includes snacks)
About Jamie Wheal
Jamie Wheal is the
author of the global bestseller and Pulitzer Prize nominated Stealing Fire:

How Silicon Valley, Navy SEALs and Maverick Scientists are Revolutionizing the Way We Live and Work and the founder of the Flow Genome Project, an international organization dedicated to the research and training of ultimate human performance. Since founding the organization in 2011, it has gone on to become the leading voice of evidence-based peak performance in the world, counting award-winning academics, legendary professional athletes, special
operations commanders, and Fortune 500 business leaders among the hundreds of thousands of people in its global community.Jamie is an expert on peak performance and leadership, specializing in the neuroscience and application of Flow states. He has advised everyone from the U.S. Naval War College and Special Operations Command, the athletes of Red Bull, and the owners of NFL, NBA, MLB, and Premier League teams to the executives of Google, Goldman Sachs,
Deloitte, Cisco, and Young Presidents' Organization. His work and ideas have
been covered in The New York Times, Financial Times,Wired, Entrepreneur,
Harvard Business Review, Forbes, INC, and TEDx. He has spoken at Stanford, MIT,
the Harvard Club, Imperial College, the Bohemian Club, the United Nations,
Singularity University, and Summit Series.
In his career in wilderness guiding, he has rescued people from the Atlantic Ocean during a hurricane, taken the youngest group of Americans ever to Camp III on the North Face of Mount Everest, and taken CEOs into the Grand Canyon for a week of wargames.
The Seattle Seahawks' coaching staff have shared his leadership models during Super Bowl halftime and Navy SEAL instructors study Stealing Fire as required reading. When he's not writing and leading courses, he, his wife Julie and two children, Luke and Emma (Olympic track elite swimmers) kitesurf, heli-ski and downhill mountain bike in the mountains and oceans of the world.