Influence 2020
January 9, 2020 @ 9:00 AM

-

January 10, 2020 @ 6:00 PM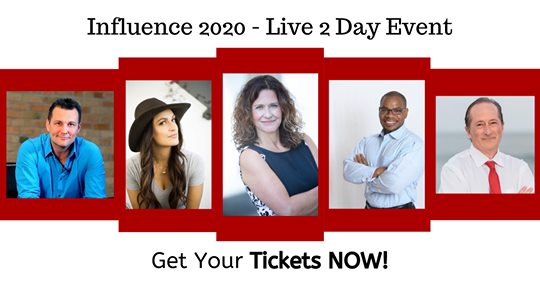 Influence 2020: a 2-day powerful road map designed to support you in becoming the influencer you're meant to be – all while giving you the practical "know how" to put systems in place that support creating much needed change for your clients and the planet.
What You Will Experience at Influence 2020:
How to Create a Powerful Message and Offering
How to Grow and Monetize YouTube and LinkedIn Platforms
How to Merge Spirituality and Business
Steps to Break Through What Holds You Back from Mass Impact
Steps to Develop Joint Venture Partnerships
Step Into Your Authentic Purpose and Vision for the next decade
Identifying Your Mind Type as an Influencer
How to Create Global Impact through the TEDx Platform, Speaking & Writing 
Identify the 7 Spiritual Gifts of Entrepreneurs 
Founder and CEO of the Speaker Success Formula, Karen has shared the stage with Deepak Chopra, John Gray, Tony Robbins and other luminaries. She supports entrepreneurs to create the systems and structures necessary to grow and monetize their businesses through speaking and live and online events. Her book "The Tao Of Influence" will be released with a US publisher in June of 2020.
During Influence 2020 Karen will share how to:
Create a powerful message and offerings that generate impact and income
​Create Global Impact by creating and delivering a TEDx talk, by speaking your powerful message, and by writing and marketing a book
​Use Ancient Wisdom Principles to Become a Person who Affects Change on the Planet
​​Merge Spirituality and Business (for Real)
​ Activate the 7 Spiritual Gifts of Entrepreneurs
​ Step Into Your Authentic Purpose and Vision for the next decade
Jon James is a Forbes contributor and Managing Partner of the Ignited Results digital marketing agency headquartered in Reno, Nevada.
Jon specializes in positioning his clients as thought leaders within their fields and getting them featured in major media. Jon James leverages social media to help his clients systematically increase leads and generate sales. Jon's mission is to help 100 people gain 1,00,000 online followers in 2020.
During Influence 2020 Jon will share how to:
Get featured as an EXPERT in USA Today and other major media outlets.
​Leverage the Three Types of Media to Build MASSIVE Influence
​Leverage LinkedIn to quickly build your email list
​Use LinkedIn To Generate an Unstoppable Flow of Leads
​Systematically attract high-quality referral relationships
​Optimize your LinkedIn profile to increase sales
​Appear at the top of nationwide search results on LinkedIn
Jay Fiset is a global expert in Joint Ventures. The recipient of the Click Funnels 2 comma club award, he created a funnel that generated over 1 million in sales and has built multiple 7 figure businesses. He is currently in the midst of creating a groundbreaking business relationship-building platform driven by AI. Jay is dedicated to igniting a global movement of Conscious Creators and supporting people to organize their life and resources around their passions and gifts.
During Influence 2020 Jay will share how to:
Deidre Sirianni is a TedX Speaker, Spiritual Guide, and an Activator for Truth, Human Awakening and Impact Entrepreneurship. She is the founder of Radically Aligned Life and an Accelerated Evolution Guide who believes the foundation of everything comes down to living in alignment with your purpose and truth. Her work dissolves mental, emotional and physical barriers that pull people out of alignment with their higher purpose and from living it fully. She supports impact driven entrepreneurs to reach their next level of influence, impact, and success through blending the metaphysical laws and tools with the practical for accelerated results. Her mission is to wake as many people up in her life to the truth of who they are and who they are meant to be.
During Influence 2020 Deidre will share how to:
Release the blocks that are in the way of you receiving the abundance, influence and impact you desire in your life and business.
​Identify the top physical, mental, emotional, and spiritual blindspots that are causing stress, anxiety, and a lack of results and fulfillment in your life and business.
​Overcome these blindspot challenges and begin taking action to create more abundance, fulfillment and impact in all areas of life at an accelerated rate.
During Influence 2020 Ridgely will share:
Register now 
and
receive *Vision 2020*, a live online training to support you in clarifying and implementing your 2020 vision to enter the next decade with purpose, power and clarity. (Recorded if you cannot attend live).
Value: $300. Your Gift Today with Your Influence 2020 Registration!