How the Indigenous Path of Curanderismo Can Transform You & the World with Grandmother Flordemayo
September 18, 2021 @ 10:00 AM

-

October 7, 2021 @ 5:00 PM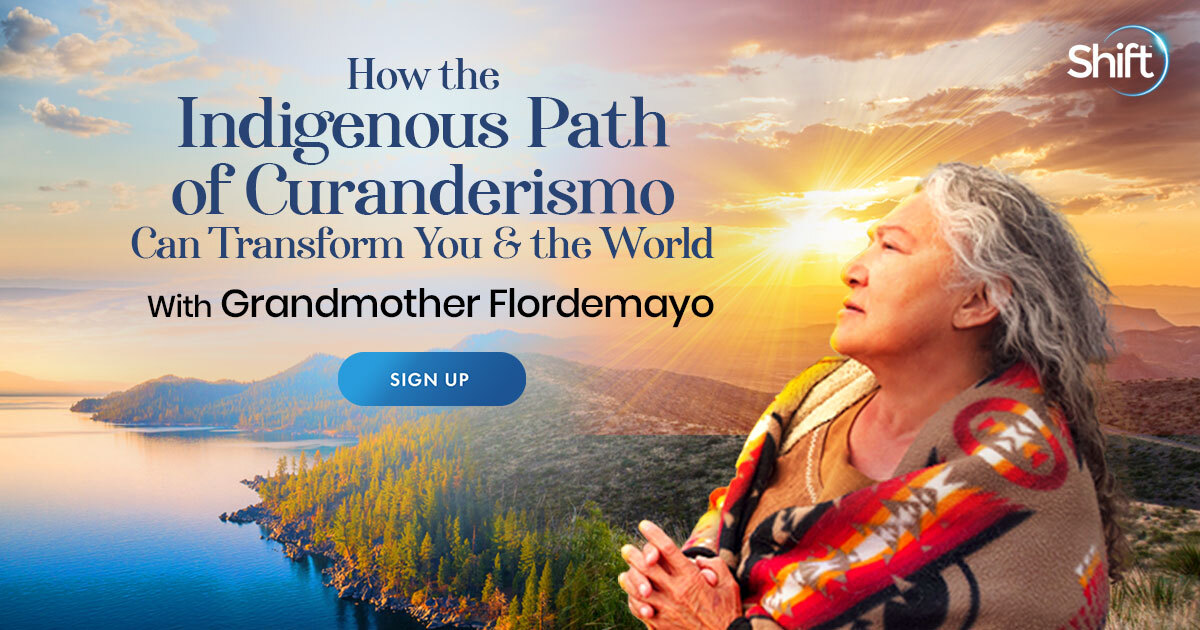 These days, more spiritual seekers are turning to our lineage bearers, the keepers of the wisdom we need to navigate these times. This wisdom plays out in each of our lives differently, yet connects us all.
In many communities, spiritual seekers often turn to a curandero, a traditional shamanic healer and practitioner of the Indigenous folk healing system of curanderismo.
The curandero is often a leader in the local community — and a source of healing, wisdom, and connection to the Divine.
I'm honored to invite you to a new online workshop with Grandmother Flordemayo, a beloved curandera espiritu, or a healer of divine spirit.
She was raised with the knowledge that each prayer unfolds right at the moment. As you'll feel during your hour with Grandmother Flordemayo, her prayers are a profoundly collective experience, yet her authenticity and humility allow the prayers to flow through her and each person differently. It's all part of the great mystery.
In this 60-minute free online event, you'll:
Participate in powerful opening and closing prayers, sent out into the 4 directions
Experience a beautifully simple water ceremony to celebrate our relationship with Mother Earth, led by Grandmother Flordemayo
Explore the ways you can align and surrender to Spirit so you can cultivate a greater appreciation for being alive
Discover how practicing spirituality leads you to your highest authentic self
Hear stories of Grandmother Floredemayo's upbringing, and the fascinating details of her work as a Curandera
This sacred event will unfold spontaneously — Grandmother Flordemayo is beloved for not teaching in a linear fashion. Instead, she follows her inner guidance as Spirit speaks through her, sharing exactly what each of us needs to receive in the moment.
Join us and surrender to the moment as you absorb the timeless wisdom and beautiful prayers of Grandmother Flordemayo.
In How the Indigenous Path of Curanderismo Can Transform You & the World: Receive Healing Prayers & a Sacred Water Ceremony Led by a Legendary Mayan Elder…
… you'll learn how Grandmother Flordemayo's spiritual tools help her (and can help you) navigate life's ups and downs — and why surrendering to the moment is the first step on your spiritual journey.
We hope you're able to catch the event as scheduled, but if you register and miss it, you'll receive a downloadable recording as soon as it's available.