How Psychedelics Can Foster Groundedness & a Life of Possibility with Laura Dawn
February 24, 2022 @ 5:00 PM

-

6:00 PM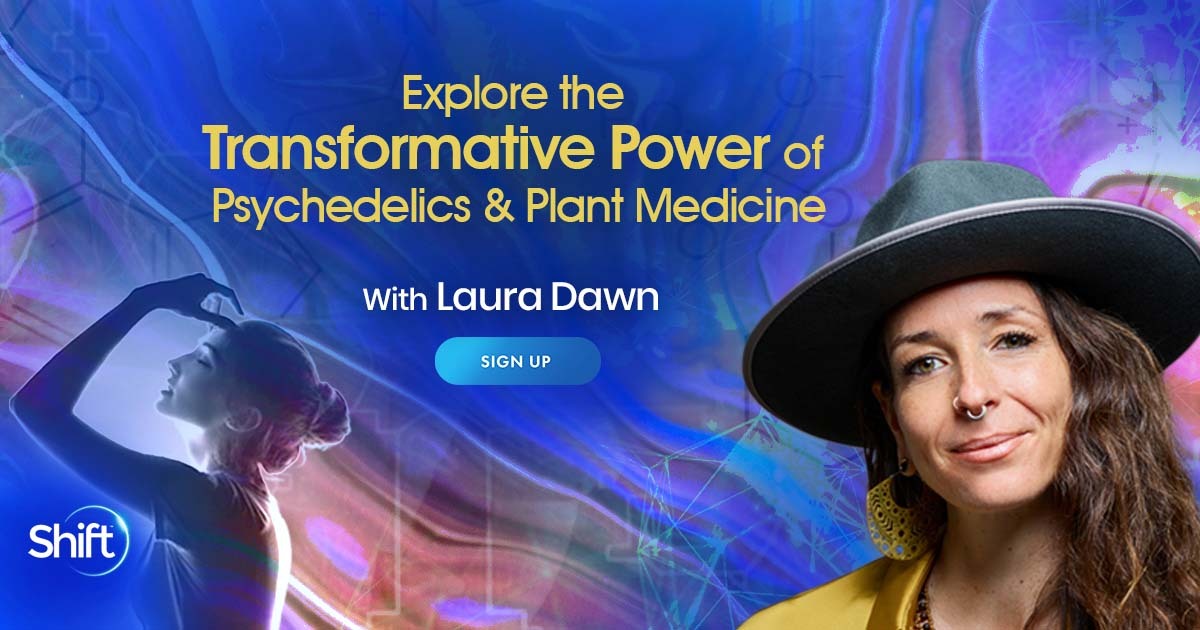 Explore Psychedelics and Sacred Plant Medicines as Powerful Visionary Tools for Growth
In these unprecedented times, a grand restructuring is taking place. 
According to teachers like Laura Dawn, a microdosing mentor, plant medicine integration guide, and host of The Psychedelic Leadership Podcast, there's also a psychedelic renaissance unfolding all around us…
Seekers are embracing psychedelics in a whole new way, embracing their association with lower levels of violence, increased empathic and social connectedness, higher levels of creativity, and an increased sense of connection with nature.
On Thursday, February 3, Laura Dawn will share how psychedelics can prepare us to move through this collective dark night of the soul — and equip us with greater strength and creativity for the journey ahead.
She'll explain how, while many of us feel this time of transition can lead us to deep transformations, we're still stuck in patterns that no longer serve us — and while she's not advocating that we all start engaging with psychedelics, they can enhance the windows of plasticity that allow us to more easily transform these patterns.
You'll discover how psychedelics can increase your clarity of vision as you explore what you care about most, helping you encompass your vision, values, passion, and purpose.
You can register here for How Psychedelics Can Foster Groundedness & a Life of Possibility: Experience a Meditation to Help Make Peace With Impermanence
In this 60-minute free online event, you'll discover:
How the stories you tell yourself create your reality — and how you can experience transformation by shifting what you pay attention to
How to stay centered in tumultuous times — strengthening the spirit of your mind, body, and heart
A guided meditation on impermanence to help you surf the waves of rapid change with grace, ease, courage, and resilience
The empowering wisdom teaching of groundlessness, why nothing is as solid as our minds make it out to be, and why this misunderstanding is the root cause of suffering in our lives
How to listen to the wisdom of plants to help you hold a vision and transmute it into reality — integrating the wisdom from plant medicine teachers into what Laura Dawn calls the ceremony of life
Join us for this powerful hour as Laura Dawn shares how you can leverage psychedelics to think bigger and uncover solutions to the complex challenges we're collectively facing.
She'll explain how we can work together to usher in a more harmonious chapter of human history, while you step into the fullness of who you were meant to be.
You can RSVP for FREE – Click Here
In How Psychedelics Can Foster Groundedness & a Life of Possibility: Experience a Meditation to Help Make Peace With Impermanence…
… you'll learn how exploring the intersection between Eastern philosophy and plant medicine wisdom — combined with resilience, a sense of purpose, and the latest research in psychedelic studies and neuroscience — can inspire you to walk the path of the creative visionary… and reconnect with the frequencies of inspiration and joy.
We hope you're able to catch the event as scheduled. But if you register and miss it, you'll receive a downloadable recording as soon as it's available.