Finding a Sense of Joy & Wholeness Using Chakras as Your GPS with Russill Paul
March 9, 2022 @ 5:00 PM

-

6:00 PM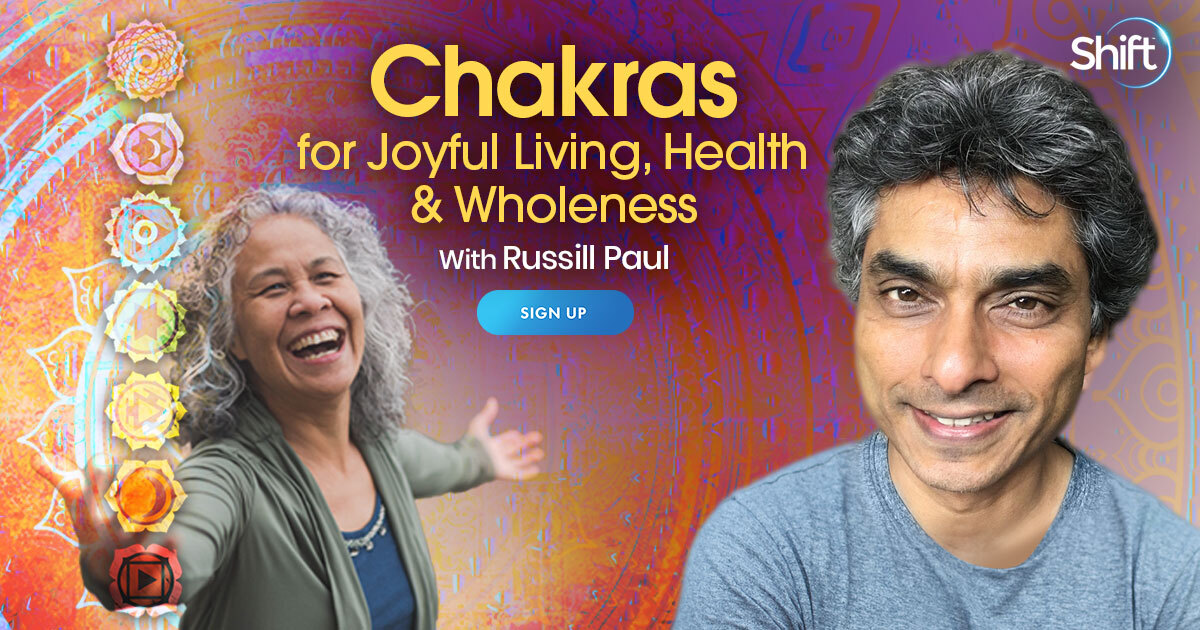 Explore Powerful Healing Practices Inspired by Ancient Wisdom Traditions
Even for the most devoted spiritual seeker, life can feel overwhelming these days.
Many are finding solace in re-examining spiritual principles, finding something new and transformative as they come to understand them in a whole new way…
Russill Paul, pioneering teacher and founder of Yogic Mystery School, guides students around the world to rediscover the transformative power of the chakras.
While many of us were taught to spend time with each individual chakra, and think of them as the body's separate energy centers that correspond to specific nerve bundles and internal organs…
… Russill invites us to instead think of them as a single, integrated chakra system that's not linear at all. 
Drawing from the larger tradition of Tantra, which is closely associated with the development of the chakra system, Russill teaches that the chakras function together — and a deep understanding of this powerful truth brings us to the next step in the evolutionary process, and in our daily lives…
On Thursday, February 17, Russill will take you through the life journey each soul takes — and explains how your chakra system has developed along your journey since before you were born…
You can register here for Finding a Sense of Joy & Wholeness Using Chakras as Your GPS: Powerful Healing Practices Inspired by Ancient Wisdom Traditions
In this 60-minute free online event, you'll discover:
How to use your chakras as your inner GPS system for your journey through life
How Tantra can liberate you from pain and limitation through a shift in perception
The middle path between healing and enlightenment that allows you to journey through them both
How you can learn to significantly lessen the pain in your life
A guided practice to help you reorganize your body, mind, and spirit — enabling you to live with greater flow and grace
Russill's students from around the world have reported that his teachings have helped them feel calmer, less afraid of the unknown, more patient with themselves, and less anxious about life and making decisions.
Even if you're familiar with other chakra work, please join us for this powerful hour and prepare to expand and deepen your knowledge in exciting new ways that will challenge your previous knowledge and practices — as you learn how to rely on your chakras' guidance system on your journey through life.
You can RSVP for FREE – Click Here
In Finding a Sense of Joy & Wholeness Using Chakras as Your GPS: Powerful Healing Practices Inspired by Ancient Wisdom Traditions with Russill Paul… 
… you'll explore a new and exciting understanding of the chakras as a single integrated system rather than seven separate energy centers — as you discover how to use your chakras' guidance system on your spiritual and evolutionary journey through life.
We hope you're able to catch the event as scheduled. But if you register and miss it, you'll receive a downloadable recording as soon as it's available