May 28, 7PM PST: Full Super "Flower" Moon Ceremony and Virtual Song & Drum Circle!
May 28, 2021 @ 7:00 PM

-

May 30, 2021 @ 9:00 PM

$11.11 – $22.22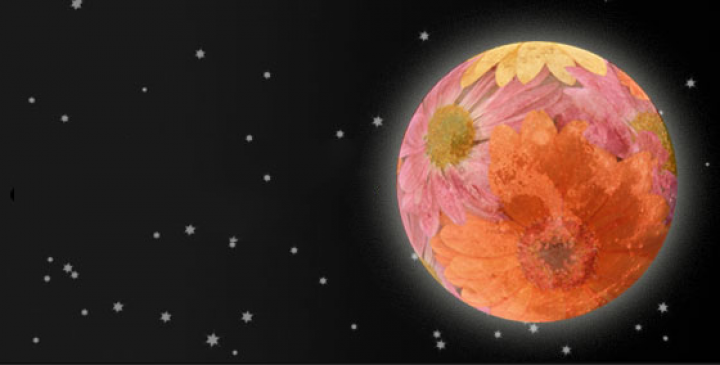 Our moon ceremonies are set with the intention of what we would like to leave behind moving forward in life, and what we would like to welcome in.
Rainforest Ranch curator Cynthia Lee will guide you on your full moon journey. We shall sing and we shall drum and we shall dance around the fire. Rain or shine, from the comfort of your own home!
WHEN TO SEE THE FULL MOON IN MAY 2021
May's full Flower Moon reaches peak illumination at 7:14 A.M. (EDT) on Wednesday, May 26. It will be below the horizon at this time, so plan to venture outdoors the night before (Tuesday, May 25) or on Wednesday night to get the best view of the bright full Flower Moon! Find out what time the Moon will be visible in your area with our Moonrise and Moonset Calculator.
DON'T MISS THE TOTAL LUNAR ECLIPSE!
In some parts of the world, this month's full Moon coincides with a total lunar eclipse! A lunar eclipse occurs when Earth stands directly between the Moon and the Sun, which results in Earth casting its shadow on the Moon. During a total lunar eclipse, the Moon is fully obscured by Earth's shadow, giving the Moon a reddish hue. This phenomenon is where the term "blood moon" comes from.
This total lunar eclipse occurs in the very early morning hours of May 26 and will be visible for stargazers in western North America, western South America, eastern Asia, and Oceania. In the U.S., those who are located east of the Mississippi will experience a partial lunar eclipse instead. The Moon will be very low in the sky during the eclipse, so find a high vantage point with a clear horizon for the best view!
Read more about this eclipse—and future eclipses.
SUPER FLOWER MOON: THE CLOSEST SUPERMOON OF 2021
Two supermoons occur in 2021—the first was April's Pink Moon and the second will be May's Flower Moon.
When the full Moon appears this month, it will be ever-so-slightly closer to Earth than it was in April, meaning that May's Flower Moon will be the biggest and brightest full Moon of the year—technically speaking. To the naked eye, May's full Moon won't actually look any bigger or brighter than April's, since the Moon's distance from Earth differs by less than 100 miles between April and May. This is a miniscule distance in the grand scale of space, but we will still see a bright, beautiful supermoon nonetheless!
On average, supermoons are about 7% bigger and about 15% brighter than a typical full Moon. Learn more about supermoons here!
WHY IS IT CALLED THE FLOWER MOON?
The full Moon names used by The Old Farmer's Almanac come from a number of places, including Native American, Colonial American, and European sources. Traditionally, each full Moon name was applied to the entire lunar month in which it occurred, not solely to the full Moon.
The Flower Moon
May's Flower Moon name should be no surprise; flowers spring forth across North America in abundance this month!
"Flower Moon" has been attributed to Algonquin peoples, as confirmed by Christina Ruddy of The Algonquin Way Cultural Centre in Pikwakanagan, Ontario.
May's Moon was also referred to as the "Month of Flowers" by Jonathan Carver in his 1798 publication, Travels Through the Interior Parts of North America: 1766, 1767, 1768 (pp. 250-252), as a likely Dakota name. Carver stayed with the Naudowessie (Dakota) over a period of time; his expedition covered the Great Lakes region, including Wisconsin and Minnesota areas.
Henry David Thoreau sparked to Native American Moon names as well, referencing the Flower Moon and Carver when he wrote about Native Americans.
ALTERNATIVE MAY MOON NAMES
May's Moon names tend to speak to the arrival of spring and all that it entails!
The Cree names Budding Moon and Leaf Budding Moon celebrate the awakening of local flora, which really begin to leaf out now in many areas. Similarly, Planting Moon (Dakota, Lakota) marks the time when seeds should be started for the farming season ahead.
This is a truly beautiful experience and an ideal time to celebrate your life and your connection to " all that is".
Under the Light of the Moon.
Bonus:
First five tickets with receive A 15 minute soul reading with Cynthia via messenger video.