Envisioning a Racially Just World with Dereca Blackmon
June 19, 2021 @ 8:00 AM

-

July 8, 2021 @ 5:00 PM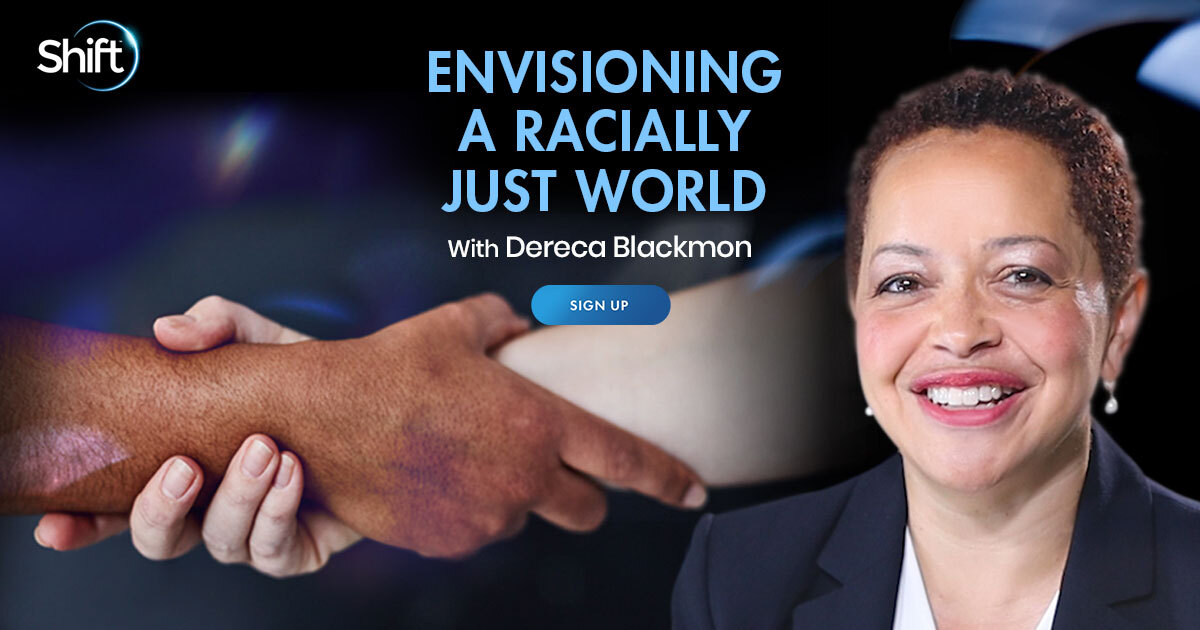 Rev. Dereca Blackmon believes that racial healing begins when we, as individuals, do the work to understand the wounds that racism creates in all of us, no matter the color of our skin.
Maybe you're wanting to know what else you can do to make a difference around racial equality, or would like to find a productive way to express your anger over the unwarranted deaths of George Floyd, Ahmaud Arbery, Breonna Taylor, and far too many others. 
Whatever the reason, you probably agree that it's been a long time coming for our country to address our sordid history of racial inequality. The ongoing, day-to-day racism embedded in our society is often so subtle that white-bodied people often aren't even aware of it.
In a free online mini-workshop — which falls on Juneteenth, the holiday that commemorates the end of slavery — you'll gain greater understanding of the myriad ways our country is still struggling with the scourge of racism more than 150 years after Black people were emancipated.
Register for FREE Today – Click Here  
In this galvanizing 60-minute free online event, you'll:
Learn ways you can step up and make a difference in healing racism
Contextualize oppression and see why justice requires collective liberation
Look at how solidarity, allyship, and coalition-building can contribute to racial and social justice

See why adding activism to your spirituality toolkit leads to awakening
Connect to your core beliefs so you can articulate your own vision for racial justice
You'll explore why healing requires that we open our eyes to the devastation caused by racism and stop participating, both knowingly and passively, in a system that was designed to favor some at the expense of others.
Dereca will help you see why adding activism to your spirituality toolkit will awaken a new part of you. You'll look at why holding a mirror to your own accountability is a crucial first step in unlearning everything you've internalized about race, freeing you up to contribute effectively to racial healing.
More than anything, Dereca's wise and loving spiritual guidance — along with her no-blame, no-shame approach — will undoubtedly elevate your self-awareness and your desire to help bring about racial healing.
RSVP for FREE Today – Click Here  
In Envisioning a Racially Just World: Discover a Path Towards Dismantling Racism & Creating a Society of Love, Equity & Solidarity, you'll discover how to see and challenge the ways that inequality is embedded in our everyday lives — and how we all can help heal racism, promote justice, and honor every person with the respect and value they deserve. 
We hope you're able to catch the event as scheduled. But if you register and miss it, you'll receive a downloadable recording as soon as it's available.