Entering Reality—The Role of Psychedelics, Meditation, Love and Activism – In Facing Extinction
October 10, 2019 @ 7:30 PM

-

9:00 PM

Free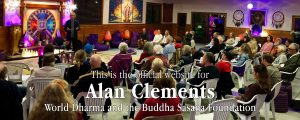 Please join Alan Clements for the World

Dharma

Open Public Forum of Vancouver 

Thursday, October 10 from 7:30 to 9:00 pm.

Alan will give a talk titled, "Entering

Reality

—

The Role of Psychedelics, Meditation, Love and 

Activism – In Facing Extinction."

The talk will be followed by Q & A and an Open 

Dialogue

 about this essential topic.

There will be time after the event to socialize, have tea and get closer as a 

community

.
The event is offered by donation. Registration required – Address provided upon registration

Chairs and cushions provided.(please feel free to bring your own for comfort and ease)

Space is limited to 25.
If you'd like to reserve your space email your name, phone and number in your party to email and we will confirm your reservation within 24 hours.

Please arrive on time.
Doors will close at 7:35 pm.

Address: Provided upon registration
About Alan Clements:

Alan Clements was among the first Westerners to ordain as a Buddhist monk in Burma, where he lived in a monastery practicing mindfulness meditation for nearly four years, before being expelled from the country in 1984 by the dictatorship, with no reason given.

Leaving the monastic life, Clements returned to the West, becoming a spiritual maverick, journalist, and human rights activist engaged in Burma's nonviolent struggle for freedom while speaking up for political prisoners worldwide.

Clements co-authored The Voice of Hope with Nobel Peace Laureate, Aung San Suu Kyi. In addition, his books include, Burma: The Next Killing Fields, and Revolution of the Spirit, both with forewords by the Dalai Lama and endorsed by 8 Noble Peace Laureates and former President Jimmy Carter.

He's also written Instinct for Freedom and A Future To Believe In.

Clements has been interviewed on ABC National, Talk to America, CBC, VOA, BBC, the New York Times, Time and Newsweek magazines, the Sydney Morning Herald, Utne Reader, Yoga Journal, and scores of other media worldwide.

He also delivered a keynote at Amnesty International's 30th Year Anniversary at the John Ford Theater in LA.

http://www.worlddharma.com/about-alan-clements/