DOSED documentary + M.A.P.S. Fundraiser
October 7, 2019 @ 6:30 PM

-

9:00 PM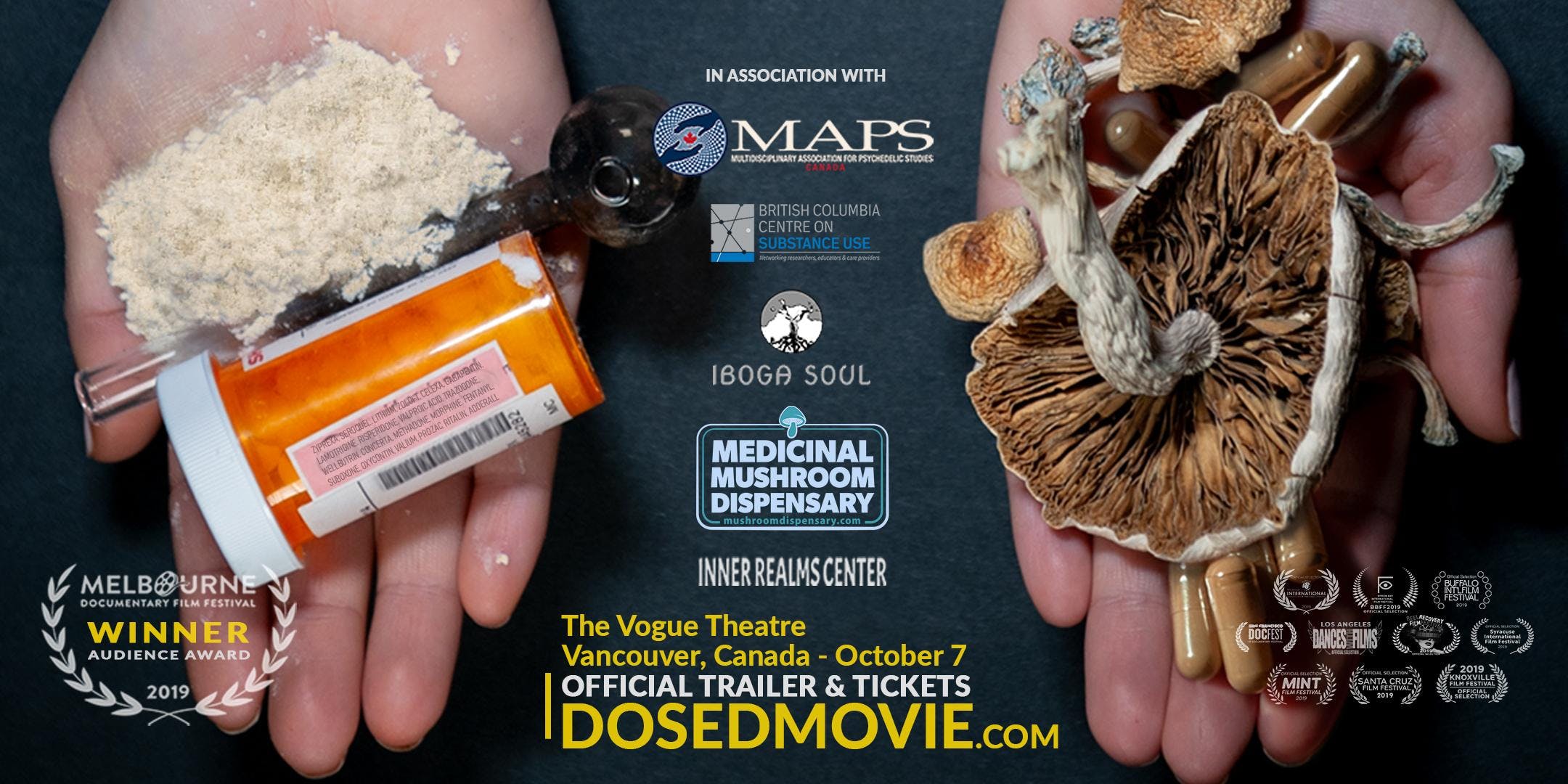 Canadian premiere of the award-winning documentary: Dosed Movie
Showtime in Vancouver: October 7th, Monday, 6:35 pm
The Vogue Theatre, 918 Granville St, Vancouver, BC, V6Z 1L2
Tickets: On sale now! https://www.eventbrite.ca/e/71723680459
The evening will be a fundraiser for MAPS Canada for their ongoing clinical trials and research to treat PTSD, and for continued marketing of the film. Tickets are $25, $40, $80 with options for best seats, own the film, VIP meet and greet, and add-on donations in any amount to support this important cause.
Trevor Millar will host the audience Q&A after the movie and the panel will include experts and community leaders talking about psychedelics.
Mark Haden – MAPS Canada, The British Columbia Centre on Substance Use will be talking about their upcoming trial using psilocybin for the treatment of alcohol and stimulant use disorder in Vancouver and there'll be special guests Mark Howard, Mark Haden, Garyth Moxey, the filmmakers Tyler Chandler and Nicholas Meyers and the star of the documentary, Adrianne.
Synopsis: After many years of prescription medications failed her a suicidal woman turns to underground healers to try and overcome her depression, anxiety, and opioid addiction with illegal psychedelic medicine like magic mushrooms and iboga.
DOSED features Dr Gabor Maté, Paul Stamets, Rick Doblin, Dr Rosalind Watts, Dr Ingrid Pacey, Mark Haden, Trevor Millar, Mark Howard, Robyn Howard, Garyth Moxey, Geoff Acres, Patrick Fishley, Chor Boogie. Tyler Chandler, Nicholas Meyers, and of course – Adrianne.
Check out the Trailer for DOSED: https://www.facebook.com/DosedMovie/videos/363976790993813/
Sign up to join the team at www.DOSEDMOVIE.com