Discover the Ancient Healing Rhythms of Sacred Drumming for Inspiration & Belonging with Krista Holland
July 10, 2021 @ 10:00 AM

-

July 27, 2021 @ 5:00 PM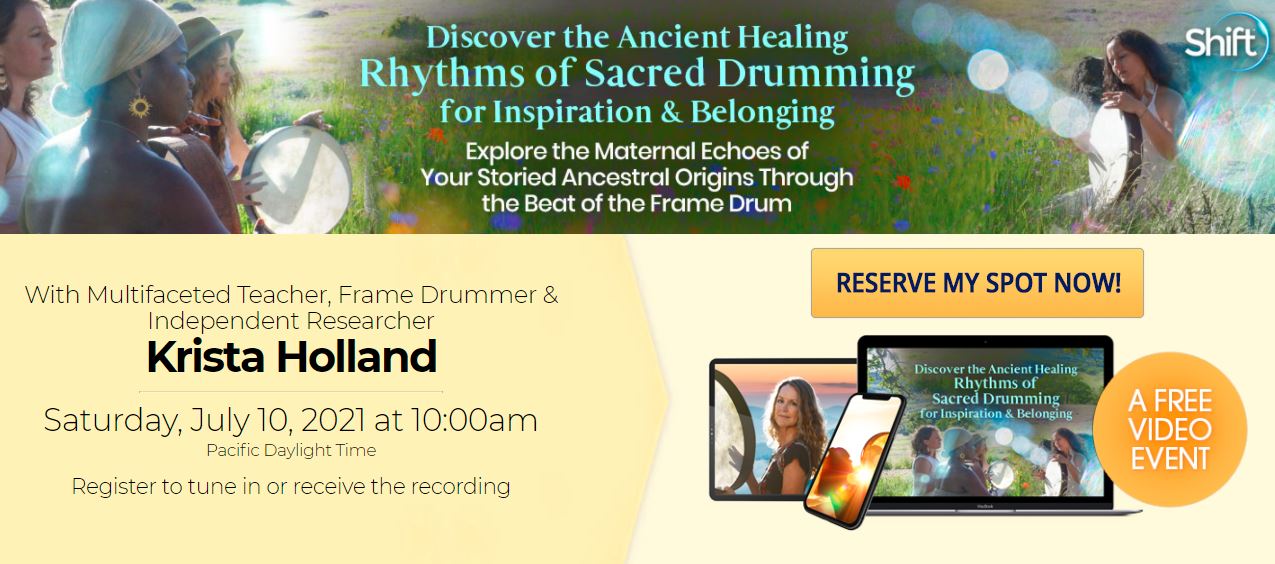 As these new days unfold, more seekers than ever are discovering the healing rhythms of the sacred drum to access their inspiration and true essence — and to tap into a meditative practice and contemplative reset whenever they need it.
The sacred frame drum stimulates inspiration, provides a community to connect with others, and even boosts brain cognition. It's a powerful tool that addresses everything from social anxiety to addiction.
The best part is you don't need any musical experience to access this simple, yet powerful instrument for personal healing, community ritual, and celebration.
And it's just plain fun!
On Saturday, July 10, Krista Holland, teacher, independent researcher, and guide of the frame drum, will help you discover how the sacred drum helps you relieve stress, unlock creativity, and find your true purpose.
Register for FREE today! Click Here
In this 60-minute free workshop, you'll discover:
How the calming, healing rhythms and fascinating ancient history of the sacred drum can unlock a sense of belonging, harmony, and possibility in your life
Your rhythmic connection to your ancestry — and how drumming is truly cross-cultural, and rhythm is part of your heritage, no matter where you're from
Ways to learn and remember your own connection to your original somatic rhythm — the universal experience of the original heartbeat — and how it's part of the symphony of life and the rhythm we're all part of
The fascinating story of feminine drumming — and how long ago the frame drum was played by everyday women, priestesses, and even Goddesses of the ancient world.
A guided meditation (with Krista accompanying you on the drum), to tap into the first heartbeat of your mother, then your grandmother, and on through your ancestry — revealing your birthright to be invited into this sacred drumming circle
As you'll discover, drumming is a process of self-discovery. You'll tap into your unique mythos (your own one-of-a-kind origin story) as you cut through your surface thoughts and endless mind chatter.
Join us for this hour of universal remembrance of how connected we truly are through life's rhythms — and how drumming is part of the collective human story and leads to powerful self-discovery, mental clarity, balance, and the belonging we're all searching for.
You can RSVP for FREE – Click Here 
In Discover the Ancient Healing Rhythms of Sacred Drumming for Inspiration & Belonging: Explore the Maternal Echoes of Your Storied Ancestral Origins Through the Beat of the Frame Drum with Krista Holland…
… you'll discover the ancient cross-cultural history of the frame drum and the healing power of a contemplative drumming practice — full of ritual, prayer, meditation, and a deep sense of belonging.
We hope you're able to catch the event as scheduled. But if you register and miss it, you'll receive a downloadable recording as soon as it's available