Discover Evidence-Based Mediumship with Michael Mayo
May 22, 2021 @ 8:00 AM

-

June 10, 2021 @ 5:00 PM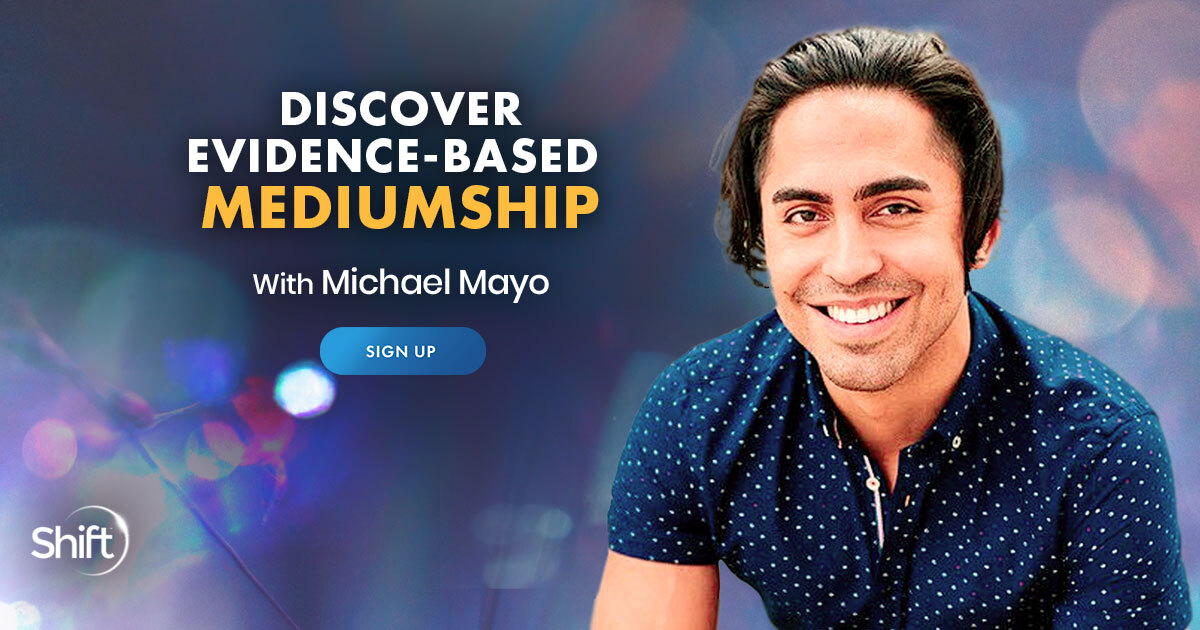 When done correctly, the practice of mediumship makes the spirit world real.
It empowers you to cultivate compassion, feel connected to your spirit guides, and even ease your fear of death.
Understandably, many aspiring mediums become frustrated as they explore the craft.
They never receive a clear understanding of the required skills, they feel skeptical of the results they do get, and they don't find the tangible evidence they long for.
If you've explored mediumship before, you may have been thrown into the experience without first being grounded in the proper foundations — including detailed explanations of what to expect, how to manage your awareness so you can become attuned to the spirit world, and how to stop unintentionally getting in your own way.
On Saturday, May 22, psychic medium Michael Mayo will share his proven techniques to break mediumship down into a step-by-step process so you can distinguish the energy coming from spirit from what's coming in your own mind — then back it up with evidence like dates, names, and details no one else could know.
You can register for FREE – Click Here
In this 60-minute free online event, you'll discover: 
The true meaning of mediumship, how anyone can become a medium — and how your life changes when you learn to harness its power
Why mediumship is the byproduct of surrender, not additional powers only some people possess — in fact, you're merely the vessel mediumship passes through!
Rarely heard stories and results from skilled mediums of the past — and what's possible for you in your mediumship journey
The truth behind why more mediums don't practice evidential mediumship — including how it doesn't produce instant gratification, poor teaching gets passed along to others, and more
Michael's Sitting in the Power exercise, a practice that allows you to quiet your mind while expecting and doing nothing — so your imagination is less likely to (unintentionally) create false "spiritual" or "psychic" impressions
Michael's celebrated teachings will remind you of the powerful truth that you're never separate from others, in this world or the next.
He'll share how the discipline of evidential mediumship can help you understand more about who you are in the world, your role in the scope of the universe — and the concrete skills you can bring to your mediumship journey.
You can RSVP for FREE -Click Here
In Discover Evidence-Based Mediumship: How to Connect Clearly & Confidently With Loved Ones & the Spirit World, you'll develop or refine your mediumship mastery through time-tested, grounded, and practical skills everyone possesses — so you can confidently connect to your spirit guides, release self-doubt, and find clear direction in your spiritual journey.
We hope you're able to catch the event as scheduled. But if you register and miss it, you'll receive a downloadable recording as soon as it's available.