David "Avocado" Wolfe Live and Unplugged
February 21, 2020
$33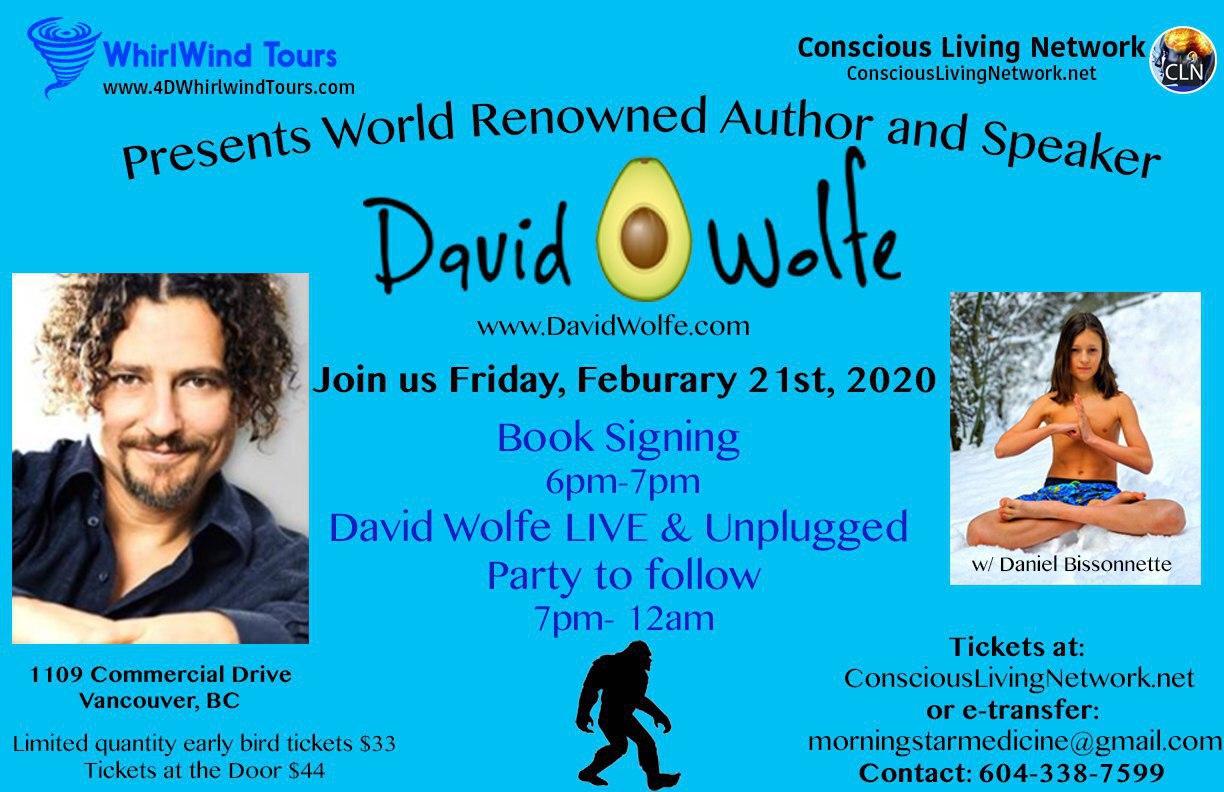 David "Avocado" Wolfe Live and Unplugged
Book signing, Live Talks and Dance Party
*Superfoods and Stem Cells
*The Astonishing World of Carbon and Detoxification
*Your Astounding Energy Reserves
*How to lose 20 Stubborn Pounds in a Month.
*Activate Genius and Mega Immunity
*Today is The Best Day Ever!
*Tribute and Review of the Inventions of  the late Dr. Patrick Flanagan, a close and dear friend of David's.

Crystal Energy TM water will be served.
---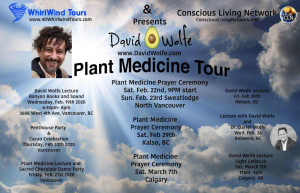 Saturday February 22, 2020: An Evening with David Wolfe & Daniel Bissonnette – SuperFoods, Plant Medicine & Cacao Celebration PentHouse Party
Saturday February 22, 2020: Plant Medicine Prayer Meeting
---
About David "Avocado" Wolfe
 David "Avocado" Wolfe — health, eco, nutrition, and natural beauty expert —  is the rock star and Indiana Jones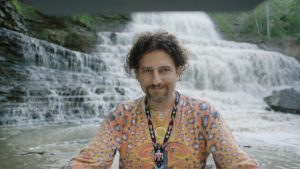 of the superfoods and longevity universe. The world's top CEOs, ambassadors, celebrities, athletes, artists, and the real superheroes of this planet—Moms—all look to David for expert advice in health, beauty, herbalism, nutrition, and chocolate!
David is the celebrity spokesperson for America's #1 selling kitchen appliance: the NUTRiBULLET™ and for www.LongevityWarehouse.com. He is the co-founder of TheBestDayEver.com online health magazine and is the visionary founder and president of the non-profit The Fruit Tree Planting Foundation charity (www.ftpf.org) with a mission to plant 18 billion fruit, nut, and medicinal trees on planet Earth.
With over 20 years of dedicated experience and having hosted over 2750 live events, David has led the environmental charge for radiant health via a positive mental attitude, eco-community building, living spring water, and the best-ever quality organic foods and herbs.
David champions the ideals of spending time in nature, growing one's own food, and making today the best day ever.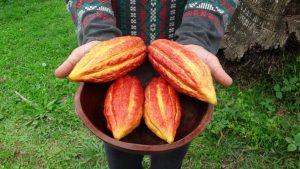 He teaches that inspiration is found in love, travel, natural beauty, vibrant health, and peak-performance. David has circumnavigated the Earth for decades seeking out the world's purest foods and waters and leading adventure retreats (please see www.davidwolfeadventures.com).
David is a gourmet chocolatier, organic farmer, beekeeper, and a vanilla grower. He is passionate about the beautifying, health giving and mystical qualities of dark organic chocolate. You may find his favorite chocolate here.
David is the author of many best-selling books, including Eating for Beauty, The Sunfood Diet Success System,
Naked Chocolate, Amazing Grace, Superfoods: The Food and Medicine of the Future, Chaga: King of the Medicinal Mushrooms and Longevity NOW. He has also appeared in numerous breakthrough documentaries and films including: Food Matters, Hungry for Change, and Discover the Gift.
David's Facebook site touches people daily, all over the globe, by delivering succinct powerful inspiration, news, and education.
David is a highly sought after health and personal success speaker. He has shared the stage with success and business coaches like Anthony Robbins, Richard Branson, Brian Tracy, John DeMartini, as well as acclaimed doctors and health researchers including: Dr. Bruce Lipton, Dr. Joseph Mercola, Dr. Sara Gottfried, Dr. Lissa Rankin, Dr. Dave Woynarowksi and many more.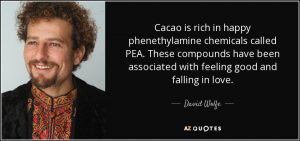 David is a lead educator and presenter at the annual Longevity Conference, Institute of Integrative Nutrition, and the Body-Mind Institute, where he hosts his own course.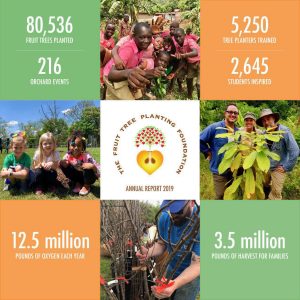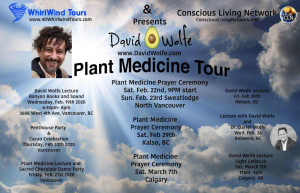 MEET DANIEL BISSONNETTE…
15-year old Daniel Bissonnette is one of the World's top 100 most influential Vegans, the most in demand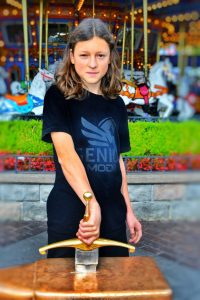 Health/Nutrition Youth Keynote in the world, an Award-Winning Activist, Best-Selling Author, developer of the "GENIUS Mode" program and host of the weekly YouTube "Daniel Show."  https://www.danielbissonnette.com/
Daniel has delivered 100's of presentations since the age of 9 at conferences, expos, consumer shows, community groups, food companies, schools, institutes, non-profit organizations and continues to make headlines.
But, It all started out as a bullied elementary school kid who wanted to help a few friends eat healthier.
In third grade, Daniel was approached by his teacher and decided to publicly speak about his food choices. Pleasantly surprised to see how many kids began trashing their junk food and switching to healthier alternatives, Daniel was encouraged to continue spreading the message and volunteered to speak at a global rally. Little did he know that his first public talk would go viral. It became the most viewed YouTube video for the event that took place in 500 cities around the world with over 2M attendees!
From that moment on Daniel began to speak on stages of leading Health events across Canada, the US and Europe.
By the age of 11 he became a Signature Speaker with the largest health show franchise in Canada and published his Best Selling book "Daniel's BREAKFAST Burst". With "Daniels Breakfast Burst" he was able to Inspire more children around the world to eat a healthier breakfast than any other authority!
"Daniel's Breakfast Burst" was such a hit it was featured in popular magazines, radio, TV and even purchased by Hollywood celebrities. It sure got kids and parents excited about eating their way to smarts too with over a month of carefully designed breakfast meals that deliver peak nutrition for mental performance.
By 12 years old Daniel was ranked in the World's top 100 most Influential Vegans and joined the non-profit organization "Borneo Wildlife Preservation" to help raise funds and awareness to support reforestation and Pygmy Elephant conservation projects in Borneo. At 13 he was honored the Shining World Leadership Award for Compassion by Supreme Master Ching Hai and completed his long anticipated "Genius Mode" program.
In "Genius Mode – the Biology of Greatness" program, Daniel shares breakthrough science on a never before discussed topic –
Altering our DNA to Genius. "There are ways we can go into our Genetic Code and rewrite it. Genius is something you CAN Become because it's a built-in mechanism and there's an exact science to doing so!" says Daniel. He reveals his daily "Hacks" we can apply to increase Brain Power, Intelligence, develop Physical and Mental Resilience and turn on our GENIUS expression.
---
Saturday February 22, 2020: An Evening with David Wolfe & Daniel Bissonnette – SuperFoods, Plant Medicine & Cacao Celebration PentHouse Party
Saturday February 22, 2020: Plant Medicine Prayer Meeting