Cannabis: A Journey to Spiritual Awakening
June 28, 2021 @ 8:00 AM

-

5:00 PM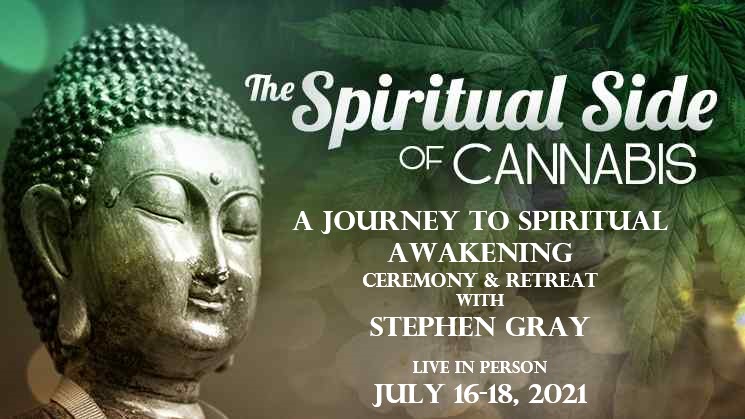 Healing and Awakening Retreat with Cannabis – with Stephen Gray
Dear friends, colleagues, and fellow journeyers on paths to awakening.
It's time to reconnect—with the kind yet powerful assistance of our ancient friend and ally. The intention of this immersive program is to engage in strong work for ourselves and for the larger community as we move ever more rapidly into a challenging time that calls us to empowerment and engagement.
This retreat is ideally suited for those who are ready to surrender into insightful and opening states. We have a wonderful situation in every respect to do this work: carefully chosen and tested medicines; skilled guidance in a safe and supportive container; and an incredible location on 5 acres in beautiful rural country near Maple Ridge, BC.
There will be a few options available for the weekend, explained below. If you can, it's much preferable that you participate in the full retreat program. The experience becomes deeper and richer as the group travels through the weekend.
Format for Full Retreat:
Friday
7:30 pm* – Arrive at ceremony location. light snacks offered.
8 to 10 pm – First Session: introductions, meditation, movement, sound journeying etc. hapé offered.
*Optional Friday afternoon arrival for setting up tents etc. This option includes nutritious dinner.
Saturday
8 am – breakfast
9:30 am to 6 pm (approx.) – Core Ceremony program (details below)
Evening – free time, informal group activities (campfire, music, drum circle, etc)
Sunday
8 to 9 am – breakfast
9:30 to noon – Short Ceremony: meditation, movement and dance, sound journeying, sharing, optional inhaled cannabis.
The Core Ceremony Program:
The all-day journey on Saturday will be guided by the experienced and supportive hand of Stephen Gray, along with his assistant Casey McFarlane. Stephen has carefully selected the perfect medicines: organic, sun-grown cannabis for inhalation; a mild cannabis edible to carry us through the day; and a "secret ingredient" to gently deepen the journey that those familiar with Stephen's longer (all day) sessions will be familiar with.
The basic structure of the day will consist of a skillful mix of silent meditation, movement and dance, sound journeying, simple group chanting. A couple of very light refreshments will be provided during the day to keep energy and blood sugar levels up. The ceremony will close with a nutritious shared meal and sharing session.
Program options and prices
A: Full retreat program from Friday evening until Sunday midday. (Sleeping options available – tenting or communal indoor sleeping – bring your own "nest" and sleeping gear) – $297
B: Arrive Saturday morning 9 to 9:30 (after breakfast) for core program and stay over Saturday night. Evening music, drum circle, and more on Saturday evening. Breakfast and "Short Ceremony" Sunday ending at noon. $247
C: Arrive Friday 7:30 pm for First Session, opening and Hape Ceremony. Core Ceremony program Saturday and evening activities (as desired). Saturday breakfast and end-of ceremony meal on Saturday included. $144
D: Arrive Saturday morning 9 to 9:30 for Core Ceremony program and evening activities if desired.  $111
More details:
We will observe careful safety protocols with thorough cleaning, available hand sanitizers, etc. Ceremonies will take place in a large, well-ventilated room with high ceilings. Our circle will be right beside a large opening to the deck. You'll be welcome to wear a mask if you wish (except when smoking or eating ). The maximum number of participants is 12.
Stephen will require a brief—perhaps 15 to 20 minutes—phone consultation before confirming your registration. We will also ask you to sign off on a brief disclaimer and commitment form. The consultation will also give you an opportunity to ask questions about the event.
The location is about a 50-minute drive from Vancouver. We will help arrange ride-sharing if necessary.
All other necessary details, like how to prepare yourself, what to bring, directions etc, will be available once you have registered.
Location
Rain Forest Ranch Healing and Retreat Sanctuary – Maple Ridge, B.C

Message From Stephen – Very Important
Before we confirm your participation in the retreat, you will need to have a brief (perhaps 15-20 minutes) phone consultation with Stephen to ensure this is right for you and to give you an opportunity to ask questions.
Please read and agree to before RSVP'ing
I commit to fasting from cannabis for at least 3 days prior to the event. i.e. no cannabis Wednesday, Thursday, or Friday.
*Note: Please do not dismiss the importance of the "fast." For the strong work we're doing, giving the endocannabinoid system time to reset makes a big difference to the clarity and depth of the experience (without having to flood the receptor system just to reach a mild to moderate alteration.)
**Note: longer than 3 days is preferable. Exceptions are for people who definitely must consume cannabis daily for significant chronic physical problems. If that's you, please do your best to reduce your intake to the minimum, especially closer to Saturday.
I commit to not participating in the retreat if I have any signs of COVID-19 or have been in close proximity with someone who has shown signs in the past 14 days. *Note: Full refund will be given in such case.
I understand that anything shared by participants during the retreat is private and confidential unless express permission is granted. Having a container in which everyone feels safe to be vulnerable and reveal inner experience is essential.
I agree to have finished my morning meal on Saturday at least 2 hours before the "formal" start of the ceremony at 10 am.
*Note: This is important for similar reasons to taking a break from cannabis. Since we're taking an edible, we want the stomach more or less clear for full effect, just as with medicines like ayahuasca and others. Very light refreshments will be offered during the ceremony to keep blood sugar levels up.
I understand and accept that I am fully responsible for my own physical and mental health. I absolve the organizers of any legal responsibility in that regard.
*Note: There are some physical conditions which may mitigate against cannabis use, especially in higher dose situations. Cannabis use like this may be contra-indicated with some heart conditions, such as Angina, and some respiratory conditions. There will not be any professional medical personnel at the retreat.
**By registering for this event, you understand and are agreeing to accept these disclaimers and commitments.**
About Stephen Gray
Stephen Gray is the author/editor of two books, including the popular Cannabis and Spirituality: An Explorer's Guide to an Ancient Plant Spirit Ally.
He is also the longtime co-organizer of the Spirit Plant Medicine Conference, as well as a cannabis ceremony leader, lecturer, and part-time musician and photographer