Cannabis 101: Essential Information for the New Canadian Reality
June 22, 2019 @ 9:30 AM

-

9:00 PM

$30 – $57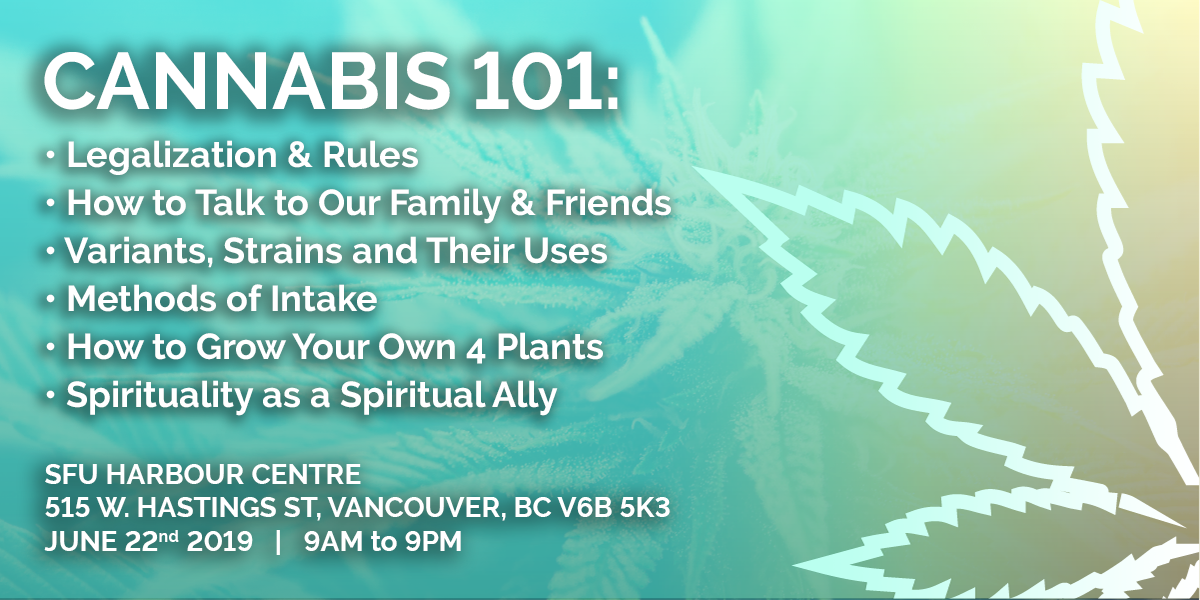 Do you really know the laws behind legalization in Canada?
Should I or shouldn't I ?  If so, where do I begin?
What type, there is so much to choose from?
How should I use it best? what can I expect?
What's the difference between medical marijuana and recreational?
Get the Answers to these questions and more during this full day of Cannabis knowledge designed to help you navigate the legalization, the laws , selection and more!
The day will wrap up with an experiential Cannabis Ceremony lead by Vancouver's very own Cannabis and Spirituality expert, Stephen Gray
Did You know….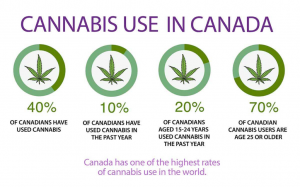 Get the facts to these commonly asked questions:
Legalization & Rules:
– What's the difference between recreational and medicinal use of cannabis?
– What are our rights? How do the rules apply to a normal person?
– Where can we get our medicine/recreational legally here in Vancouver?
– Legal dispensaries? Websites? Different between provinces?
– What's the plan for the future with the rules in Vancouver? Will there be more places to get it?
– Who do we talk to about cannabis? Can we rely on doctors, dispensaries, or pharmacists for guidance with using cannabis as a therapy?
– What about traveling to other provinces and countries?
Cannabis, How to Talk About it:
– How do I talk to my kids, parents, co-workers about cannabis?
– What's the difference between recreational and therapeutic use?
– What are the pros and cons for adolescents and children using cannabis?
– What's the science behind heavy cannabis use at certain ages?
Strains & Their Uses – Medicinal vs Recreational:
– Why so many different strains? How do I choose?
– What is the entourage effect and why is it important?
– Is cannabis use addictive?
– What ways can I use cannabis as a therapy if I don't want to get high?
– Psychoactive vs non-psychoactive cannabis, the pros and cons of THC
– What's the difference between CBD and THC, and the rest of the plant?
– Isolated Compounds vs Full Spectrum products
– Treatment for Cancer, epilepsy, insomnia, pain management, opioid management, PMS.
– Relaxation, stress management.
Methods of Intake:
– What are the differences in affects between the different methods of use?
– What if I am subject to employment drug testing? What can I use safely?
– What are the different methods of intake? (Smoking flower, edibles, topicals, tinctures, capsules, gel caps, sprays, suppositories, vaping, concentrates, etc.)
– What are some of the pros and cons for different methods of intake?
– What reasons do people usually use different methods of intake?
– Edibles – What's the difference between baking and cooking?
– What can I make at home?
– What can I get from a dispensary?
How to Grow Our Own Cannabis:
– We are each allowed to grow 4 plants, where do we start?
– How do we get the most out of our 4 plants?
– What are the rules around growing our own cannabis?
– How to cook with my home grown cannabis? (edibles?)
– How much should I grow? Is this determined by how much I regularly consume?
– How big will my plants get?
– What are your goals for growing your own plants?
Cannabis and Spirituality – with Stephen Gray:
– How can we introduce cannabis into our spiritual lives?
– What are some of the age old practices that have enhanced higher learning of ourselves?
**Vendor and Sponsorship Opportunities Available**
For Full Details and Book your spot Today Follow click on the button
[button link="https://consciouslivingnetwork.net/cannabis-101-exhibit/" type="big" color="green" newwindow="yes"] YES! I'M INTERESTED IN EXHIBITING[/button]
The Speakers
Dennis McKenna
Dennis McKenna's professional and personal interests are focused on the interdisciplinary study of ethnopharmacology and plant hallucinogens. He received his doctorate in 1984 from the University of British Columbia, where his doctoral research focused on ethnopharmacological of ayahuasca and oo-koo-he.
Dr. McKenna taught courses in Ethnopharmacology, Botanica Medicines and Plants in Human Affairs at the Center for Spirituality and Healing at the University of Minnesota from 2001 to 2017. He is a founding board member of the Heffter Research Institute and serves on the advisory board of non-profit organizations in the fields of ethnobotany and botanical medicines. He was a key organizer and participant in the Hoasca Project, an international biomedical study of ayahuasca used by indigenous people and syncretic religious groups in Brasil. From 2004 to 2008, he was the Principal Investigator on a project funded by the Stanley Medical Research Institute to investigate Amazonian ethnomedicines for the treatment of schizophrenia and cognitive deficits. In 2017, with the collaboration of many colleague, he organized and presented a landmark conference, the Ethnopharmacologic Search for Psychoactive Drugs: 50 years of Research. The conference commemorated the 50th anniversary of the original conference held in San Franscisco in 1967. The two-volume Proceedings of both conferences were published in 2018 in a limited edition by Synergetic Press. (See ESPD50.com)
Dr. McKenna is one of our strongest advocates on behalf of the entheogenic plant medicines and is often called upon to speak at related conferences and symposia. He also has a recent memoir The Brotherhood of the Screaming Abyss: My Life with Terence McKenna
Dennis McKenna Ph.D.
CEO & President
Symbio Life Sciences
Dana Larsen
Dana Larsen is one of Canada's most well-known and respected advocates for cannabis reform and an end to the global war on drugs.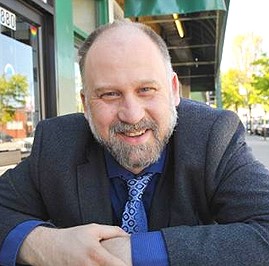 Larsen is a Vancouver cannabis activist, author, businessman and politician. He served ten years as editor of Cannabis Culture Magazine, was the co-founder of the Vancouver Seed Bank, and is the former Vice President of the Canadian Association of Cannabis Dispensaries. He currently serves as founding director of the Vancouver Dispensary Society and is also founder and director of Sensible BC, Canada's largest grassroots cannabis reform organization.
Larsen was a founding member of the BC Marijuana Party and the Canadian Marijuana Party. In 2003 he joined the NDP, running as an NDP candidate in 2008. In 2011, he ran for the Leadership of the BC NDP.
More recently, Larsen founded the Overgrow Canada campaign, giving away over 2.3 million cannabis seeds in 2016, followed by a five million cannabis seed giveaway in 2017. You can sign up for 2018 here.
Larsen is also the author of books including Hairy Pothead and the Marijuana Stone, Green Buds and Hash, The Pie-Eyed Piper, and Cannabis in Canada, the Illustrated History.
Larsen is a key organizer for Vancouver's biggest annual cannabis events, including the 4/20 Celebration at Sunset Beach, the Cannabis Day celebration at the Art Gallery on July 1, and the Global Marijuana March on the first Saturday in May.
Karen Urquhart
Karen is an Anglican Priest, cannabis educator and advocate and mother of four adult children. She grew up in Perth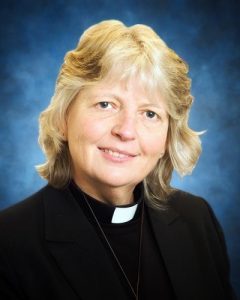 Western Australia and moved to Vancouver in 2014. She is currently the Rector of St Christopher's in West Vancouver.
Prior to ordination in 2004 she worked in the disability field as a Social Trainer. After completing Post Grad studies in Counselling she specialized in Drug and Alcohol counselling and also worked as a sexual assault/ domestic violence counsellor for an Aboriginal Corporation prior to coming to Canada.
Despite living in a small rural town for 7 years that was known for its alternative lifestyle and cannabis use, Karen only tried cannabis once with a friend in 2011. She vowed she'd never use it again as the experience scared her and she risked losing her job and getting a criminal record if caught.
Karen has lived with a debilitating autoimmune condition since 1990. Immunologists, naturopaths, Chinese medicine, acupuncture, elimination diets, tests and supplements did little to improve her health. The side effects from prednisone and a variety of dangerous immunosuppressant's caused her health to further decline.
Out of desperation, and because she was now in Vancouver where cannabis was legal for medical conditions, Karen did her own research on cannabis and found that some others with her condition had used it to help with side effects of the medications.
She vaped when she had a flare up and it helped her sleep. But unexpectedly one night after a severe flare up, she vaporized a strain that was different to the CBD dominant cannabis she had previously been using. During the night she had an incredible healing experience where she felt her entire body being rebalanced. She woke up in the morning symptom free and has not had any symptoms since. Her health has improved dramatically and even lost 35lbs.
This life-changing experience has inspired Karen to learn as much as she can about cannabis and share this with as many people as she can. She has a special interest in spirituality and the historical use of cannabis as a sacrament in the Hebrew and Jesus traditions. She believes that a healthy endocannabinoid system is the key to healing and wholeness – Cannabis is a gift from God. A humble plant that has been stigmatized and demonized for almost 100 years.
Robert Laurie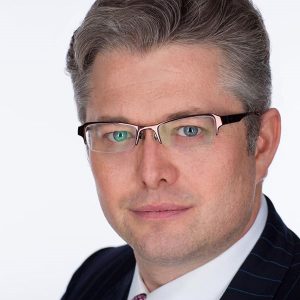 Robert W.E. Laurie is an international lawyer, writer and speaker, qualified as a solicitor in England and Wales and called to the British Columbia Bar as a barrister and solicitor. After practicing law in London and New York in the areas of International hedge fund formation and securities fraud litigation, Robert founded AD LUCEM LAW CORPORATION in Vancouver in 2013. Robert's legal practice focusses on cannabis, encompassing business law, administrative and family litigation, plus criminal and marijuana regulatory defence. Robert is also a recent appointment to the City of Nanaimo's newly established municipal Cannabis Task Force. Robert has advised licensed producers, dispensaries, pre-license entities, technology companies, and other domestic and foreign participants in the Canadian cannabis industry in relation to the Controlled Drugs and Substances Act and its regulations, including the Access to Cannabis for Medical Purposes Regulations (the "ACMPR") and the Narcotic Control Regulations (the "NCR").
https://www.youtube.com/watch?v=9MxTr9KjEI0
https://www.youtube.com/watch?v=ZN5bJoAlmko
Dori Dempster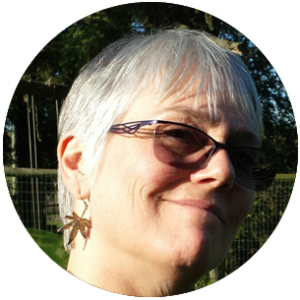 Dori Dempster has been the Executive Director of The Medicinal Cannabis Dispensary since its opening in 2008. She is a cannabis patient and advocate, almost wife to Tim for nine years, and the proud mother of three grown sons. Dori started working in the cannabis industry in 2005 as a mail clerk sending seeds around the world from The Vancouver Seed Bank and then she opened the doors three years later with Dana Larsen to The Medicinal Cannabis Dispensary. Dori and Dana have since opened a second store and with an awesome staff now serve over 6500 members from the two locations including a mail order service serving all of Canada. The first store is at 880 East Hastings in the Strathcona neighbourhood serving the Downtown Eastside and the second store is at 1182 Thurlow Street near Davie Street in an old heritage-style house with a beautiful garden full of flowers serving the West End.
David Hutchinson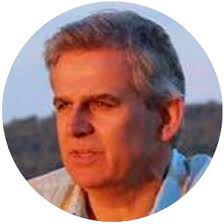 After a 23-year career in the Royal Air Force, 'Hutch' left as a senior officer in 2002 and emigrated with his family to Canada. He worked for 10 years in Alberta and then BC as a Site Manager and Project Manager supporting NATO, Canadian and Australian Defence operations. In this latter capacity he held a CSIS Top Secret security clearance.
Hutch became an unlikely spokesperson for patients in need of medical cannabis as a result of illness in his family losing both his wife, Kay, and daughter, Beth to cancer. As a patient advocate he is frequently invited to attend and present speeches for various organizations including the International Society for Integrative Oncology, the Vancouver Health Expo, The Arthritis Society of Canada 'Cannabis Research Priority Setting Workshop', and the Brain Tumour Foundation of Canada. He has also presented to numerous municipal authorities in British Columbia. He acts as a cannabis consultant for patients on behalf of numerous medical doctors and educates patients on their medical cannabis options. He is also involved as an advisor for companies supporting First Nation enterprises.
https://www.youtube.com/watch?v=uCkjblbYePY
https://www.youtube.com/watch?v=j2mw7EOUdRY
Sita Von Windheim
Sita has been healing with Cannabis for over 25 years. It began with her personal exploration of Cannabis to treat her extreme migraines. From there, Sita began her education on the benefits of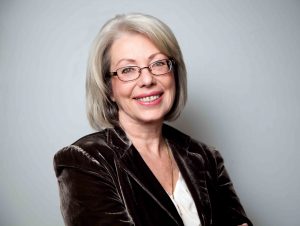 Cannabis and its use to treat several serious ailments. Sita received her Health Canada License to grow her own plants in 2009, and has been doing so ever since. She was a supporter of medical Cannabis legalisation efforts in Supreme Court of Canada, where her close colleagues fought for patients' right to access Cannabis medicine. She has been a front line fighter and has helped pave the way for our current legalization roll out. Sita currently works with naturopaths in treating a large number of illnesses and diseases. She's an Aromatherapist, Cranial Sacral Therapist, Lymph Drainage Therapist and intuitive body worker, raw food chef, and an all around fountain of herbal medicine and natural healing knowledge. Sita has spent much time immersed in Ayurvedic
medicine in India, and utilizes many of the same practices in her daily life and in her work healing others.
Sita grew up between Namibia and Germany, and ultimately landed in Vancouver, where she has been very successful in various businesses and ventures. She was the owner of the original Amsterdam Café in the 1990's, when it was located on Cordova Street, here in Vancouver. She is known as the Baroness and is extremely well respected in the International Cannabis community.
Colin M
Colin is one of the many pro Store Managers at Pacific Northwest GardenSupply. Colin uses his extensive cultivation knowledge every day to assist all levels of growers, from Commercial scale to novice, to ensure that they are maximizing their yields.
With 5+ years as a professional gardener, 2.5 years as an educator/advisor, extensive background in gardening, horticulture, and landscaping Pacific Northwest Garden Supply is a proud British Columbia based chain of Hydroponic retail stores.  At PNW, they strive to not only provide a retail service for your everyday hydroponics and gardening needs, but also to become your trusted advisor and source of expertise for all things hydroponic.  Whether you're a professional, a novice, or somewhere in between, PNW strives to ensure that they equip you with the right knowledge and tools to help you become the best grower on the planet. That's their passion and their promise.
Stephen Gray
Stephen Gray has traveled spiritual pathways for nearly half a century. He has worked extensively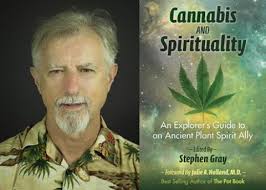 with Tibetan Buddhism as a student and instructor as well as with several sacramental medicine traditions. He is a teacher, ceremony leader, writer, conference organizer, musician, and photographer. Stephen is the author of Returning to Sacred World: A Spiritual Toolkit for the Emerging Reality(John Hunt Publishing, 2010) and the editor and one of 18 contributors to Cannabis and Spirituality: An Explorer's Guide to an Ancient Plant Spirit Ally (Inner Traditions/Park Street Press, 2017).
For the past 7 years Stephen has also been co-organizer of the Spirit Plant Medicine Conference, now in its 8th year and scheduled for this Nov. 2-4 at UBC with a remarkable international group of leading voices representing the medicines.
If you would  like to know more about Stephen, his work and offerings, please visit:http://www.cannabisandspirituality.com/
SPONSORED BY:


Vendors: