Beyond the Veil Summit
October 11, 2021 @ 8:00 AM

-

October 15, 2021 @ 5:00 PM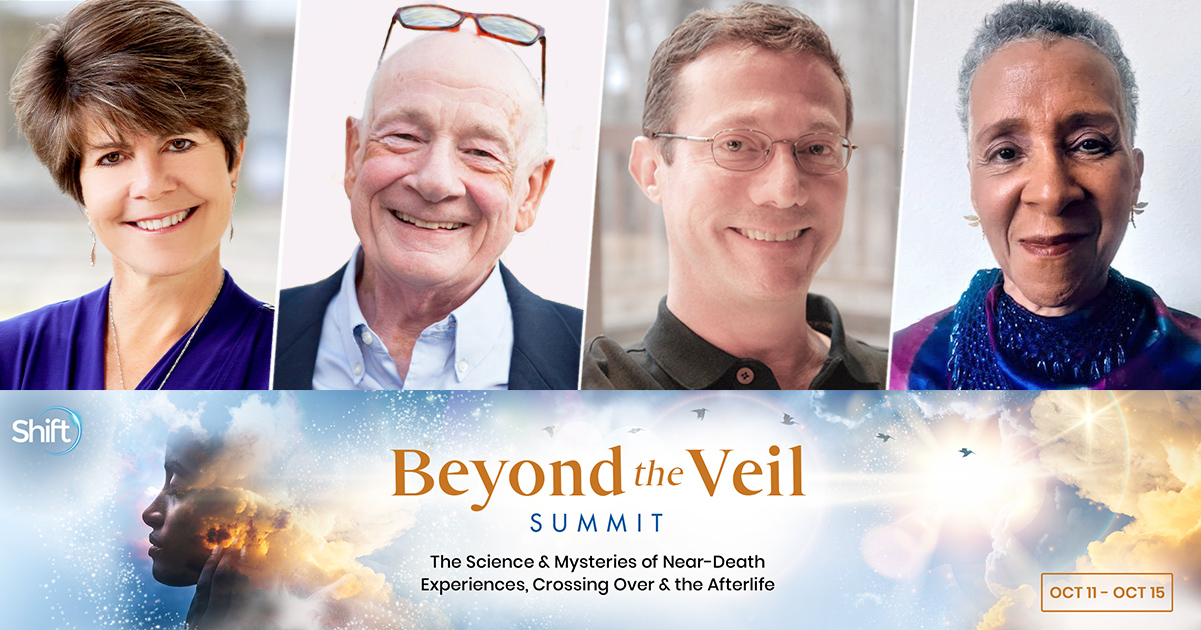 Free Online Event
Beyond the Veil Summit
October 11-15, 2021
The boundaries which divide Life from Death are at best shadowy and vague. Who shall say where the one ends, and where the other begins?
— Edgar Allan Poe
What lies beyond this life? What happens after we die? Can we connect with loved ones after they've crossed over? How can we receive solace and closure on this side of the veil when a loved one passes through to the other side?
The world around us has changed dramatically in the last year. Many of us have faced more death and loss than ever before, which can lead to fear, trepidation, and deep sorrow.
But what if we were to view death differently? What if we saw it as simply a transition from one soul experience to another? Death is not the end of life… in fact, far from it! It's simply a change in our physical condition — and science is now proving that life goes on even after we leave our bodies.
Join us for FREE! Click Here to Register Today!
We may fear death because we do not understand it. We are so frightened by our own mortality that we choose to shun the very fact that one day, we will all leave this earth.
But fear evaporates in the bright sunlight of understanding. When we explore what lies on both sides of the veil — and the transformation that happens in between — we awaken our fascination, accept the reality of our soul's journey, and become empowered to view our transition into the non-physical in a brand-new way.
We discover a freedom to live more fully in the now… to embody and express love, and connect deeply with the world around us.
Whether you're looking to gain meaningful closure around the loss of a loved one, or wanting to glean insights into how to live fully in the here and now, this unique online event will guide you deeper into appreciation and awe for the preciousness of life… provide a deeper sense of belonging in the shared human experience… and expose you to meaningful stories and insights into death, consciousness, and the beyond.
Together we'll explore safe ways to communicate with the other side, release fear to live fully in the now, and commune and dance with the unknown.
Join the Beyond the Veil Summit for a refreshing take on life, death, and the afterlife… and experience an inspiring blend of science, spirituality, and mediumship from the hearts and minds of leading medical professionals, spirit communicators, and NDE (near-death experience) experts.
During the Beyond the Veil Summit, you'll hear illuminating insights from 30 medical professionals, researchers, those who've tasted death and come back from it, and experts who can communicate with those who have crossed over (and can teach you how to do the same).
Let their remarkable stories and guidance touch your heart, heal your wounds, enlighten you, enfold you with comfort, and ultimately draw you toward living fully in each moment for the rest of your life — knowing that beyond your current human experience is a celestial realm where peace, love, and beauty reign.
Here's some of what our brilliant teachers will be sharing with you…
Suzanne Giesemann shows you how to overcome your fear of death and accept that your soul is eternal — so you can live lucidly as both fully human and fully divine, and feel greater joy, freedom, and peace.
Leading near-death experience authority Dr. Raymond Moody shares a composite picture of God based on the countless NDE stories he's heard over the years.
Rob Schwartz shares stories of pre-birth planning and explains the 5 main reasons why we plan our greatest challenges before we're born.
Cyndi Dale demonstrates how to invoke muses, saints, sorcerers, shining ones, and other spirit allies to boost your healing and manifesting powers.
Rev. Dr. AdaRA L. Walton explains how to use meditation, visualization, and intent to access your light and explores the important differences between full-spectrum and incandescent light.

Francisco Valentin shares his near-death experience and explains how you can find your own path back to Source, revealing your true identity. 

Mark Anthony discusses spirit communication, near-death experiences, and deathbed visions through the lens of 21st-century science.

Christina Lee Pratt shares how "tending the dead" can relieve judgement, shame, and anxiety about your own death.

RSVP here for the Beyond the Veil Summit — at no charge: https://shiftnetwork.infusionsoft.com/go/bvs21/a17982
Warmly,
Marc
P.S. Here's a sampling of what you'll receive during this illuminating event:
How to make the purest connections across the veil to receive profound help and guidance 
​​How to calibrate your energy and frequency to communicate between worlds and connect with your loved ones
How to use casting, reverse-photo psychometry, and automatic writing to shift the carry-over patterns that exist in the ancestral afterlife and improve your life
The science behind channeling — including intuition, images, and premonitions — based on 150 years of research
How to heal relationships across the veil with experts who can see challenging loved ones as the light beings they really are
Methods for cooperating with the angels and spirits who might aid you as you approach the end of life and your transition into the "Clear Light"
Why asking the right questions can connect you with your spirit guides, deceased loved ones, ascended masters, and Source
How tying your current life to historically-verifiable ancestral past lives can give you the skills to cope with memories and past-life symptoms
How to access the nine keys to perceiving your loved ones who have changed worlds even if you've never received any after-death communication
And many more beautiful discoveries…
Join us for FREE! Click Here to Register Today!