Return to Raw: Dinner, Social and Cacao with David "Avocado" Wolfe
February 25 @ 6:00 PM

-

10:30 PM

$155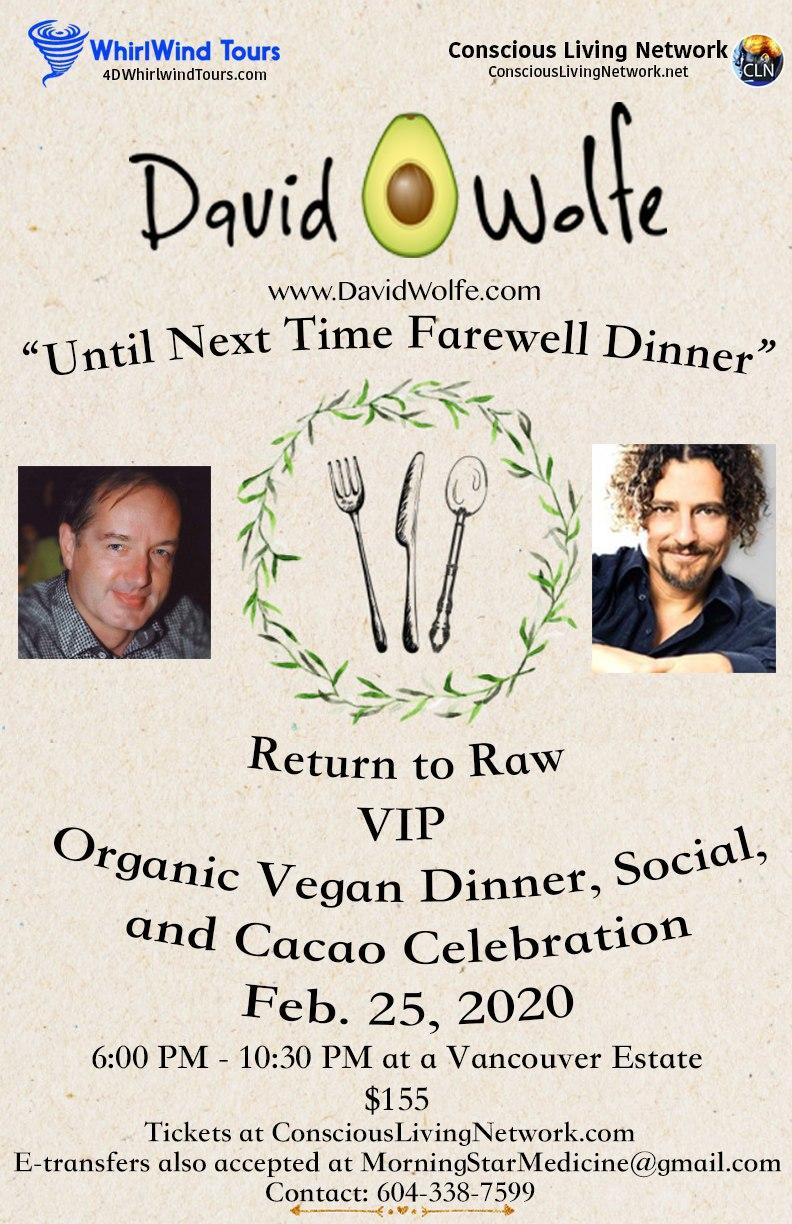 VIP
Vegan Inspired Party
One of a kind dinner, cacao ceremony and fun party with world's most famous expert in chocolate!
As David wraps up the Vancouver leg of his whirlwind tour,  Andrew Rezmer and  David Wolfe have decided to open up our "Until Next Time Farewell Dinner" to include anyone who would like to join us.
You are invited for an up close and personal Organic Vegan Dinner Party  and Cacao Extravaganza as we say goodbye to David "Avocado" Wolfe, as he departs Vancouver for the next leg of his 2020 BC Tour.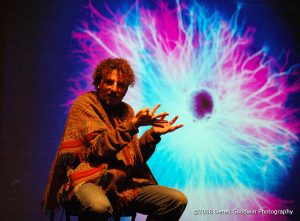 This is an opportunity to connect with David – "Up Close and Personal".  Ask questions, get answers, be inspired, take action!
Held in a private Vancouver mansion, this evening will be full of vitality as we share a delicious, nutritious clean organic vegan dinner guaranteed to satisfy your your senses, nourish your body and leave you energized and full(filled)! We will wrap up the evening with Cacao, one of David's favorite sacred plant medicines.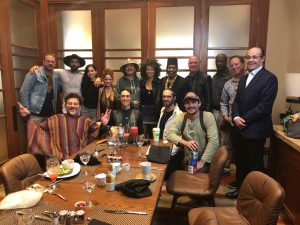 About David "Avocado" Wolfe
 David "Avocado" Wolfe — health, eco, nutrition, and natural beauty expert —  is the rock star and Indiana Jones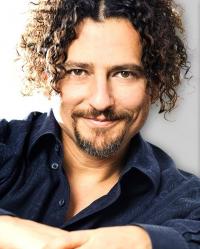 of the superfoods and longevity universe. The world's top CEOs, ambassadors, celebrities, athletes, artists, and the real superheroes of this planet—Moms—all look to David for expert advice in health, beauty, herbalism, nutrition, and chocolate!
David is the celebrity spokesperson for America's #1 selling kitchen appliance: the NUTRiBULLET™ and for www.LongevityWarehouse.com. He is the co-founder of TheBestDayEver.com online health magazine and is the visionary founder and president of the non-profit The Fruit Tree Planting Foundation charity (www.ftpf.org) with a mission to plant 18 billion fruit, nut, and medicinal trees on planet Earth.
With over 20 years of dedicated experience and having hosted over 2750 live events, David has led the environmental charge for radiant health via a positive mental attitude, eco-community building, living spring water, and the best-ever quality organic foods and herbs.
David champions the ideals of spending time in nature, growing one's own food, and making today the best day ever. He teaches that inspiration is found in love, travel, natural beauty, vibrant health, and peak-performance. David has circumnavigated the Earth for decades seeking out the world's purest foods and waters and leading adventure retreats (please see www.davidwolfeadventures.com).
David is a gourmet chocolatier, organic farmer, beekeeper, and a vanilla grower. He is passionate about the beautifying, health giving and mystical qualities of dark organic chocolate. You may find his favorite chocolate here.
David is the author of many best-selling books, including Eating for Beauty, The Sunfood Diet Success System, Naked Chocolate, Amazing Grace, Superfoods: The Food and Medicine of the Future, Chaga: King of the Medicinal Mushrooms and Longevity NOW. He has also appeared in numerous breakthrough documentaries and films including: Food Matters, Hungry for Change, and Discover the Gift.
David's Facebook site touches people daily, all over the globe, by delivering succinct powerful inspiration, news, and education.
David is a highly sought after health and personal success speaker. He has shared the stage with success and business coaches like Anthony Robbins, Richard Branson, Brian Tracy, John DeMartini, as well as acclaimed doctors and health researchers including: Dr. Bruce Lipton, Dr. Joseph Mercola, Dr. Sara Gottfried, Dr. Lissa Rankin, Dr. Dave Woynarowksi and many more.
David is a lead educator and presenter at the annual Longevity Conference, Institute of Integrative Nutrition, and the Body-Mind Institute, where he hosts his own course.
-2
Related Events