Private Weekend Retreat with David "Avocado" Wolfe and Team
February 29, 2020 @ 8:00 PM

-

March 1, 2020 @ 1:00 PM

$333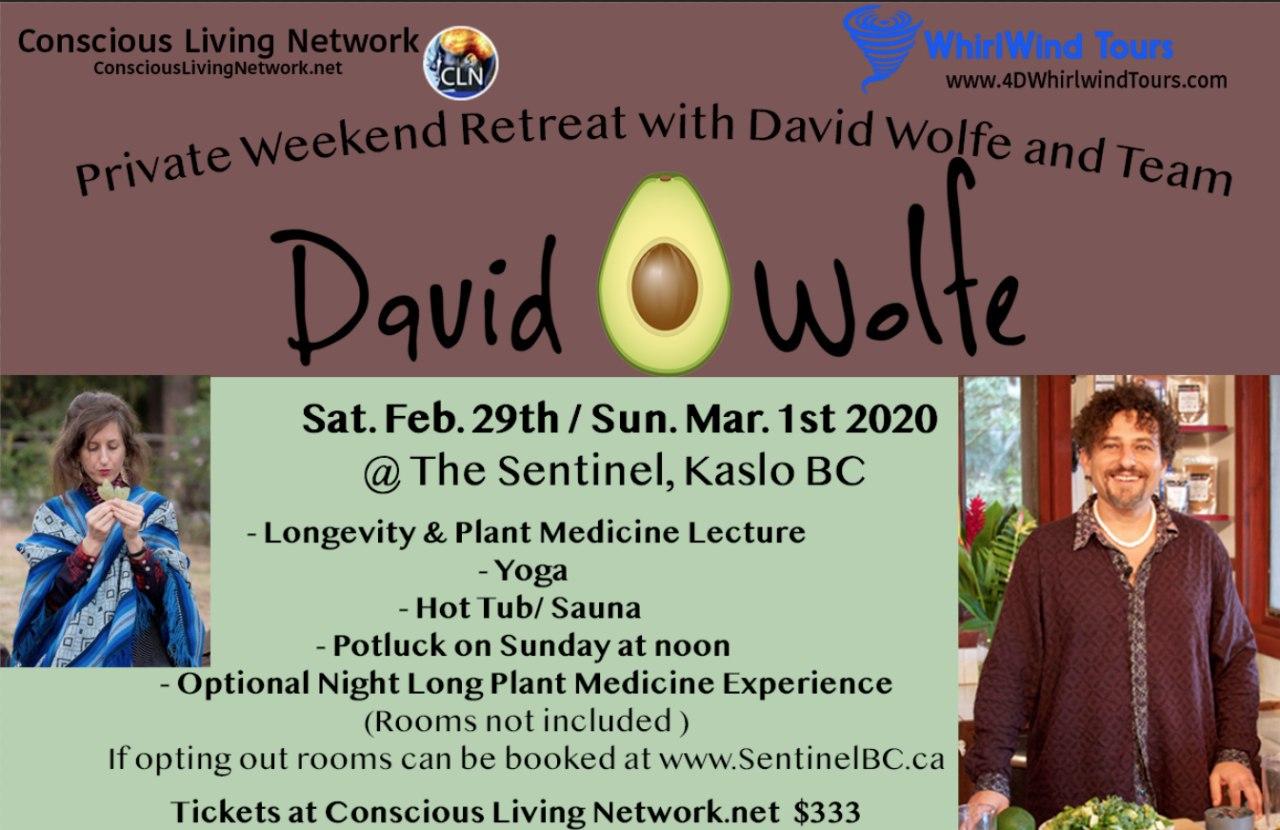 Join David "Avocado" Wolfe for an private retreat in the heart to for the British Columbia Kootenays – Kaslo, B.C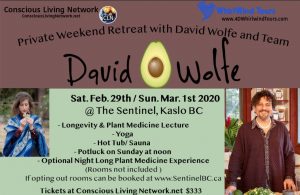 Longevity & Plant Medicine Lecture
– Yoga
– Hot Tub/ Sauna
– Potluck on Sunday at noon
– Optional Night Long Plant Medicine Experience
(Rooms not included )*
*If opting out, rooms can be booked at : www.SentinelBC.ca
"There may be nothing more powerful in your life than praying with, and for, your loved ones, in deep reverence for the mysterious forces of life. join us for a night of prayer as we reconnect to ourselves, our loved ones, our brethren and our wonderful Earth. Profound spiritual, emotional, mental and physical healing can occur in a single night. This is the power of Native American Church. Forces of chaos may control the physical world, but they don't control the spirit world. Together, during this all-night experience, we connect to the spirit for healing." ~ David "Avocado" Wolfe
ABOUT DAVID "AVOCADO" WOLFE
 David "Avocado" Wolfe — health, eco, nutrition, and natural beauty expert —  is the rock star and Indiana Jones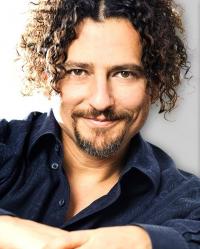 of the superfoods and longevity universe. The world's top CEOs, ambassadors, celebrities, athletes, artists, and the real superheroes of this planet—Moms—all look to David for expert advice in health, beauty, herbalism, nutrition, and chocolate!
David is the celebrity spokesperson for America's #1 selling kitchen appliance: the NUTRiBULLET™ and for www.LongevityWarehouse.com. He is the co-founder of TheBestDayEver.com online health magazine and is the visionary founder and president of the non-profit The Fruit Tree Planting Foundation charity (www.ftpf.org) with a mission to plant 18 billion fruit, nut, and medicinal trees on planet Earth.
With over 20 years of dedicated experience and having hosted over 2750 live events, David has led the environmental charge for radiant health via a positive mental attitude, eco-community building, living spring water, and the best-ever quality organic foods and herbs.
David champions the ideals of spending time in nature, growing one's own food, and making today the best day ever.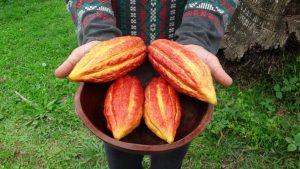 He teaches that inspiration is found in love, travel, natural beauty, vibrant health, and peak-performance. David has circumnavigated the Earth for decades seeking out the world's purest foods and waters and leading adventure retreats (please see www.davidwolfeadventures.com).
David is a gourmet chocolatier, organic farmer, beekeeper, and a vanilla grower. He is passionate about the beautifying, health giving and mystical qualities of dark organic chocolate. You may find his favorite chocolate here.
David is the author of many best-selling books, including Eating for Beauty, The Sunfood Diet Success System, 
Naked Chocolate, Amazing Grace, Superfoods: The Food and Medicine of the Future, Chaga: King of the Medicinal Mushrooms and Longevity NOW. He has also appeared in numerous breakthrough documentaries and films including: Food Matters, Hungry for Change, and Discover the Gift.
David's Facebook site touches people daily, all over the globe, by delivering succinct powerful inspiration, news, and education.
David is a highly sought after health and personal success speaker. He has shared the stage with success and business coaches like Anthony Robbins, Richard Branson, Brian Tracy, John DeMartini, as well as acclaimed doctors and health researchers including: Dr. Bruce Lipton, Dr. Joseph Mercola, Dr. Sara Gottfried, Dr. Lissa Rankin, Dr. Dave Woynarowksi and many more.
David is a lead educator and presenter at the annual Longevity Conference, Institute of Integrative Nutrition, and the Body-Mind Institute, where he hosts his own course.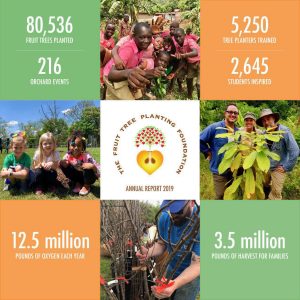 About Tutu Xuiyari
Tutu Xuiyari, an ordained Native American Church Reverend and authorized Navajo Crystal Gazer, has facilitated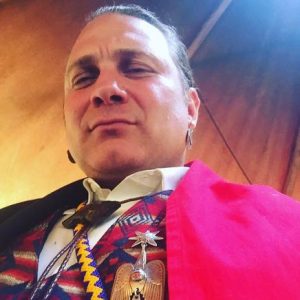 numerous Native American Church Ceremonies, Sweat lodges, and Crystal Gazings since his initiations.
As an officer in the Native American Church, he has also kept fire, carried drum and cedar for many ceremonies through the years. He has brought many elders to Canada to run ceremonies for various church services.
Tutu Xuiyari has also studied and trained at the Sivananda Yoga Headquarters and worked with author Stuart Wilde on his Sacred Sites Tours. He is a graduate of Drunvalo Melchizedek's Flower of Life courses 1 & 2 as well as his Earth Sky workshops. He has apprenticed with Huichol Marakame Don Chevelo for 20 years living on and off with him and his family in Santa Maria del Oro, Mexico. He was also an apprentice of Sundance Chief Leonard Crowdog and was a caretaker of the American Indian Movement (AIM) leader, Native American Church Reverend, and Cheyenne elder, Roland Kingfisher for many years up until his passing. He is a mentor to many and assists in rehabilitation efforts.