ANCIENT WISDOM for NEW LEADERSHIP
October 12, 2019 @ 9:30 AM

-

October 13, 2019 @ 6:00 PM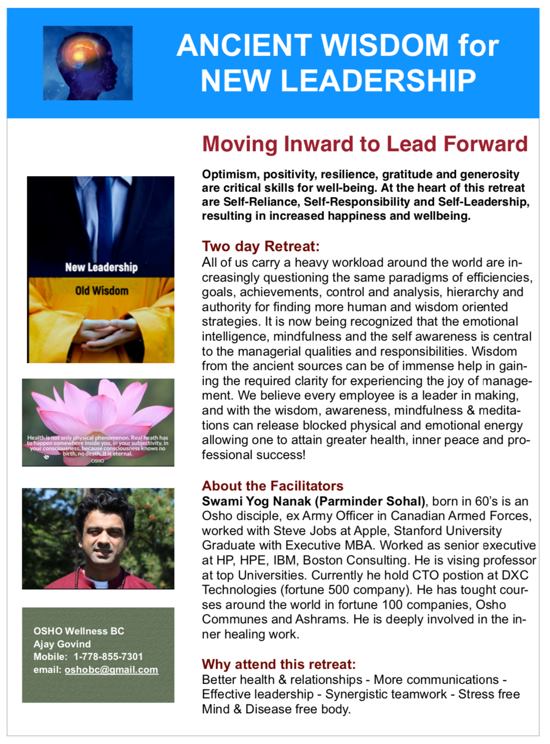 Osho Wellness event: Combination of Mystic and scientific approach.
Moving Inward to Lead Forward optimism, positivity, resilience, gratitude, and generosity are critical skills for well-being. At the heart of this retreat are Self-Reliance, Self-Responsibility and Self-Leadership; resulting in increased happiness and wellbeing.Two-day Retreat:
All of us carry a heavy workload around the world are increasingly questioning the same paradigms of efficiencies, goals, achievements, control and analysis, hierarchy and authority for finding more human and wisdom oriented strategies.
It is now being recognized that the emotional intelligence, mindfulness and the self-awareness is central to the managerial qualities and responsibilities. Wisdom from the ancient sources can be of immense help in gaining the required clarity for experiencing the joy of management. We believe every employee is a leader in making, and with the wisdom, awareness, mindfulness & meditations can release blocked physical and emotional energy allowing one to attain greater health, inner peace and professional success!The Main Features of the workshop are as follows:
1) Enhancing the quality of response to emotional well being
2) Sharpening awareness and sense of direction
3) The relaxation techniques can be done in the privacy of your home or office
4) These scientific methods and techniques are not in conflict with any belief systems.
Deep Dive into:
– What predicts Success and would you like to enjoy life every moment and find solutions to the day to day issue?
– The most common issues that disturb modern human beings are simple like anxiety, sleep, jealous, love, death, anger, relationships, parenting.
– What is Happiness why we are missing it.
– Who I am and why we ask this question.
– What is Anger – when to use and when to surrender.
– Leadership and purpose of life
During this Retreat you will be able to learn:
– Detoxify your body of many layers of repressed thought patterns and beliefs
– Osho Meditations – to relate to your conditions.
– Expand your consciousness
– Become self-empowered and free
– Strengthen your inner witness and silence
– Get in touch with your essence
– Manifest the shifts in consciousness in your daily life
During these Two days event, we will participate in various meditation techniques developed by Osho,to improve the quality of life.
Why attend this retreat:
Better health & relationships – More communications – Effective leadership – Synergistic teamwork – Stress-free Mind & Disease free body.
ABOUT THIS EVENT
When?
Date: Saturday, Oct 12th &Sunday, Oct 13 from 9:30 am to 6 pm.
Where?
Venue: Hemlock Station, 1385 W 6th Ave, Vancouver, BC V6H 4A3
http://ashtangayogavancouver.com/
How to join or Register?
Call or Text Govind for registration @778-855-7301
Parminder @1-204-898-5021
or e-mail oshobc@gmail.com
How much does it cost?
250$ cost for both days
150$ for Students with Valid ID.
About the Facilitator: Parminder Sohal
Parminder Sohal(Yog Nanak) born in 60's is an Osho disciple, has held senior management positions in top global organizations like IBM, Apple, HP, and AT&T Canada. Parminder worked with Steve Jobs at Apple and worked on the first iPod product.
Parminder is passionate about assisting leaders to transform building self-awareness through heightened emotional intelligence, creativity, and overall well-being. He is deeply involved in the personal journey of inner healing and transformation through a variety of meditation practices.
He combines his knowledge of science and spirituality to provide a well-rounded view of leadership and self-development. Parminder has a degree in Engineering and an MBA from Stanford University. He is a visiting professor at top Universities. Currently, he holds Chief Technologies Officer position at DXC Technologies (fortune 500 company).
He has taught courses around the world in fortune 100 companies, Osho Communes and Ashrams. He is deeply involved in the inner healing work.General Disclaimer:
I agree to assume full responsibility for not exceeding my personal physical limits during my participation in Osho Meditation. It is my responsibility to ascertain that there is no medical reason to prevent my participation in meditations and celebrations. The meditation group is an informal gathering of friends. I understand that I will take care of myself, my health, and well being during the whole event.