Ancestral Healing Summit
January 18, 2022 @ 10:00 AM

-

January 21, 2022 @ 5:00 PM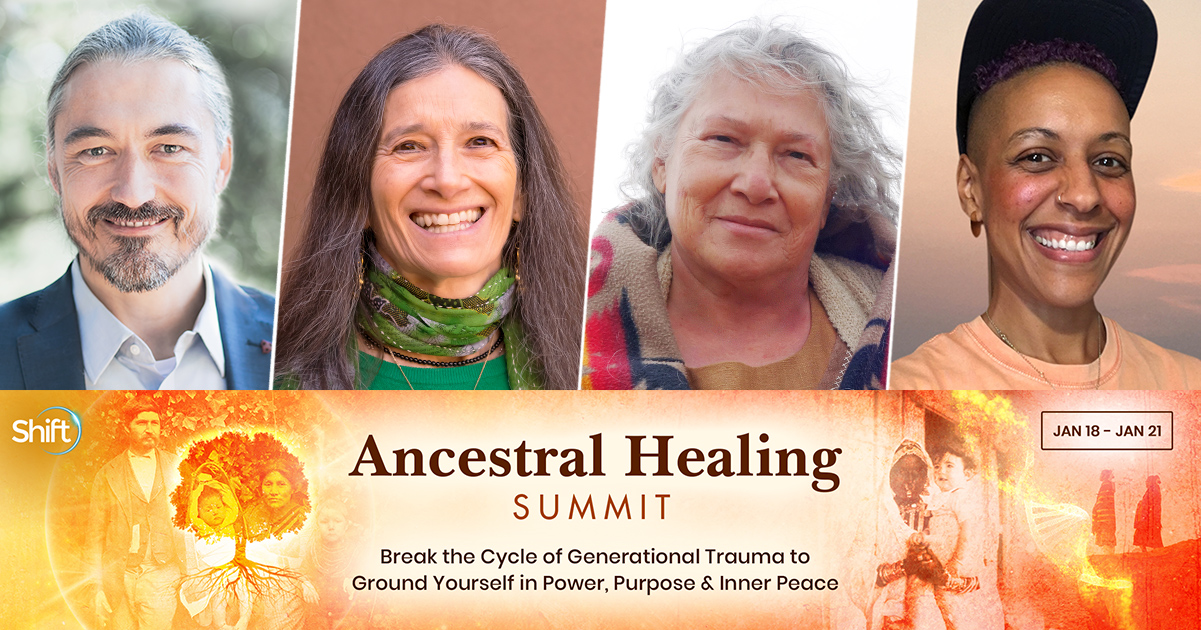 Take a few moments to reflect on the lives of your ancestors and the kind of situations and circumstances they experienced over the generations…
… their adventures, accomplishments, life changes — and also the traumatic events and oppression they may have endured. How much do you really know about them?
Did you know that the experiences of your ancestors — both positive and negative — can be passed down from generation to generation, leaving psychic and even physical imprints?
Many of you have inherited special skills and talents from your lineages, but you can also carry your ancestors' traumas in your bodies, hearts, minds, and souls, without being aware of what they went through…
… especially at a time such as this (when collective trauma is at a peak), there can be a re-triggering within you of your ancestors' suffering, which can then manifest in all manner of ailments, including depression, anxiety, somatic and physiological disorders, and more.
It's primarily this DNA memory of trauma that now prevents you from leveraging your skills to draw upon your own deepest strengths. 
When you create sacred connections with members of your lineage who've passed, you can tap into their wisdom, clearing your energy field and theirs, of intergenerational cycles of trauma that haunt the living and the dead…
… opening yourself to claim the talents and abilities that are your natural birthright … allowing you, your family, and future generations to live happier, healthier, more fulfilling lives.
That's why I'm thrilled to share the Ancestral Healing Summit — a global gathering of leading ancestral healing experts and inspiring teachers who will be sharing a powerful synthesis of spirituality, science, and ancient wisdom and practices from around the world that promises to transform your life and your legacy and ground you into your highest purpose.
Free Online Event
Ancestral Healing Summit
January 18-21, 2022
You'll get to enjoy more than 30 of today's leading ancestral healing experts and inspiring teachers — including Thomas Hübl, Langston Kahn, Sandra Ingerman, Christina Pratt, Lewis Mehl-Madrona, Paul Levy, Dr. Lotte Valentin, Ash Canty, Grandmother Flordemayo, Dr. Linda Howe, and many more — sharing new practices and insights for connecting with the wise and loving among your ancestors. 
They'll show you how your ancestors can help you work through the reparations necessary for you and your family to thrive, while also benefiting future generations of your bloodline, the global community, and even our beautiful Earth.
By communicating with your ancestors through powerful practices, such as ancestral astrology, genealogical past life regression, or ancestral tarot… 
… you can send ripples of healing, restorative energy to your entire family tree while learning more about the underlying emotional or spiritual root causes manifesting as your own physical or mental symptoms.
During this profoundly transformative 4-day event, you'll:
Discover how you can transform inherited emotional DNA — those familiar ancestral family system patterns of success, failure, love, and money
See how analyzing your nocturnal dreams taps into your coding for higher intelligence, guidance, and the ability to heal your own heart
Learn to consult tarot cards to make powerful ancestral connections that can heal unhealthy inherited family patterns spanning generations 
Detox and transmute your epigenetic inheritance of ancestral traumas by learning to activate the regenerative power of your liver and gallbladder
Explore pathways to release ancestral trauma and karma threads created during interplanetary (aka starseed) past lives 
Learn how to effectively reach out and ask your ancestors how you can help them, which in turn helps your entire ancestral line to flourish
Discover that via "sacred symbols" or "bones" divination rituals, you can repair and nurture loving lineage relationships while receiving wise ancestral guidance
Study ancestral astrology to see how your own natal chart is connected to ancestral patterns that dictate your role in the larger family dynamic
See how your ancestors' abortions and miscarriages affect your life, causing entanglements in the family system that can be healed by releasing judgements
Examine how all our ancestors will aid our collective healing as we embrace the Age of Aquarius, an astrological cycle destined to transform life on Earth
Hear how the Irish keen acts as a sound-healing agent, amplifies its power through sacred ritual, and provides a roadmap for processing grief
Practice an exercise to clear familial lines by removing ancestral traumas reverberating in your cells, producing disruptive epigenetic changes 
And much more…
RSVP here for the Ancestral Healing Summit — at no charge
Whether you're new to ancestral repair work or you already incorporate it in your life, the visionary speakers in this summit will bring to light the curative powers of ancestral healing — helping you shift your present and our future.
Join us now and discover the tools you need to cultivate more connection… harmonize your body, mind, and spirit… and heal wounds from the past that can literally change your genetic destiny.