Sunday February 14: Jadyn Rylee & Jonny Starkes! ON-LINE – Live and Interactive Valentine's Day Musical Celebration
February 14, 2021 @ 1:00 PM

-

4:00 PM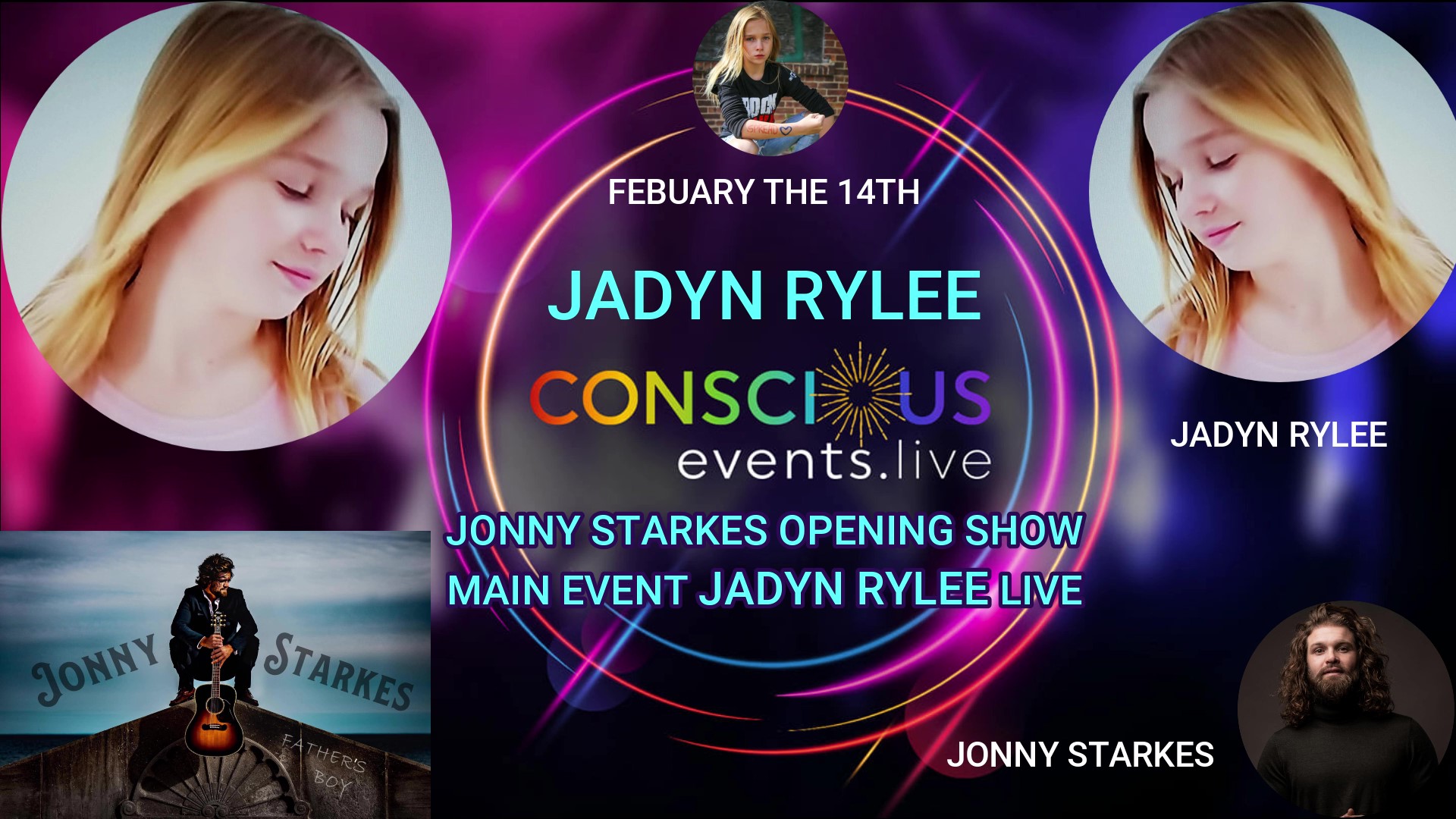 Music to Lift Your Spirits and Move Your Soul
Join Canadian recording artists, Jadyn Rylee and Jonny Starkes for a unique ON-LINE – Live and Interactive Valentines Day Concert!
Let's all Celebrate Valentine's Day…and  Jadyn's Birthday too!!
My parents tell me that I started to sing as soon as I learned how to talk.  At the age of three I learned the hit song by
Mylie Cyrus called "The Climb".  That was when my family first realized that this might be something that one day I would be good at.  
Getting a vocal coach was a bit of a struggle because most schools wouldn't teach me until I was 8 or 9 years old.  After trying and trying, we found a school that was actually close to my home.  They had a wonderful teacher by the name of Aura Urziceanu.  We discovered that Aura was an amazing performer and had belonged to a very accomplished musical family .  At the age of six I was finally able to begin taking vocal lessons with Aura.
After a couple of years we had the pleasure of continuing my coaching with a new vocal teacher
by the name of Sarah Hyde.  Sarah had so much experience in being a teacher as well as a performing artist.  She helped me to really expand my vocal capabilities, with confidence exercises that helped me overcome the difficulty of performing in front of people.  
Over the last few years I have been so lucky to meet such amazing people through music.  This site will keep you up to date on what I am doing and anything that is new and exciting in the world of "Jadyn Rylee".  I hope you follow along with me on this journey.  It is so much fun and I am really enjoying it.
Jadyns YouTube Channel: www.youtube.com/channel/UCnn1Ps-YvrMVgiJNJb6IWCg
About Jonny Starkes
Jonny was introduced to the guitar at a young age by his late grandfather Ernest Collins, who learned to play while being in the hospital injured overseas during World War 2.
"Even tho I didn't know what I was doing, he never cared while I strummed sweet nothings and knocked his guitar outta tune with a bread bag clip lol"
It wasn't until the age of 12 that his uncle Roger showed him a few chords which He held on to while He drifted from the guitar and music. Luckily at the age of 17 He asked for his own guitar that his parents bought him for Christmas.
From there he went on to mustard the courage to play in front of school audiences etc. He wasn't that great but Jonny always had a desire to push himself, perform in any aspect of his life and to be better than the day before.
At the age of 27 Jonny decided he wanted to write his own songs and carve his own path in life with his music. He felt that he had a voice that needed to be heard and was tired of following the herd.
Since then Jonny has become an up and coming name in the Toronto music scene where he has went on to play
numerous festivals around Ontario, venues across the GTA, he has won the epidemic music groups Robin Short award for hardest working and supportive artist in the community and released his debut album "Father's Boy" which was written Around the lost of his Father to cancer in 2017.
Jonny began working with the D.O.C. Entertainment Agency   www.dandelionsofcourage.com in the summer of 2019, who have played an important role with supporting him as his agent and management team
Jonny released a single in July 2020 "These Four Walls" which reached the International market including Ireland and the UK, and he was featured in a International lifestyle Entertainment Publication, Spencer Magazine www.spencer-magazine.com Jonny is releasing another single on January 29, 2021
"Lay It On" which is also expected to reach the global market on all platforms.
"My Father was very sick and I had a show that I thought it would be too much for him  to attend. I was done playing my set and then I looked and saw my mom walking my father across the field. I asked the organizers if they minded if I kept playing since my dad never got to see me much. I played for another 30 minutes while my father just sat and watched me and didn't even flinch.
Later at home My dad called me to the living room, sat me down next to him and asked me what I wanted do with my life. I told him I wanted be a singer/songwriter. He gave me a hug, we cried and he gave the money to start recording my debut album and told me to never give up. He died shortly after this but I had his approval which was something I've always sought after with my father and was all that I needed.
Now to make him happy and to walk my mother down the red carpet at the Juno awards would be a great accomplishment".
"I believe the voice is a window to somebodies soul, so come on in and have a seat while I sing and play for you"
https://www.youtube.com/channel/UCpMTEtVSWSH6EZZ_wFdzfUA/
Spotify https://open.spotify.com/album/7sQEymiBChPSdXTyetO6JI?si=-5krj1InSlOFilcnxzc4oA
Sponsored by: