A Transformative Journey Into the Cosmic Mind Through Psychedelics with Chris Bache
November 30, 2021 @ 5:00 PM

-

6:00 PM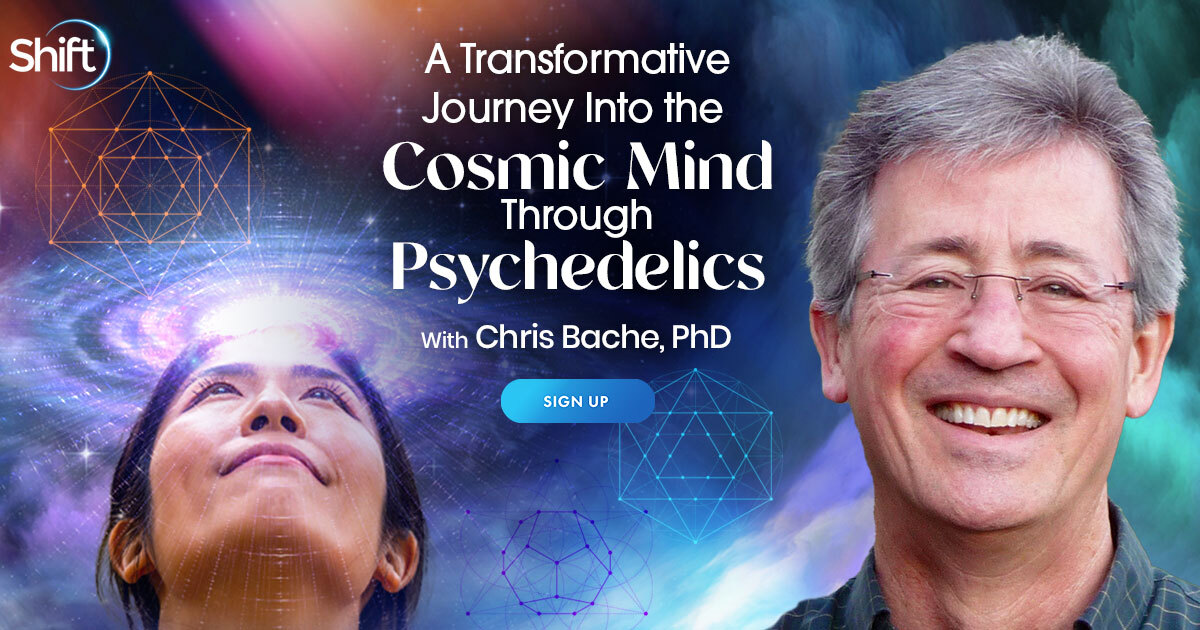 In recent years, you may have seen scientific studies from Johns Hopkins University, NYU, and other highly regarded institutions that have been researching psychedelic ("mind-opening") substances such as psilocybin, MDMA, and LSD for their therapeutic potential in treating serious psychological conditions.
Unlike the turbulent 1960s (when Timothy Leary urged people to "turn on, tune in, and drop out"), psychedelics are now being used to help people cope with depression, PTSD, addiction, and anxiety.
Beyond these therapeutic uses, others have experimented with using psychedelics to explore the deep structure of consciousness itself.
One such man is Chris Bache, a university professor trained in the philosophy of religion, who undertook a remarkable 20-year course of psychedelic exploration.
From 1979 to 1999, Chris participated in 73 carefully managed, high-dose LSD sessions following the therapeutic protocols of Stanislav Grof, renowned for his work in psychedelic therapy. Now that Chris is retired, he is free to speak openly about his life-changing psychedelic journey.
On Saturday, November 13, Chris will share how you can apply what he discovered to your own life… so you can relax into the forces shaping your destiny, allowing you to live more consciously and with greater intention.
You can register here for A Transformative Journey Into the Cosmic Mind Through Psychedelics
During this hour, you'll:
Take a journey into the exquisite creative mind of the Universe and feel its Cosmic Love for you
Understand why deep psychedelic experiences are real — and how they provide trustworthy insights into life beyond space-time
Absorb spiritually deepening insights that don't require you to take psychedelics
Learn what it feels like to be dissolved into the crystalline body of God
Gain insights into the nature of consciousness that can transform your purpose and your destiny
Learning to navigate the LSD-amplified state with focused intent and clear recall, Chris shattered boundary after boundary until, bathed in cosmic love, he was carried into the hyper-clear perfection and ecstasy of the realm he calls the Diamond Luminosity.
Chris' presentation will give you a small but profound glimpse into the Universal Mind. You'll sense how vast and perfect it is even as it continues to unfold — and how you're connected to everything in existence… giving you insight into the nature of true transcendence.
… you'll delve into how the Creative Intelligence of the Universe is shaping our individual and collective destiny so you can leave your existential fears behind and live with greater joy and intention.
We hope you're able to catch the event as scheduled, but if you register and miss it, you'll receive a downloadable recording as soon as it's available