8 Limbs – Yoga Philosophy in Practice
March 9, 2019 @ 10:00 AM

-

March 10, 2019 @ 5:00 PM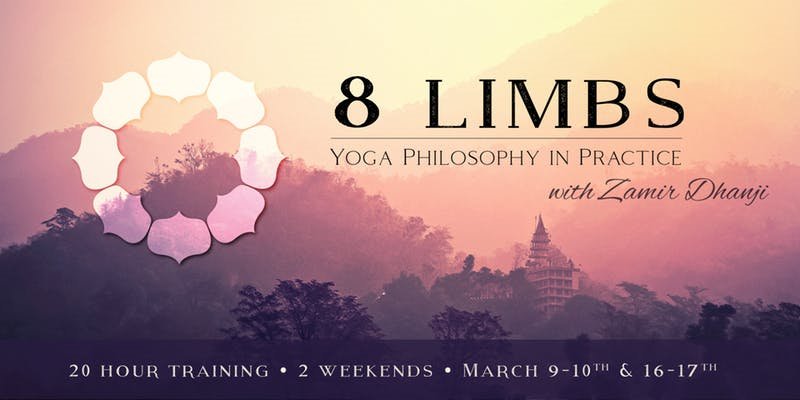 Are you seeking to deepen your understanding of Yoga?
Are you going to classes…doing asanas but not understanding the philosophy behind the practice?
Are you a yoga instructor who would like to integrate yoga teachings in a practical form in your classes?
Source your own authentic connection yoga teachings and develop a transformative practice on and off the mat.
Journey as a collective and experience yoga in a different dimension altogether.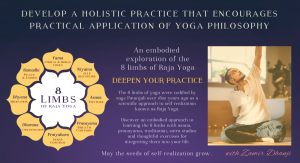 This 20hr training will take you on a creative journey through the 8 limbs of yoga with asana, pranayama, meditation, sutra studies and thoughtful exercises for integrating them into your life.
Each class is a journey where we go deep into an embodied practice and then study and explore yoga teachings from a different state of consciousness.
The eight limbs of yoga were codified by Maharishi Patanjali almost 1800 years ago as part of a systematic and scientific path to self-realization expounded in the Yoga Sutras, known as Raja Yoga.
This training will take an embodied approach by integrating key aspects from the 8 limbs into a full yoga sadhana (practice). This incorporates asana, pranayama, meditation, sutra studies and thoughtful excercises with poetic insights into the heart of the teachings.
After practice we study, breaking down sadhana in light of the 8 limbs, referencing yogic literature for deeper insight into their significance and application – creating favourable conditions for the seeds of self-realization to grow.
WEEK 1
Saturday, March 9th, 2019 – 11am-5pm
Sunday, March 10th, 2019 – 11am – 5pm
Venue: Bridge & Enrich (718 E 20th ave)
WEEK 2
Saturday, March 16th, 2019 – 11am-5pm
Sunday, March 17th, 2019 – 11am – 5pm
Venue: Langara College Continuing Studies (601 W Broadway)
[button link="https://www.eventbrite.com/e/8-limbs-yoga-philosophy-in-practice-tickets-55545244321?aff=conciousliving&afu=2535500125″ type="big"] Click Here for Details and Tickets[/button]