Soul Journeys – Tropical Plant Dome Meditation
March 28, 2019 @ 5:30 PM

-

7:30 PM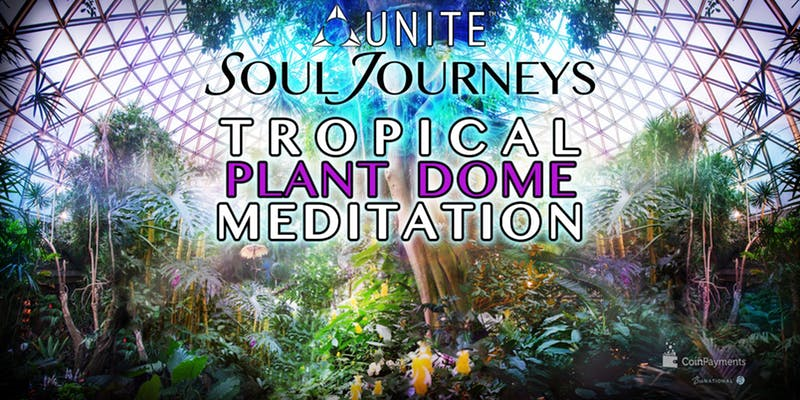 Join UNITE in Vancouver's very own Bio-Dome for a unique experience; combining guided meditation & harmonic synchronization with BioSonic (SINGING PLANTS) technology in "The Jungle Dome!"
Please help us Ensure the success & reoccurrence of this event by purchasing your early bird tickets! This is a new event for us & hard costs are over $1,000 for this EPIC venue!
Promising a warm & magical evening of deep grounding and connection in this tropical home to Bloedel Conservatory's huge array of life; including fish, parrots, butterflies & more than 120 free-flying exotic birds + over 500 exotic plants and flowers.
Date And Time
Thu, March 28, 2019
5:30 PM – 7:30 PM PDT
Location
Bloedel Conservatory
4600 Cambie Street
Vancouver, BC V5Y 2M4
FOR FULL DETAILS & TICKETS – CLICK HERE
Click Here$33 – EARLY BIRD *ONLY 33 available
$44 – REGULAR ticket
*limited capacity venue
EVENT OUTLINE
5:30 – Welcome, sign in, explore, settle in & find your space
6:00 – 45 minute guided meditation ~ focused on the group harmonics & our connection to each other & the nature around us led by Maitreyi Yogacharini using BioSonic (SINGING PLANTS) technology
6:45 – Integration, exploration & connection + vendors
ABOUT THE EXPERIENCE
Meditating in a group + in nature; using BioSonic technology, allows us to hear our collective resonance, helping us go deeper, with instant feedback on our energetic state and alignment.
Check out our special guests… SINGING PLANTS!!!! www.youtu.be/3q-eVz9O2HA
ABOUT Maitreyi Yogacharini
Maitreyi Yogacharini is a practical Mystic and the founder of Arkaya. She has taught a wide variety of people, from Buddhist monks in Sri Lanka, prisoners in Sweden, an all Islamic group in Bangladesh, yoga teachers in Vancouver to children and CEOs in India and abroad.
She has trained many top companies like Ford, Lever Brothers, Nasscom, L&T, Symbiosis Institute of Management, Radisson group etc. and consults on wellness issues, holistic health and organic management. She trains them in the science and art of SELF/STRESS MANAGEMENT through 'The 3M Magick' FUNshop.
She is passionate about holistic self development and does life enhancement coaching for top management and decision makers. She enables them to see the need for managing the body, emotions, mind and resources effectively and creatively.
She has been a keynote speaker for audiences of 800 and above. She was also a consultant for the Madras Management Association in 2004 and was instrumental in designing and organising a series of 20 Health awareness workshops for their members. She believes a holistic lifestyle can infiltrate all walks of life.
Maitreyi was invited to be on the Advisory Board of the World Yoga Council in Europe in 2006. She has also received the Yoga Semmal (Great, expert) award in India in 2007.
She has appeared on national channels like Doordarshan and international channels like Star Vijay, NDTV, Channel M of Vancouver etc. giving talks and sessions on the holistic aspects of yoga.
Organizer of SOULJOURNEYS ~ TROPICAL PLANT DOME MEDITATION ~ BY UNITE
UNITE: Transformational Events, Spaces, & Technology to Elevate Global Health & Happiness.
UNITE creates opportunities for expansion into higher states of consciousness through regular meditation, music, and experiential education events worldwide.
Our vision is to UNITE billions of people in collective positive focus and alignment, through local community events, global synchronized experiences, and harmonizing technology.
Join us in raising our collective consciousness through consistent, local, community focused events, featuring high vibe content; as well as create and curate the best technology, products, and services, to help you live your Best Life Ever!
Love!