October 15, 2022 @ 2:00 PM

-

4:00 PM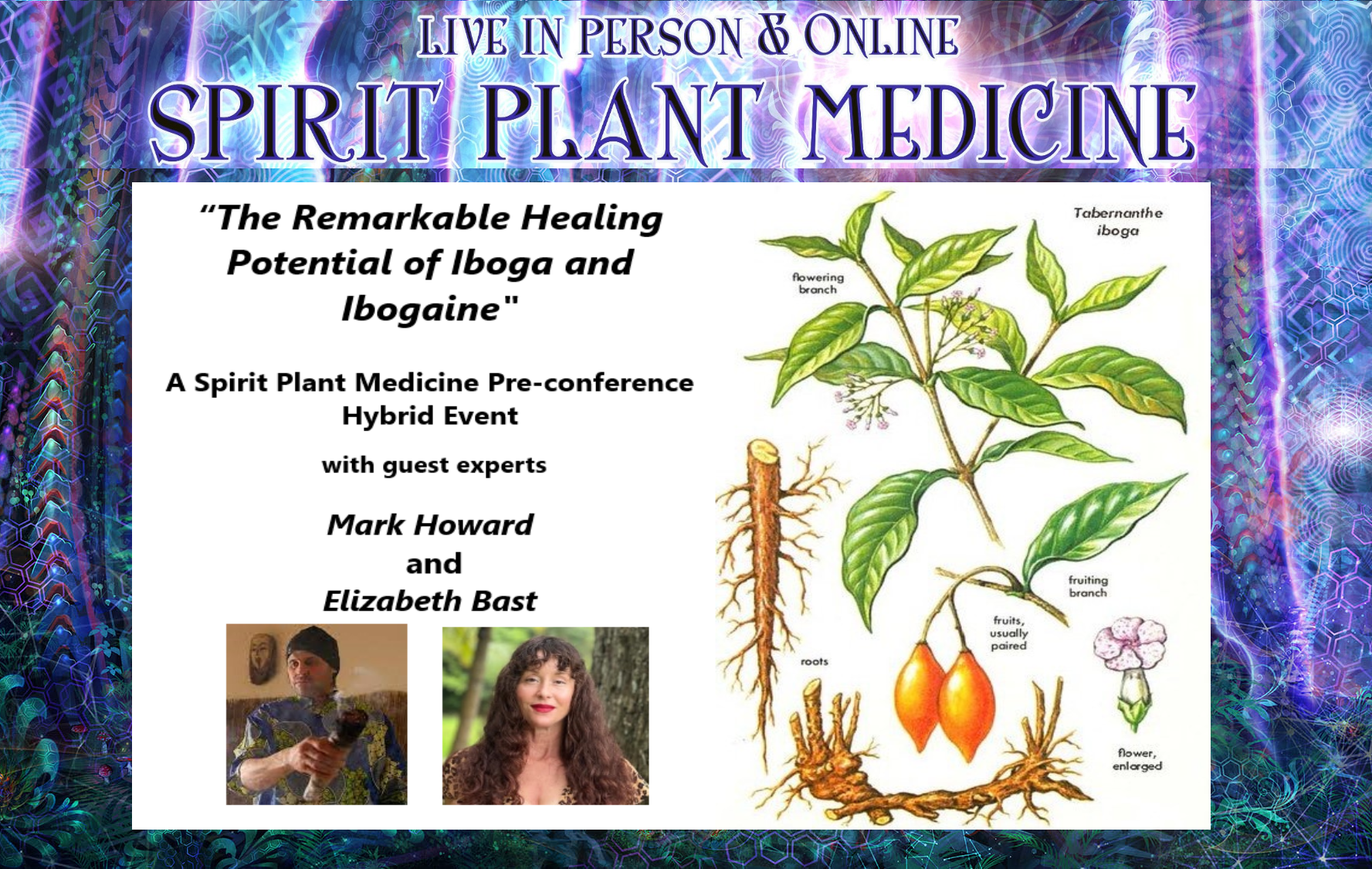 "The Remarkable Healing Potential of Iboga and Ibogaine"
A Spirit Plant Medicine Pre-conference Hybrid Event with guest experts Mark Howard and Elizabeth Bast
Live music by Vanessa Le-Fan Yuen.
Join us for this unique hybrid event experience, either in person, or interactive online. The event will be broadcast live with a Live studio audience and a LIVE and Interactive Zoom Audience – so you can join us from anywhere in the world!
Iboga and and its synthesized primary psychoactive alkaloid ibogaine are unique sacraments in the psychedelic pantheon. Iboga comes from the root bark of a shrub whose natural habitat is Western Equatorial Africa, particularly Gabon and some neighbouring countries. it's prized and legal in Gabon, but until quite recently was almost completely unknown in the West. While that has changed a lot in the past decade or two, most people still know little about what it can do and how it works.
What makes iboga and ibogaine so interesting and valuable is that they work with people in ways quite different from other psychedelics. The members of the Bwiti religion in Gabon use iboga in elaborate
initiation rituals that they say show the young initiatives who they are as "real" people. In Western ceremonial use iboga has the very unusual capability of showing people where their obstacles are and how to move beyond them in a grounded way. You might call it an earthy medicine. Ayahuasca-like visuals and other-worldly journeying seem to be rare. It just gets right to the issue without fanfare so to speak.
Ibogaine tends to be used mainly in treatment centres for addiction and related problems. Some say that it's as though it brings down a movie screen for addicts to see where in their early development they turned away from themselves and sought refuge in a substance. At the same time, it often knocks out the craving for some time, maybe a few weeks, allowing the addict to make the changes necessary for a fresh start.
For this Spirit Plant Medicine pre-conference hybrid event, we're lucky to have two leaders in the field with long experience,  Mark Howard and  Elizabeth Bast.  Joining us for this informative and inspiring event will be the soulful, angel-voiced singer-songwriter Vanessa Le-Fan Yuen, who will be live in studio with hosts Marc Caron and Stephen Gray to sing a few of her medicine-inspired songs.
Register Today!
Join us in person at Hubcast Media's Campus Studio located at 8240 188 St. Surrey, B.C (limited seating available)
Watch Free Livestream in our Membership Portal – Join Our Free Membership Today!
2:00 PM : Music by Vanessa Le-Fan Yuen
2:10 PM : Introduction
2:20 PM : Elizabeth Bast
2:45 PM : Music by Vanessa Le-Fan Yuen
2:50 PM : Mark Howard
3:30 PM : Discussion & Q&A with Elizabeth and Mark
3:55 PM : Closing & Music by Vanessa Le-Fan Yuen
About Mark Howard
Mark is a pioneer in the plant medicine community and has served iboga for 10 years. He is a Bwiti initiate, along with having completed the powerful Rites of Passage in the villages of Gabon, Africa. Mark specializes in providing iboga root bark, as well as its total alkaloid extract, through the lens of the Bwiti spiritual tradition. Trained by shamans of West Africa, Mark holds a deep-rooted integrity to uphold these traditions in the western world. He spent nearly five years in Vancouver, BC with his team treating hundreds of people in medically supervised sessions using specific rituals and ceremonies to heal the body, mind and soul with his wife Robyn, who is a healer, spiritual guide, integration coach and specializes in ancestral divination.
Mark and the Iboga Soul team are featured in the award winning documentary Dosed (019) that captures the story of a young woman looking to relieve herself from the suffering that comes with opiate addiction through plant medicines as well as a CTV's VeraCity documentary,"Psychedelic Frontiers"(Click here to watch) with over two million views
About Elizabeth Bast
Elizabeth Bast is a Bwiti initiate, traditionally trained iboga provider, and a co-founder of SoulCentro Iboga Retreats. She is the author of the award-winning memoir, Heart Medicine: A True Love Story–One Couple's Quest for the Sacred Iboga Medicine & the Cure for Addiction. Bast is a recipient of a Women of the Psychedelic Renaissance grant from the psychedelic feminist nonprofit organization Cosmic Sister and a member of Cosmic Sister's Expert Advisory Circle. She studied at New College of San Francisco with an emphasis on Art and Social Change and completed the transformational coach training program for psychedelic integration with Being True to You. Elizabeth's Bwiti name is Mbeye, which means the medicine of the river.
About Vanessa Le-Fan Yuen
Vanessa is a multidisciplinary artist born and raised in rural northern Taiwan, where she spent her childhood playing in farm fields, growing food with her grandparents, cultivating a deep sense of connection to the natural cycles of life. In these early years she was drawn to many forms of creative expression including music, movement, poetry, and visual arts.  To her family, songs are the language of love, celebration, struggle, and sadness. When her hometown became industrialized, Lefan watched helplessly as those fields she knew turned into factories that poured toxic dyes into streams once filled with life. When Lefan was 11 years old, she immigrated to the unceded territories of the Squamish, Musqueam & Tsleil-Waututh First Nations, where she currently resides.
These life experiences, along with her journeys with plant and fungi teachers, greatly influenced her passion in environmental and social justice. Vanessa sees art as a powerful vessel for healing, idea sharing, storytelling, and connecting communities in ways beyond language. Her debut album "What Holds Us Together?" is a sonic journey that synergizes folk, pop, world music, experimental soundscapes and poetry. Together, these stories weave an immersive tapestry of ancestry, identity, ecological reverence and social justice. Her work holds a mirror up to the audience as both an invitation for self-inquiry, and a collective call to action.