Feb
11
Sun
Caroline Myss Live in Surrey: The Power of Your Words

@ Bell Performing Arts Centre
Feb 11 @ 7:30 PM – 9:30 PM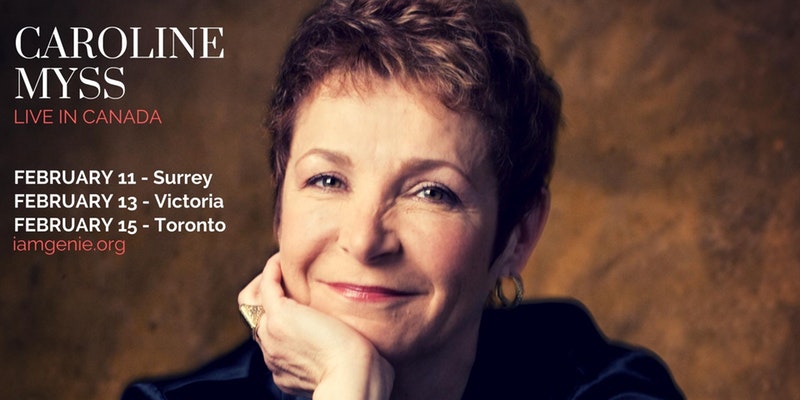 Caroline Myss is the author of Anatomy of the Spirit, Sacred Contracts, Invisible Acts of Power, and Why People Don't Heal and How They Can. An internationally renowned speaker in the fields of human consciousness and mysticism, she holds degrees in journalism, theology, intuition, and energy medicine. She has appeared on two highly successful public television programs, and on The Oprah Show.
Get  your tickets now!! Visit:  Caroline Myss in Surrey
About this event:
Like so many people, you may think that it takes money or status to change the quality of your life. But that has never been the truth. A genuinely empowered person recognizes the authority that words carry. Have you ever stopped to consider how much power is contained in every word that you say? Everyone has certainly felt the power of the words another person has spoken to them, especially if those words were expressing love – or anger.
An entire universe exists in every word you say. Words are power. We "give our word" to someone as a way of sealing a bond. Breaking our "word" represents the shattering of a commitment and can devastate a relationship forever. Words are the creative tools through which you form the stories you tell yourself about every experience in your life.
The power of words and right speech was a fundamental teaching in the ancient Greek Mystery Schools, as these skills were recognized as essential to anyone striving to live a successful and empowered life. Whether you have had a wonderful experience or consider something a failure depends upon the vocabulary you choose. Change one word and you change your emotional, psychological, and even physical response to a situation.
Consider, for example, if you removed the word, deserve, from your vocabulary. How would that change your life? For some people, deleting that one word from their vocabulary has enough power to alter their finances. You may think that that is an exaggeration. But if you ever had a conversation with someone who continually told themselves that they deserved to buy something because they had a bad day or a good day, that overspending was a reward system, then you could appreciate the word, deserve, represented an altered state of negative consciousness for them.
In this workshop, we will explore the power of our words. How carefully do we choose the words through which we talk to ourselves? How carefully do we select the with which we speak to others? Are we mindful of the words that we use to interpret the experiences of our lives? And how much can we change the quality of our life, our health, and our relationships by removing certain words from our vocabulary and introducing other words? The very essence of what it means to become a conscious person begins with examining the content of your vocabulary and its power to shape, define, and order your inner and outer universe.
I hope you will join me for this life-changing lecture. Before you answer, just consider the power that two words command in determining how much you could change the quality of your life and what you could learn about yourself through attending workshop: yes or no.
Get  your tickets now!! Visit:  Caroline Myss in Surrey
Mar
2
Fri
Sal Rachele- Clairvoyant and Healer – Live in Vancouver

@ YWCA Hotel Vancouver
Mar 2 @ 6:00 PM – 9:30 PM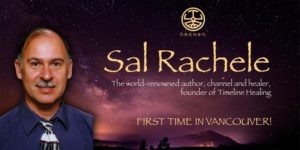 Sal Rachele: First time in Vancouver, BC
SAL RACHELE is a world-renowned teacher, channel and healer, mystic and clairvoyant, founder of Timeline Healing, a powerful therapy for healing past traumas, author of five books, numerous meditation music CDs, co-founder of Sananda Mystery School.
Sal Rachele teaches numerous workshops around the world and is warmly welcomed by audiences of hundreds of people in USA, Canada, Australia, Russia, Germany, Bulgaria, Croatia, Slovenia, Serbia, Egypt, Ukraine, Cyprus, Romania, Kazakhstan, Bali, Vietnam, Turkey.
Sal Rachele will be in Vanccouver for a first time in March 2018. He will teach an introductory Friday evening workshop on Self Empowerment and an intensive 2-day weekend workshop on Soul Integration. He will also host 34 Private Sessions in which he will provide individual Clairvoyant Readings and Timeline healing per preset schedule (see below).
Join us for these truly uplifting and transformational event series with Sal Rachele and his spirit guides in which you will uncover your true self and revive your innate state, the state of Happiness!
Self-Empowerment Workshop:
Friday, March 2, 2018, 6:30pm – 9:30pm
YWCA Hotel Vancouver
733 Beatty Street Vancouver, BC V6B 2M4 (view map)
Workshop Description:
This workshop will go into depth on the subject of what it takes to manifest your powerful, creative, spiritual Self on Earth. In order to create a world of peace, prosperity and enlightenment, we must have a way to get in touch with our Infinite Intelligence and omnipotent Higher Self.
Sal will channel the Founders, who are 12th dimensional beings of pure light that come to Earth during pivotal times to bring their boundless wisdom and love. The Founders will present a step-by-step outline regarding the actualization of your infinite potential and how to apply it in the world. Regardless of the degree of difficulty you might be experiencing in life, there is no challenge too great to be overcome. Be prepared to feel your powerful Self during this evening and afterwards.