Mar
2
Fri
Sal Rachele- Clairvoyant and Healer – Live in Vancouver

@ YWCA Hotel Vancouver
Mar 2 @ 6:00 PM – 9:30 PM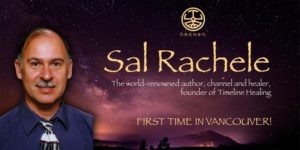 Sal Rachele: First time in Vancouver, BC
SAL RACHELE is a world-renowned teacher, channel and healer, mystic and clairvoyant, founder of Timeline Healing, a powerful therapy for healing past traumas, author of five books, numerous meditation music CDs, co-founder of Sananda Mystery School.
Sal Rachele teaches numerous workshops around the world and is warmly welcomed by audiences of hundreds of people in USA, Canada, Australia, Russia, Germany, Bulgaria, Croatia, Slovenia, Serbia, Egypt, Ukraine, Cyprus, Romania, Kazakhstan, Bali, Vietnam, Turkey.
Sal Rachele will be in Vanccouver for a first time in March 2018. He will teach an introductory Friday evening workshop on Self Empowerment and an intensive 2-day weekend workshop on Soul Integration. He will also host 34 Private Sessions in which he will provide individual Clairvoyant Readings and Timeline healing per preset schedule (see below).
Join us for these truly uplifting and transformational event series with Sal Rachele and his spirit guides in which you will uncover your true self and revive your innate state, the state of Happiness!
Self-Empowerment Workshop:
Friday, March 2, 2018, 6:30pm – 9:30pm
YWCA Hotel Vancouver
733 Beatty Street Vancouver, BC V6B 2M4 (view map)
Workshop Description:
This workshop will go into depth on the subject of what it takes to manifest your powerful, creative, spiritual Self on Earth. In order to create a world of peace, prosperity and enlightenment, we must have a way to get in touch with our Infinite Intelligence and omnipotent Higher Self.
Sal will channel the Founders, who are 12th dimensional beings of pure light that come to Earth during pivotal times to bring their boundless wisdom and love. The Founders will present a step-by-step outline regarding the actualization of your infinite potential and how to apply it in the world. Regardless of the degree of difficulty you might be experiencing in life, there is no challenge too great to be overcome. Be prepared to feel your powerful Self during this evening and afterwards.
Mar
3
Sat
TEDx Stanley Park – Inspiring Brave Actions

@ Queen Elizabeth Theatre
Mar 3 @ 10:00 AM – 5:30 PM
Join the Conscious Living Network at TedxStanleyPark! We have blocked out a group of seats exclusively for you! When reserving your seat, choose either VIP or Balcony Front and the Tedx Team will ensure we sit together. We will then book a a local eatery for lunch so we can all connect and share. Andrew and I look forward to experiencing this inspiring event with you all!
Reserve Your Seat Now! – Click Here
TEDxStanleyPark is an annual, not-for-profit conference at which a suite of educational and inspirational short talks is shared with onsite and online audiences. Our next Conference takes place on Saturday, March 3, 2018 from 10am to 5:30pm at the Queen Elizabeth Theatre in downtown Vancouver, British Columbia. At this Conference, twelve short talks will address a diverse range of humanity's tough challenges and offer solutions that are Ideas Worth Spreading.
Our Name
The 'TEDxStanleyPark' name was inspired by Vancouver's iconic Stanley Park – both the park and the Conference stimulate, inspire and activate their visitors. The TEDxStanleyPark Conference is NOT held in Stanley Park but in the Queen Elizabeth Theatre.
Our Vision
We move the needle toward a better world by producing a suite of short talks that Inspire Brave Actions from our onsite and online audiences.
Our Mission
Annually we produce a suite of 12 high-impact talks that are both educational and inspirational. They offer novel ideas to solve a diverse range of humanity's tough, tangible, specific, urgent and relevant problems. These Ideas Worth Spreading activate thoughtful optimists with open minds and big hearts to take brave actions – conversations that matter, attitude shifts, policy changes, support for worthy causes, political and social activism and launching movements that make a positive difference.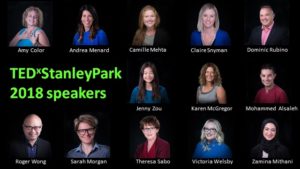 Our Theme
Our perennial theme is as simple as it is daunting: Inspiring Brave Actions. This theme is born from our belief that all human achievement is rooted in 3 elements: the dreams that we dream, the decisions that we make, and the actions that we take. The most impactful of these is the actions that we take. This Inspiring Brave Actions theme guides our selection of talks to those with powerful calls to action that give legs to dreams of what could be.
Our Audiences
Our Conference has 3 audiences:
Onsite: We expect 2,683 people to attend the Conference in person. Most are working professionals aged 30 to 60 with extensive formal education and above average household incomes. They are lifelong learners and thought leaders with open, curious and civic minds searching for ways to make a difference. The vast majority live in Metro Vancouver.
Online in real time:We expect thousands of people from around the internet-connected world to watch our speakers' talks online, in high-definition, in real time and for free via Livestream.
Online in delayed time:We expect millions of people to watch our speakers' videos on YouTube https://www.youtube.com/user/TEDxTalks) and other social media channels and websites.
Our Core Values
We have 5 core values:
We obsess over our stakeholders' experience.
We inspire brave actions.
We pleasantly surprise our partners.
We operate an environmentally sustainable Conference.
We operate a financially sustainable Conference.
Our History
March 17, 2013 – The 1st TEDxStanleyPark Conference took place in front of 100 attendees at The Theatre inside the UBC Campus at Robson Square in Vancouver. Its 13 talks evoked 1 standing ovation and an aggregate of 20,000 video views within 9 months of their release.
May 23, 2015 – The 2nd TEDxStanleyPark Conference took place in front of 450 attendees at the Granville Island Stage located on Granville Island, Vancouver. Its 13 talks evoked 7 standing ovations and an aggregate of 100,000 video views within 9 months of their release.
May 28, 2016 – The 3rd TEDxStanleyPark Conference took place in front of 1,900 attendees at Vancouver's Queen Elizabeth Theatre. All 15 speakers received standing ovations. Their videos received an aggregate of 1,000,000 views within 9 months of their release.
March 4, 2017 – The 4th TEDxStanleyPark Conference took place in front of 2,200 onsite and thousands of online (Livestream) attendees at Vancouver's Queen Elizabeth Theatre. Every speaker received a standing ovation. Their videos are on track to receiving an aggregate of 2,000,000 views within 9 months of their release.
About TEDx, x = independently organized event
In the spirit of ideas worth spreading, TEDx is a program of local, self-organized events that bring people together to share a TED-like experience. At a TEDx event, TED Talks video and live speakers combine to spark deep discussion and connection. These local, self-organized events are branded TEDx, where x = independently organized TED event. The TED Conference provides general guidance for the TEDx program, but individual TEDx events are self-organized. (Subject to certain rules and regulations.)
About TED
TED is a nonprofit organization devoted to Ideas Worth Spreading. Started as a four-day conference in California 30 years ago, TED has grown to support its mission with multiple initiatives. The two annual TED Conferences invite the world's leading thinkers and doers to speak for 18 minutes or less. Many of these talks are then made available, free, atTED.com. TED speakers have included Bill Gates, Jane Goodall, Elizabeth Gilbert, Sir Richard Branson, Nandan Nilekani, Philippe Starck, Ngozi Okonjo-Iweala, Sal Khan and Daniel Kahneman.
The annual TED Conference takes place each spring in Vancouver, British Columbia. TED's media initiatives include TED.com, where new TED Talks are posted daily; the Open Translation Project, which provides subtitles and interactive transcripts as well as translations from volunteers worldwide; the educational initiative TED-Ed. TED has established the annual TED Prize, where exceptional individuals with a wish to change the world get help translating their wishes into action; TEDx, which supports individuals or groups in hosting local, self- organized TED-style events around the world, and the TED Fellows program, helping world-changing innovators from around the globe to amplify the impact of their remarkable projects and activities.
Follow TED on Twitter at http://twitter.com/TEDTalks, or on Facebook athttp://www.facebook.com/TED.